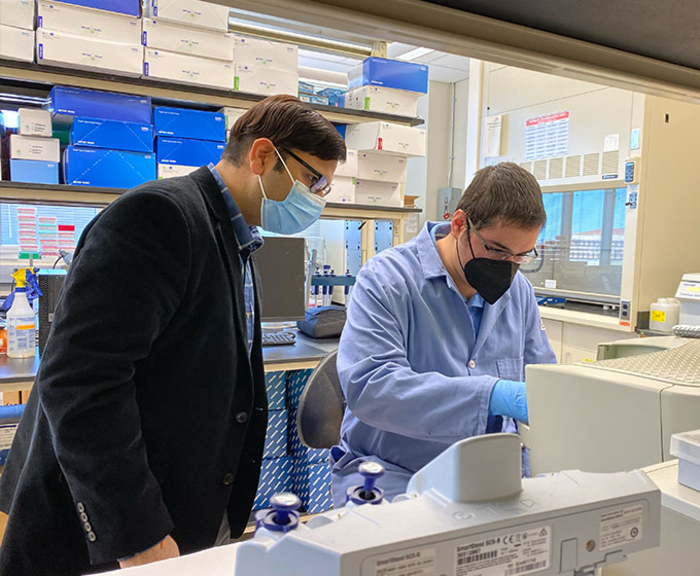 Vikram Kapoor, an assistant professor in the UTSA School of Civil & Environmental Engineering, and Construction Management, was recently named to the American Academy of Environmental Engineers & Scientists' (AAEES) 40 Under 40 Recognition Program.
The award represents Kapoor's work to advance the fields of environmental science or environmental engineering—in particular, his research into COVID-19 and how to track and predict infection rates by monitoring wastewater.
The AAEES is a specialty certification board and professional society for environmental engineers and scientists that is dedicated to improving the quality of environmental engineering and science practice.
Building on medical research that suggested the presence of COVID-19 markers in feces of infected patients, Kapoor and his team gathered samples of wastewater from treatment plants to check for evidence of infection.
"COVID-19 markers in wastewater are a leading indicator of surveillance because they can predict rising infection rates before they start spreading," said Kapoor. "Before the presence of symptoms, before infected people get tested, they can start shedding the virus in the feces. So, if all the people who are infected are shedding the virus, there's a chance that we can pick up that signal days or even a week before they actually get tested."
The results of Kapoor's research may offer alternative options to public health administrators. Whereas widespread lockdowns were common, particularly in the early stages of the COVID-19 pandemic, tracking markers at individual wastewater treatment plants may allow for a more targeted implementation of mitigation efforts.
Kapoor's studies, and the resulting papers tied to this research, have garnered significant attention—including interviews by National Public Radio and Texas Public Radio.
"Dr. Kapoor is an exemplary researcher and instructor who brings a wealth of specialized knowledge to UTSA," said JoAnn Browning, dean of the Margie and Bill Klesse College of Engineering and Integrated Design. "His research focuses on matters of high importance that can make significant impacts on our day-to-day lives. His inclusion in the AAEES 40 Under 40 is well-deserved."
Much of Kapoor's research focuses on improving water quality. His work facilitated the design and implementation of an efficient fecal source tracking and evaluation program for the Edwards Aquifer, based in Texas. Kapoor's research is also advancing the fundamental understanding of fecal source tracking and greatly expanding the understanding of indicators for identifying sources of fecal contamination in rivers, lakes and other fresh water resources.
Kapoor has conducted extensive research around Texas' Gulf Coast communities. He received Rapid Response Research (RAPID) grants from the National Science Foundation to study microbial contaminants smaller towns along the Texas coastline following Hurricane Harvey and Hurricane Hanna.
His research has directly impacted multiple sectors of the water protection community —including recreational water monitoring, drinking water utilities, beach closures/advisories — by providing them with better means to identify fecal sources, evaluate human health risk and implement remediation strategies.
Through his research, Kapoor has earned a reputation for authoring work of critical importance to improving water quality and the availability of clean water sources.
His research is also supported by federal, state and local agencies such as the U.S. Environmental Protection Agency, the Texas General Land Office and the City of San Antonio
The AAEES established the 40 Under 40 award earlier this year to recognize talented individuals who have, either personally or as part of a team, been responsible for helping to advance the fields of science or engineering in a demonstrable way within the last 12 months.
"We are very pleased to announce that Vikram Kapoor has been named a 40 Under 40 winner in our inaugural class," said Ilyse Shapiro, executive director of AAEES. "He is a shining star in today's engineering world."
UTSA is a Tier One research university and a Hispanic Serving Institution specializing in cyber, health, fundamental futures, and social-economic transformation. The university aspires to become a model for student success, a great public research university, and an exemplar for strategic growth and innovative excellence.
---