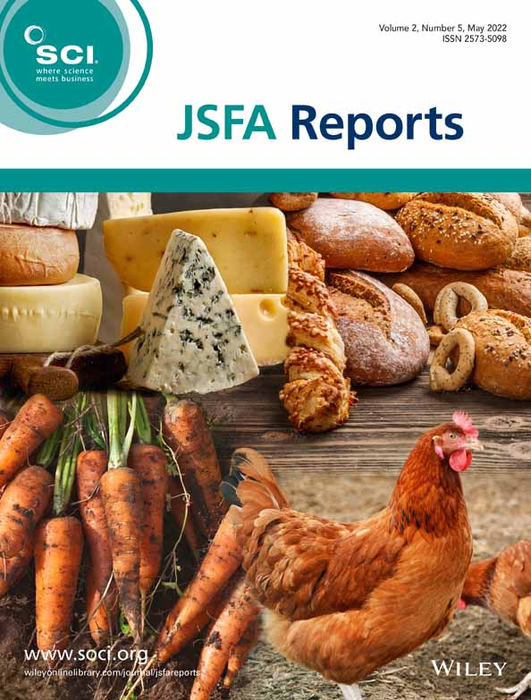 SCI's Journal of the Science of Food and Agriculture (JSFA) has launched a sister title, JSFA Reports, in response to the large number of high quality submissions it has been receiving. Launched in December 2021, the first two issues of JSFA Reports have covered areas as diverse as soil amendments for improving grain quality of grass peas and foodborne pathogen persisters. JSFA Reports has already had over 2,000 downloads within this short period.
Both titles were launched by Professor Andrew Waterhouse, University of California, USA and Dr Mark Shepherd, Ag Research Limited, New Zealand. According to Professor Waterhouse:
"Increasingly, we found that we were turning down submissions for JSFA content – submissions that revealed sound science, solid data and data analysis. In 2020 alone, we received over 5,000 submissions, much more than we could ever publish. Given this very high level of reader engagement, we were loath to turn down so many submissions and wanted to create another high-quality outlet in response to demand. The benefit for authors is that there is a seamless transition to consideration by the sister journal if content space is low."
The new journal covers the same topic areas as JSFA – food, agriculture, and related topics – but with a wider scope when it comes to the cutting-edge novelty and global application that JSFA demands. This provides the authors a platform to publish excellent scientific data including and not limited to regionally focused studies, confirmatory studies of a known experimental design, process optimisations and survey studies. While confirmatory studies provide validation and generalizability for experimental set ups, regional studies and process optimisations help reduce the R&D expenses when scaling up, thus making these data valuable to industry.
Professor Waterhouse continued:
"In Issue One (January 2022) we featured the work on Potential markers by DNA-based tools for determination of Greek PDO geographical origin and authenticity: 'Avgotaracho Mesolonghiou' and 'Vostizza currant'. This revealed the first ever study on the use of DNA based tools for checking the traceability and authentication of Greek Protected Designation of Origin (PDO) delicacies. Currently, such products with the EU PDO label command high​er prices in global food trade due to their geographical origin and associated traditional know-how. This ​necessitates methods to check the authenticity and prevent adulteration. Expanding our journal portfolio in this way, means we have more room for solid results which have direct application to regional food production.
Authors can submit material to JSFA to be considered for publication in both JSFA as well as JSFA Reports; and will be transferred to JSFA Reports when applicable. JSFA Reports also accepts direct submissions.
---