Feature Story | 8-Jun-2022
Google Solution Challenge: Jacobs University team among the top 50 in the world
Jacobs University Bremen gGmbH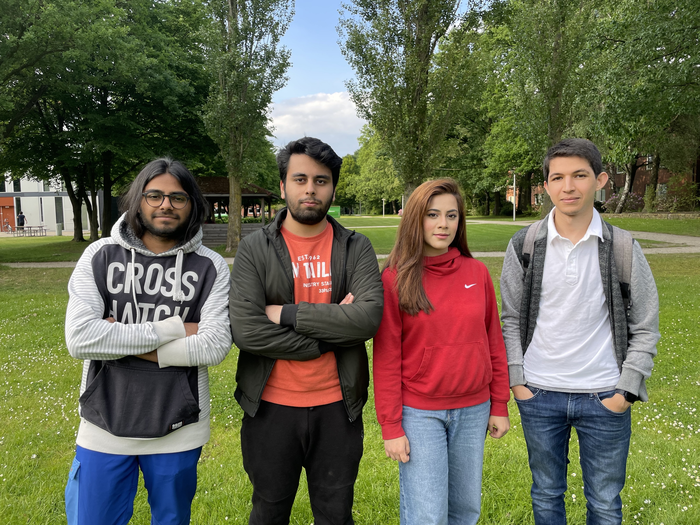 People going missing is a global problem, but especially in the world's crisis regions. According to UNICEF, the United Nations Children's Fund, eight million children alone are reported missing every year. Not infrequently, they are victims of crime, abused as labor slaves, for example. But too little is often done to find them. "We are aiming to combat this problem with digital means," said Ainna Zafar, who studies Computer Science at Jacobs University. Together with Muhammad Dorrabb Khan Niazi, Hamza Hayak and Muhammad Hamza Shah Syed, she developed Lighthouse.
The app helps document and locate missing people. Relatives can upload photos and information about the missing person, making the search public. Within the region where the people are missing, the app's users are informed about the search and made aware of it. They can also contact the searching persons themselves. Being among the top 50, Ainna and her team have now received mentorship from Google Developer Experts to improve their app solution and resubmit it for the top prize. The top 10 finalists will compete live during the Solution Challenge Demo Day in July and have to answer questions from the judges. At the end of the day three teams will be announced winners.
Worldwide, 800 projects took part in the Google Solution Challenge; the ideas were to be based on the 17 Sustainable Development Goals of the United Nations. With Lighthouse, the Jacobs University team already won the Google Europe Ideathon in January, which qualified them for the global finals. The app was developed as part of the Google Developer Student Club at Jacobs University. This association of technology enthusiasts organizes, among other things, tech jams and workshops or invites speakers from Google.
About the Google Developer Student Club:
https://gdsc.community.dev/jacobs-university-bremen/
About the Google Solution Challenge:
https://developers.google.com/community/gdsc-solution-challenge
About Jacobs University Bremen:
Studying in an international community. Obtaining a qualification to work on responsible tasks in a digitized and globalized society. Learning, researching and teaching across academic disciplines and countries. Strengthening people and markets with innovative solutions and advanced training programs. This is what Jacobs University Bremen stands for. Established as a private, English-medium campus university in Germany in 2001, it is continuously achieving top results in national and international university rankings. Its more than 1,600 students come from more than 110 countries with around 80% having relocated to Germany for their studies. Jacobs University's research projects are funded by the German Research Foundation or the EU Research and Innovation program as well as by globally leading companies.
For more information: www.jacobs-university.de
Facebook | Youtube | Twitter | Instagram | LinkedIn
Disclaimer: AAAS and EurekAlert! are not responsible for the accuracy of news releases posted to EurekAlert! by contributing institutions or for the use of any information through the EurekAlert system.