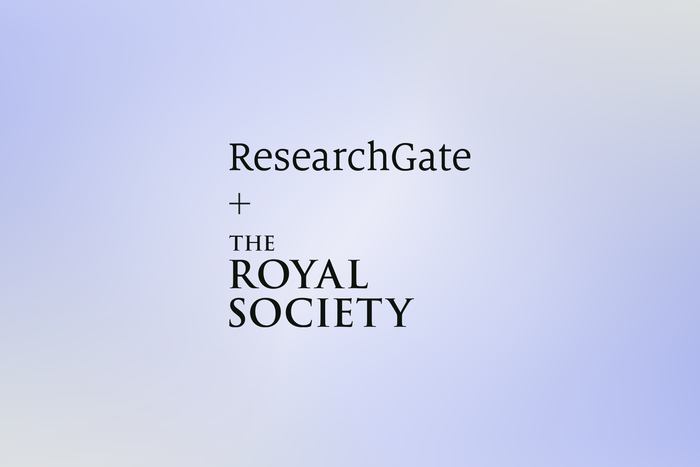 Berlin (Germany) and London (UK) June 9, 2022 – The Royal Society, the UK's national science academy, and ResearchGate, the professional network for researchers, announced today a content syndication partnership that will see the addition of 5,000 open access (OA) articles from journals Open Biology and Royal Society Open Science to ResearchGate.
The goal of the partnership is to increase the visibility, accessibility, and consumption of Royal Society gold open access publications in alignment with the Society's purpose to recognize, promote, and support excellence in science and encourage the development and use of science for the benefit of humanity.
The Royal Society publishes international, high-quality journals that cover the full range of science. Since creating the world's first science journal Philosophical Transactions in 1665, the Society continues to innovate by supporting open access and advocating open science policies. As a non-profit society publisher, any income generated goes back into supporting and progressing the global scientific community.
Sören Hofmayer, co-founder and Chief Strategy Officer at ResearchGate, says: "The Royal Society has been helping to change science for 350 years. We share a belief that the world's challenges must be tackled through collaboration and with the researcher at the center. We are delighted to support their continued innovation by bringing their publications to our global community of over 20 million researchers. Together, we are driving the transition to an open access, author-centric world that can have far-reaching benefits for scientists and society."
Stuart Taylor, Publishing Director at the Royal Society says: "We are very pleased to be embarking on a new partnership with ResearchGate to expand the reach and impact of our open access articles. Early career researchers are a very important audience for us and as they are well represented in ResearchGate's large userbase we are excited about the prospect of reaching them better."
About ResearchGate
ResearchGate is the professional network for researchers. Over 20 million researchers use researchgate.net to share and discover research, build their networks, and advance their careers. Based in Berlin, ResearchGate was founded in 2008. Its mission is to connect the world of science and make research open to all.
ResearchGate contact:
Eimear Bruen
press@researchgate.net
About the Royal Society
The Royal Society is a self-governing Fellowship of many of the world's most distinguished scientists drawn from all areas of science, engineering, and medicine. The Society's fundamental purpose, as it has been since its foundation in 1660, is to recognize, promote, and support excellence in science and to encourage the development and use of science for the benefit of humanity.
Royal Society contact:
Bryony Ravate
press@royalsociety.org
---
Method of Research
News article
Subject of Research
Not applicable