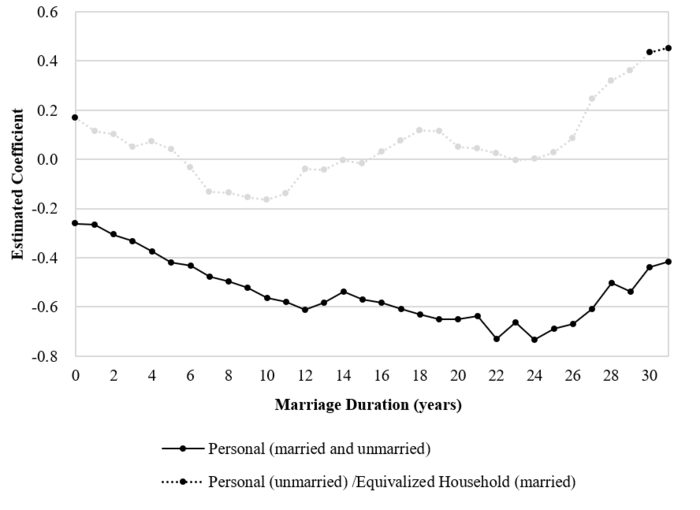 Women in general are a vulnerable segment of society in terms of financial security as they tend to earn less than their male counterparts and experience more financial disruptions with age or when a marriage falls apart. Given the changing family structures due to the decreasing marriage rates and the increasing average age at first marriage and divorce rates, it is important to understand the financial status of women and how marriage changes it.
Professor Yoko Niimi of the Faculty of Policy Studies of Doshisha University explored the financial status of women in Japan. Previous studies did not take personal wealth into account. They analyzed the relationship between marriage and wealth using household wealth on the assumption that it is shared equally between husbands and wives. However, household wealth is not an ideal measure of wealth when it comes to studying women's financial situation because sometimes women do not have an equal share in it and become over-dependent on their husbands. Prof. Niimi wanted to fill these gaps in previous studies by exploring three main factors. "I analyzed the association between marriage and wealth by taking into account personal wealth," explains Prof. Niimi. "I also studied how this association evolves over the course of the marriage and how it differs between personal and household wealth. Finally, I looked at differences in marriage wealth premiums between Japan and Western countries." Her study, published in Demography, summarizes her findings.
Prof. Niimi used the available microdata from the Japanese Panel Survey of Consumers to analyze the relationship between marriage and wealth. Looking at household wealth on the assumption that husbands and wives share resources equally, she found that although marriage contributes to the wealth holdings of women, it only adds to their non-financial net worth. By contrast, an examination of personal wealth based on the actual ownership of assets shows that personal wealth of women declines after marriage due to career disruptions and family responsibilities that they tend to face. In addition to the negative effect of marriage on the wealth of women, Japan also imposes gift taxes, even on gifts between spouses, which discourages husbands from making transfers to, or making joint investments with, their wives. On the other hand, in Western countries, marriage is found to have a positive impact on the personal assets of women through joint investments with their husbands. These findings all point to one thing: Japanese women tend to be economically dependent on their husbands.
Prof. Niimi hopes that this study will provide the impetus to create a better working environment so that married Japanese women will not need to choose between career and family responsibilities. "The findings of this paper will help raise people's awareness of how wealth is distributed within married couples in a legal sense in Japan. This will hopefully lead to raising people's awareness of how financially vulnerable Japanese women are even after marriage," she concludes.
---
About Professor Yoko Niimi from Doshisha University, Japan
Dr. Yoko Niimi is a Professor in the Faculty of Policy Studies, Doshisha University. She has a D.Phil. in Economics from the University of Sussex, UK. Her research interests include poverty, inequality, household behavior, population aging, and subjective well-being. She has formerly been an economist at the Asian Development Bank and an associate professor at the Asian Growth Research Institute.
Media contact:
Organization for Research Initiatives & Development
Doshisha University
Kyotanabe, Kyoto 610-0394, JAPAN
E-mail:jt-ura@mail.doshisha.ac.jp
---
Method of Research
Observational study
Subject of Research
People
Article Title
Are Married Women Really Wealthier Than Unmarried Women? Evidence from Japan
Article Publication Date
1-Apr-2022