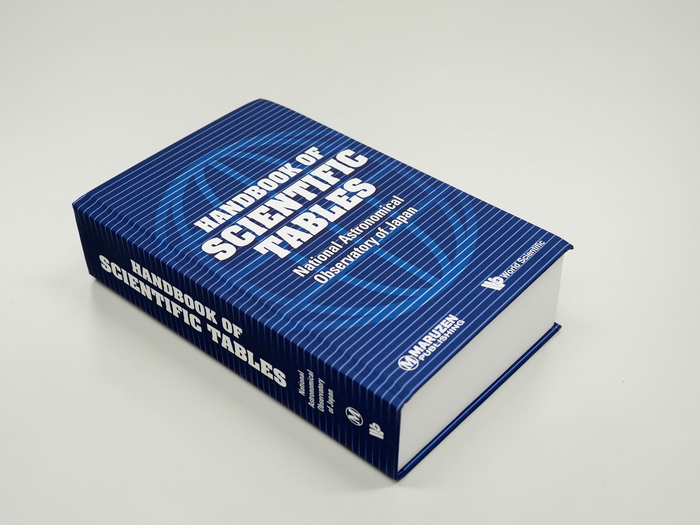 Rika Nenpyo (Chronological Scientific Tables) has been a unique academic publication with almost 100 years of history in Japan and data from every field of Natural Science. So that people all over the world can benefit from this stalwart publication, we have released an international (English language) edition through World Scientific Publishing Co. (WSPC) and Maruzen Publishing Co., LTD. in May 2022.
Title: Handbook of Scientific Tables
Published: May 2022
Size: 9 in (228 mm) × 6 in (152 mm), 1056 pages
Style: Hardcover (ISBN 978-981-3278-51-6), e-book (ISBN 978-981-3278-53-0)
The international edition consists of 6 sections: Astronomy, Meteorology, Physics and Chemistry, Earth Science, Life Science, and Environmental Science. Though some of the content, including the Ephemeris section, is not included, the information in the international edition is a page by page translation of the original Rika Nenpyo. Over the years we have received repeated requests for an English version of Rika Nenpyo. Now, with the cooperation of the researchers and government officials who are the authors of Rika Nenpyo, we are finally able to provide it. We hope this book will prove useful to researchers, engineers, teachers, and students all over the world.
The publisher WSPC, headquartered in Singapore, is a worldwide publishing company. WSPC publishes 600 new titles and 140 journals every year. Maruzen Publishing Co., LTD., the publisher of Rika Nenpyo in Japanese, has a business alliance with WSPC for co-publication. This publication is one of its fruits.
Please visit an online bookstore to order your copy.
---