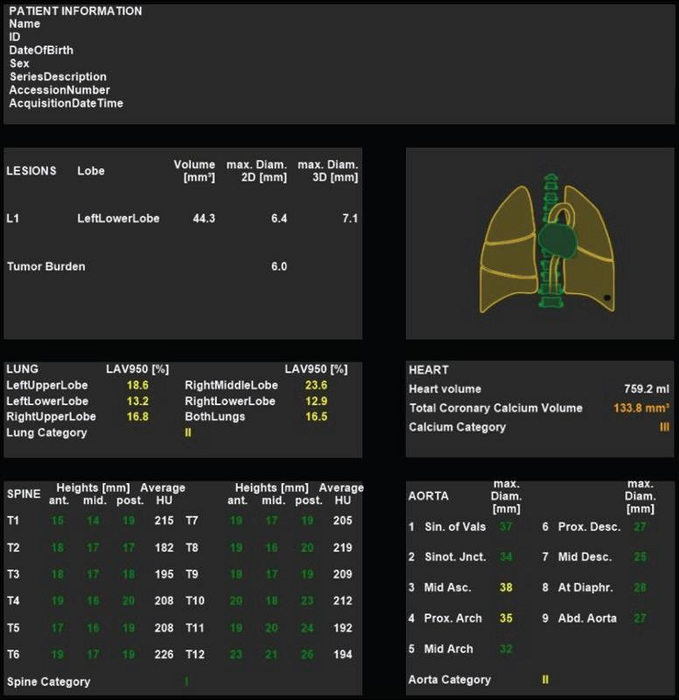 Leesburg, VA, June 13, 2022—According to ARRS' American Journal of Roentgenology (AJR), incorporating AI support into clinical practice can reduce repetitive tasks, saving approximately one hour of chest CT interpretation time in a radiologist's typical workday.
"This is the first study to our knowledge to assess the impact of an AI support platform on chest CT interpretation times in a real-world clinical setting," corresponding author U. Joseph Schoepf from the Medical University of South Carolina (MUSC) noted. "The platform's integration into clinical workflow resulted in a mean reduction in interpretation times of 22.1% among three cardiothoracic radiologists for whom the AI results were made available."
Schoepf and colleagues' prospective study included 390 patients (204 female, 186 male; mean age, 62.8 years) who underwent outpatient chest CT at MUSC from January 19–28, 2021. A commercial software solution, AI-Rad Companion (Siemens Healthineers, Erlangen, Germany), provided automated analysis of cardiac, pulmonary, and musculoskeletal findings, including labeling, segmenting, and measuring normal structures, as well as detecting, labeling, and measuring abnormalities. AI-annotated images and autogenerated summary results were stored in the PACS (IMPAX 6, Agfa Healthcare, Mortsel, Belgium). Chest CT examinations were randomized using 1:1 allocation between AI-assisted and non-AI arms, then clinically interpreted using a stopwatch.
Ultimately, mean interpretation times were significantly shorter in the AI-assisted than in the non-AI arm for all three cardiothoracic radiologists. For readers combined, the mean difference was 93 seconds (95% CI, 63–123 seconds), corresponding with a 22.1% reduction in the AI-assisted arm: 20.0% and 24.2% for contrast-enhanced and non-contrast scans, respectively.
"If assistance from automated AI results can save one hour of interpretation time each day as estimated from our results," the authors of this AJR article contended, "then radiologists could devote this time to other activities, whether additional clinical tasks such as communicating findings to patients and referring physicians, or administrative, education, and research responsibilities."
---
North America's first radiological society, the American Roentgen Ray Society (ARRS) remains dedicated to the advancement of medicine through the profession of medical imaging and its allied sciences. An international forum for progress in radiology since the discovery of the x-ray, ARRS maintains its mission of improving health through a community committed to advancing knowledge and skills with the world's longest continuously published radiology journal—American Journal of Roentgenology—the ARRS Annual Meeting, InPractice magazine, topical symposia, myriad multimedia educational materials, as well as awarding scholarships via The Roentgen Fund®.
MEDIA CONTACT:
Logan K. Young, PIO
44211 Slatestone Court
Leesburg, VA 20176
703-858-4332
---
Journal
American Journal of Roentgenology
Method of Research
Imaging analysis
Subject of Research
People
Article Title
Impact of Artificial Intelligence Assistance on Chest CT Interpretation Times: A Prospective Randomized Study
Article Publication Date
15-Jun-2022
COI Statement
This research did not receive any specific grant from funding agencies in the public, commercial, or not-for-profit sectors.