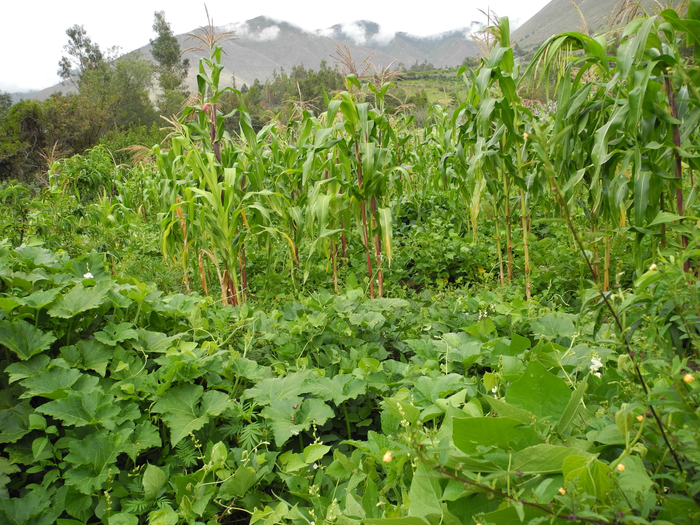 UNIVERSITY PARK, Pa. — Small farms and home gardens where landholders raise multiple species of culturally important crops can have a significant impact when it comes to meeting the United Nations' goal to end global hunger and malnutrition, according to an international team of researchers.
The researchers used a novel framework to study agrobiodiversity — the biodiversity of food, agriculture and land use — in Huánuco, Peru. Huánuco sits more than 6,200 feet above sea level in the Andes Mountains and belongs to the Upper Amazon basin.
The scientists focused on indigenous smallholder gardens and farms, especially multi-species corn fields called maizales. Indigenous farmers structure the maizales around the native maize plant, which can grow up to 12 feet tall, and with it cultivate another half dozen or so crops, such as diverse types of beans, squash, chiles, quinoa and root vegetables. The home gardens and crop fields average .23 and .89 acres, respectively, but they pack a punch in terms of biodiversity, nutrition and economic importance.
"Land use on small farms and part-time farming is common worldwide, with an estimated 1.2 to 2 billion people in smallholder households globally," said Karl Zimmerer, E. Willard and Ruby S. Miller Professor of Geography at Penn State and a principal co-investigator on the project. "These smallholders engaged in part-time food production might drive a taxi, labor in construction or work in different places for part of the year. To understand their diversified livelihoods is an important context for present day and future biodiversity in food and land use."
The scientists used a novel Agrobiodiversity Knowledge Framework (AKF) to guide the study in a first test of the framework and its ability to predict agrobiodiversity. Zimmerer and colleague Stef de Haan of the Consultative Group on International Agricultural Research (CGIAR) led the development of this model, which expands on traditional interdisciplinary approaches by providing a more complete and nuanced view of the factors that influence agrobiodiversity and nutrition interactions. The framework includes dozens of variables that fall into four themes: farms and agroecology; food, nutrition and diets; social, socioeconomic and cultural factors; and global climate and food-system changes. The researchers used the AKF variables to conduct household surveys and took biodiversity samples of 268 farms and 159 home gardens to measure the food spaces' nutritional and ecological impacts.
The team found that the maizales and home gardens play important roles in diet and biodiversity. The researchers identified 92 cultivated species in crop fields and 146 species in home gardens. They also noted that AKF variables related to ecology, food and nutrition can act as predictors of agrobiodiversity in addition to being outcomes. They reported their findings in a special edition of the journal Frontiers in Sustainable Food Systems focused on pathways to zero hunger.
"The test has always been, does diversity in the fields lead to more nutritious diets?" said Zimmerer. "In this study, one goal was to flip this thinking and ask, if indigenous smallholders have a more diverse diet, does that lead them to grow more diverse foods? And it does. We found that a diet rich in traditional foods is an important predictor of biodiversity in fields. This study represents the first time that this idea of two-way interactions of biodiversity with nutrition and food has been tested."
The findings show a need for policies that support culturally important foods, said Ramzi Tubbeh, a postdoctoral scholar in the GeoSyntheSES Lab in the Department of Geography at Penn State who contributed to the study during his doctoral research.
"Our research shows that culturally important foods support biodiversity, and biodiversity supports culturally important foods and diets," he said.
The scientists coined the concept "keystone agrobiodiversity-and-food spaces" to model the importance of the gardens and maizales. These culturally managed food spaces contribute to the area's biodiversity and provide indigenous smallholders with nutritious foods and supplemental incomes.
Two additional variables that showed positive relations to agrobiodiversity were use of the indigenous Quechua language and degree of commercialization. The combination surprised Zimmerer, who noted that "the pair suggests a sort of sweet spot of indigenous resilience and the benefits of market diversification."
Indigenous smallholder growers of Huánuco can produce many kinds of food plants, and access to fresh fruits and vegetables is associated with positive health outcomes, making Huánuco a bright spot when it comes to biodiversity and potential nutrition benefits, according to the researchers. They also describe the area as a hot spot as it is on the front lines of biodiversity threats, climate change and rapid socioeconomic changes.
"Huánuco is near the equator, and those who live there talk about the heat becoming more intense," Zimmerer said. "They notice extended droughts, torrential rains and increased incidences of hail, which are all signs of climate change. All of that interacts with other kinds of global change, the first and foremost being global food system change. These people are increasingly exposed to high calorie, low nutrition, inexpensive food through the global marketplace."
The COVID-19 pandemic and lockdowns also demonstrated the importance of the food spaces.
"As a Peruvian, I can say that COVID-19 was brutal, especially during the first year of the pandemic," said Tubbeh. "I'm not saying the lockdown was a bad policy, but it made it difficult for people to survive in the cities. Many people moved back to their homelands or where their families have fields."
The maizales acted as social safety nets, providing nutritious food and a means of earning a living while cities were on lockdown, said the researchers.
"Two of humanity's greatest challenges are biodiversity conservation and addressing nutrition and hunger," Zimmerer said. "Our research connects how to protect, conserve and use biodiversity with how to address hunger and provide nutritious food to marginalized people."
In addition to Zimmerer and Tubbeh, study co-authors include Andrew Jones, University of Michigan; Stef de Haan CGIAR, Lima, Peru, and Montpellier, France; Hilary Creed-Kanashiro, Instituto de Investigación, Lima, Peru; Carolynne Hultquist, The Earth Institute, Columbia University and former doctoral student and postdoctoral scholar in the Department of Geography at Penn State; Milka Tello Villavicencio, Hermilio Valdizán National University, Huánuco, Peru; Franklin Plasencia Amaya of the International Potato Center, Lima, Peru; and Kien Tri Nguyen, International Center for Tropical Agriculture, Hanoi, Vietnam. The Daniel and Nina Carasso Foundation in Paris, France, and Penn State, through the E. Willard and Ruby S. Miller Professor of Geography designation, supported this research.
---
Journal
Frontiers in Sustainable Food Systems
Method of Research
Observational study
Subject of Research
Not applicable
Article Title
Integrating Social-Ecological and Political-Ecological Models of Agrobiodiversity With Nutrient Management of Keystone Food Spaces to Support SDG 2
Article Publication Date
31-Mar-2022