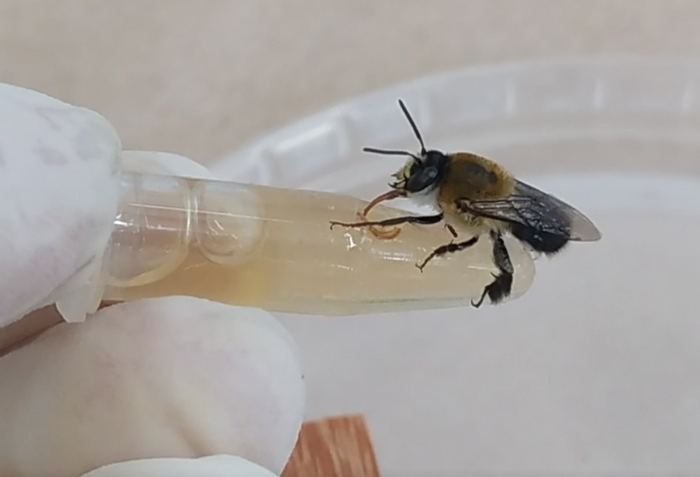 Imidacloprid, one of the pesticides most widely used in Brazil, may be a lethal threat to native bees, according to an article published in the journal Environmental Research. However, owing to the lack of a specific protocol for ecological risk assessments (ERAs) addressing the threat to these species, Brazilian scientists cannot gauge the real scale of the problem.
Imidacloprid is a neonictinoid, a class of neuroactive insecticides absorbed by plants and present in pollen and nectar, making them toxic to bees and other pollinators.
Proper assessment of the risk to Brazil's native bees is "an urgent matter", warn the authors of the article, which is based on the preliminary results of studies conducted at São Paulo State University (UNESP) and the Federal University of São Carlos (UFSCar) to investigate the sensitivity to imidacloprid of native stingless bees, both eusocial (Melipona scutellaris and Scaptotrigona postica) and solitary (Tetrapedia diversipes and Centris analis).
The research is supported by FAPESP via two projects (17/21097-3 and 19/27863-5).
In laboratory tests, the bees are exposed to the insecticide, which is applied to cotton, potatoes, sugarcane, dry beans and tomatoes, among other crops. Diluted in environmentally relevant concentrations (similar to those found in agriculture), the agrochemical is injected orally to simulate collection of food resources such as pollen, nectar, flower oils and resins, and by contact to mimic the effect of crop spraying.
The next stage of the experiments entails assessment of behavioral factors – being able to follow habitual paths, response to light and degree of disorientation – as well as cellular markers and mortality.
In the case of solitary bees, research is incipient and there is the additional challenge of a lack of knowledge about their biology. "We know little about their life cycle or habits, so first we need to breed a species in the lab and then formulate a suitable protocol," said Osmar Malaspina, a professor at UNESP's Institute of Biosciences in Rio Claro.
Early results from the group's studies of solitary bees suggest they may be affected even by low levels of pesticide. "We've already observed alarming levels of poisoning, such as tremors and the inability to fly. If the bees were in the wild instead of a lab, they'd be killed by predators," said Rafaela Tadei, second author of the article. Tadei is studying for a doctorate in biological sciences at UNESP, with Malaspina as her thesis advisor.
Measurements of the solitary bees' fat body, a section of tissue that holds fat cells, mitochondria and enzymes, and is responsible for detoxification as well as serving as a nutrient store, show that the structure is affected and key physiological functions can be impaired as a result.
No protocols
The risks posed by pesticides to bees are typically assessed by means of ecological and toxicological assays using a model based on the Western honeybee Apis mellifera, one of the most common bee species worldwide. For Brazil's 3,000-odd native bee species, there are no specific models. The international standard is extrapolated with a safety factor of 10, which is also based on non-Brazilian species. However, according to the studies by UNESP and UFSCar, not even this additional safety margin appears sufficient to guarantee protection of these insects, reinforcing the need for specific protocols and more effective regulation.
"When we use a less sensitive model species as a standard, we conclude that bees are safe, but actually they may not be. Although more research is still needed to obtain more accurate estimates of the effects of pesticides on Brazilian bees in terms of reproduction and the pollination service they perform, we know the decline in pollinator populations will erode food diversity, affecting the economic system and hence society," Tadei said.
"By studying the effects of pesticides on bees, we can find ways to protect our biodiversity and discover exactly what's happening to these populations so that it's not too late to restore them. It would be better to avoid having to rely on manual pollination or other methods that would drive up food prices."
According to Tadei, the research should be followed by the inclusion of three spheres in the debate: civil society, so that the need for research and environmental protection is more widely understood; government, so that regulation is improved on the basis of scientifically proven evidence; and the scientific community, so that joint efforts can be undertaken to obtain the best possible solutions for the environment.
###
About São Paulo Research Foundation (FAPESP)
The São Paulo Research Foundation (FAPESP) is a public institution with the mission of supporting scientific research in all fields of knowledge by awarding scholarships, fellowships and grants to investigators linked with higher education and research institutions in the State of São Paulo, Brazil. FAPESP is aware that the very best research can only be done by working with the best researchers internationally. Therefore, it has established partnerships with funding agencies, higher education, private companies, and research organizations in other countries known for the quality of their research and has been encouraging scientists funded by its grants to further develop their international collaboration. You can learn more about FAPESP at www.fapesp.br/en and visit FAPESP news agency at www.agencia.fapesp.br/en to keep updated with the latest scientific breakthroughs FAPESP helps achieve through its many programs, awards and research centers. You may also subscribe to FAPESP news agency at http://agencia.fapesp.br/subscribe.
---
Journal
Environmental Research
Article Title
Are native bees in Brazil at risk from the exposure to the neonicotinoid imidacloprid?
Article Publication Date
23-Mar-2022