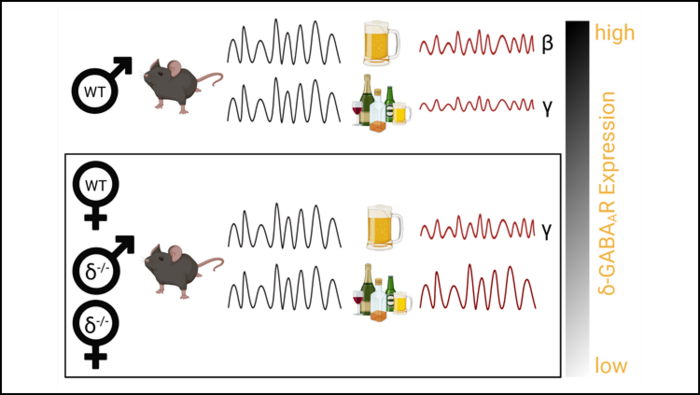 Alcohol alters synchronized brain activity in the amygdala of mice, but differently for male and female mice, according to new research published in eNeuro.
Alcohol misuse often goes hand-in-hand with anxiety and depression, and a brain region called the amygdala is involved in both. Changes in synchronized brain activity, called oscillations, between areas like the amygdala and prefrontal cortex can influence anxious and fearful behaviors in both rodents and humans. Yet how alcohol may impact the amygdala network to change behavior is not known.
DiLeo et al. administered alcohol to mice and measured corresponding changes in oscillatory states in the amygdala. Alcohol affected amygdala oscillations differently in male and female mice, especially after repeated alcohol administration. In fact, the oscillatory state of females did not change at all after repeated alcohol administration. The researchers repeated the experiment in mice without a subunit of a receptor linked to alcohol use and anxiety, which induced traits of the female network activity in males. These results indicate alcohol can trigger the amygdala to switch activity states, which may drive changes in anxious and fearful behavior.
###
Paper title: Sex Differences in the Alcohol-mediated Modulation of BLA Network States
Please contact media@sfn.org for full-text PDF and to join SfN's journals media list.
About eNeuro
eNeuro is an online, open-access journal published by the Society for Neuroscience. Established in 2014, eNeuro publishes a wide variety of content, including research articles, short reports, reviews, commentaries and opinions.
About The Society for Neuroscience
The Society for Neuroscience is the world's largest organization of scientists and physicians devoted to understanding the brain and nervous system. The nonprofit organization, founded in 1969, now has nearly 37,000 members in more than 90 countries and over 130 chapters worldwide.
---
Method of Research
Experimental study
Subject of Research
Animals
Article Title
Sex differences in the alcohol-mediated modulation of BLA network states
Article Publication Date
4-Jul-2022