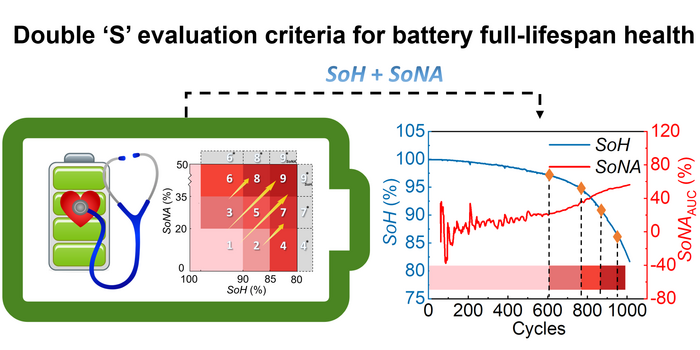 Recently, Dr. Heze You (first author) and Professor Haifeng Dai (corresponding author) of Tongji University, in cooperation with Professor Xinhua Liu (corresponding author) of Beihang University proposed a new lithium battery health assessment indicator SoNA, which can qualitatively and quantitatively describe the nonlinear aging phenomenon during battery aging. Meanwhile, combined with the traditional health factor SoH, a multidimensional and systematic grading assessment system for the entire lifespan of LIBs is constructed, which can comprehensively evaluate the battery safety and nonlinearity under different aging paths. Furthermore, the author also built a lithium battery full-lifespan service framework from ground to cloud based on CHAIN, which has made significant contributions to the application and echelon usage of LIBs in electric vehicles.
The research work was published in the Journal of Energy Chemistry under the title "Nonlinear health evaluation for a lithium-ion battery within full-lifespan".
About the journal
The Journal of Energy Chemistry is a publication that mainly reports on creative researches and innovativeapplications of chemical conversions of fossil energy, carbon dioxide, electrochemical energy and hydrogen energy,as well as the conversions of biomass and solar energy related with chemical issues to promote academicexchanges in the field of energy chemistry and to accelerate the exploration, research and development of energyscience and technologies.
At Elsevier
https://www.sciencedirect.com/journal/journal-of-energy-chemistry
Manuscript submission
https://www.editorialmanager.com/jechem/default.aspx
---
Journal
Journal of Energy Chemistry