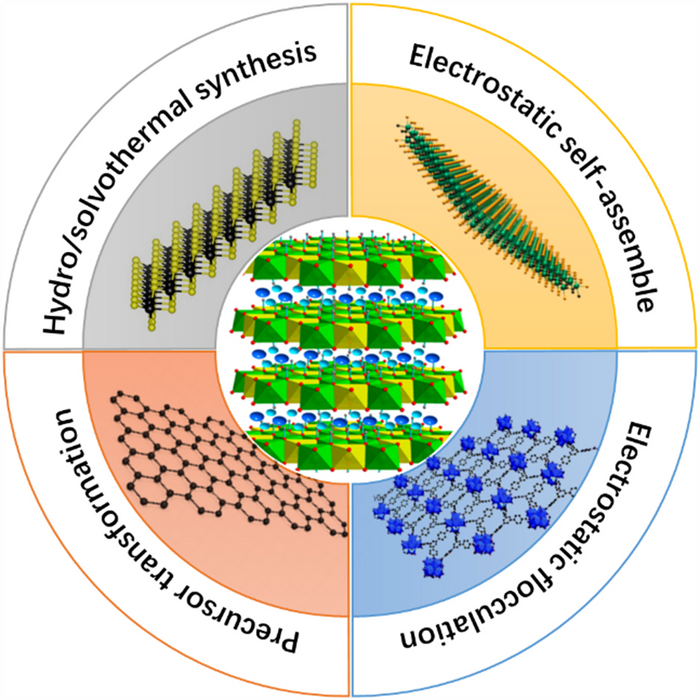 Transition metal‐based layered double hydroxides (LDHs) have been proved to be one of the most efficient materials for oxygen evolution reaction (OER), however, this kind of material still suffered from low conductivity and sluggish kinetics for hydrogen evolution reaction (HER), which largely inhibited the overall water splitting efficiency. To address this dilemma, enormous approaches including doping regulation, intercalation tuning and defect engineering are therefore rationally designed and developed.
Recently, a research team led by Prof. Dingsheng Wang from Tsinghua University, summarized recent exciting progress of LDHs hybridization with other two-dimensional (2D) materials for water splitting reactions. In this review, the authors firstly focused on synthetic methodology of the hybrids and followed by a detailed discussion on the structural features and their morphologies. The charge transfer, synergistic effects for the heterostructure/heterointerface between LDHs and 2D materials including carbon based material, MoS2 and Mxene, that influenced the electrocatalytic performance are then discussed. The authors also proposed the current challenges for the further energy application including the huge gap between laboratorial work and commercial applications.
This review will inspire the development of a new branch of advanced electrocatalyst for material science and energy application. The results were published in Chinese Journal of Catalysis (https://doi.org/10.1016/S1872-2067(21)63987-6).
###
About the Journal
Chinese Journal of Catalysis is co-sponsored by Dalian Institute of Chemical Physics, Chinese Academy of Sciences and Chinese Chemical Society, and it is currently published by Elsevier group. This monthly journal publishes in English timely contributions of original and rigorously reviewed manuscripts covering all areas of catalysis. The journal publishes Reviews, Accounts, Communications, Articles, Highlights, Perspectives, and Viewpoints of highly scientific values that help understanding and defining of new concepts in both fundamental issues and practical applications of catalysis. Chinese Journal of Catalysis ranks among the top two journals in Applied Chemistry with a current SCI impact factor of 12.92. The Editors-in-Chief are Profs. Can Li and Tao Zhang.
At Elsevier http://www.journals.elsevier.com/chinese-journal-of-catalysis
Manuscript submission https://mc03.manuscriptcentral.com/cjcatal
---