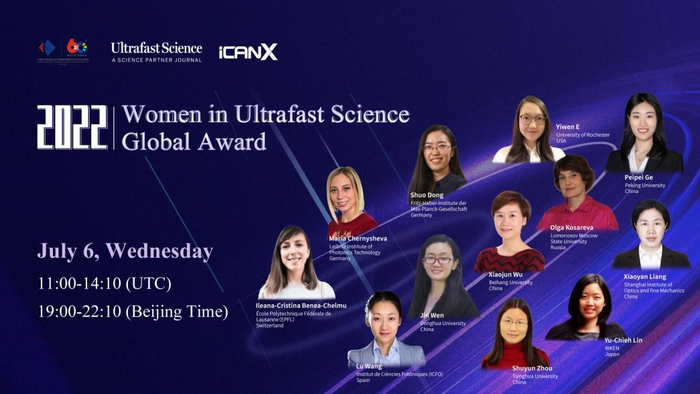 In recognition of the inspiring contributions made by women in science, the journal Ultrafast Science has established the Women in Ultrafast Science Global Award. This award aims to celebrate the achievements of outstanding women researchers by recognizing and supporting their important and original works in the field of ultrafast science.
Launched on 8 March, as of 30 May, the activity garnered 28 applications from 10 countries, they all come from internationally renowned academic institutions such as RIKEN, EPFL, Leibniz Institute of Photonics Technology, ICFO, Tsinghua University. The selection process was highly competitive.
After the preliminary shortlisting, 12 female scientists stand out, they will participate in the final round to compete for the Women in Ultrafast Science Global Award by presenting their scientific progress.
The final selection round will be held on 6 July (starting at 19:00 Beijing time/11:00 UTC/ 13:00 Berlin Time/20:00 Tokyo Time/ 7:00 Washington Time).
Please join the webinar from the live stream link: https://www.koushare.com/lives/room/000499
If you are interested, please email to usjournal@opt.ac.cn, a Zoom link for accessing the webinar will be sent to you.
The selection committee is composed of 6 renowned experts: Academician Professor MingHui Hong from the National University of Singapore, Professor Xicheng Zhang from the University of Rochester, Professor Franz X. Kärtner from Universitat Hamburg, Professor Katsumi Midorikawa from RIKEN, Professor Zhiyi Wei from the Institute of Physics, CAS, and Professor Yuxi Fu from the Xi'an Institute of Optics and Precision Mechanics, CAS.
The activity is hosted by Dr.Jiangbo She, managing editor of Ultrafast Science.
Schedule and details:
Time

Name

Affiliation:

Title

13:00-13:10(Berlin Time), 19:00- 19:10(Beijing Time), 20:00-20:10(Tokyo Time), 7:00-7:10(Washington Time)

Opening Ceremony

13:10-13:25(Berlin Time), 19:10- 19:25(Beijing Time), 20:10-20:25(Tokyo Time), 7:10-7:25(Washington Time)

Ileana-Cristina Benea-Chelmu

École Polytechnique Fédérale de Lausanne(EPFL)

Integrated photonic circuits for terahertz applications

13:25-13:40(Berlin Time), 19:25- 19:40(Beijing Time), 20:25-20:40(Tokyo Time), 7:25-7:40(Washington Time)

Maria Chernysheva

Leibniz Institute of Photonics Technology

Stability performance and collision dynamics in a free-running bidirectional mode-locked fibre laser

13:40-13:55(Berlin Time), 19:40- 19:55(Beijing Time), 20:40-20:55(Tokyo Time), 7:40-7:55(Washington Time)

Shuo Dong

Fritz-Haber-Institute der Max-Planck-Gesellschaft

Direct measurement of key exciton properties: energy, dynamics and spatial distribution of the wave function

13:55-14:10(Berlin Time), 19:55- 20:10(Beijing Time), 20:55-21:10(Tokyo Time),7:55-8:10(Washington Time)

Yiwen E

University of Rochester

When laser meets liquids

14:10-14:25(Berlin Time), 20:10- 20:25(Beijing Time), 21:10-21:25(Tokyo Time), 8:10-8:25(Washington Time)

Peipei Ge

Peking University

Attoclock with two-color circularly polarized fields

14:25-14:40(Berlin Time), 20:25- 20:40(Beijing Time), 21:25-21:40(Tokyo Time), 8:25-8:40(Washington Time)

Olga Kosareva

Lomonosov Moscow State University

Active terahertz waveguide in air

14:40-14:55(Berlin Time), 20:40- 20:55(Beijing Time), 21:40-21:55(Tokyo Time), 8:40-8:55(Washington Time)

Xiaoyan Liang

Shanghai Institute of Optics and fine Mechanics

Key technologies of SULF-10PW laser

14:55-15:10(Berlin Time), 20:55- 21:10(Beijing Time), 21:55-22:10(Tokyo Time), 8:55-9:10(Washington Time)

Yu-Chieh Lin

RIKEN

Optical parametric amplifier of a sub-cycle shortwave infrared pulses

15:10-15:25(Berlin Time), 21:10- 21:25(Beijing Time), 22:10-22:25(Tokyo Time), 9:10-9:25(Washington Time)

Lu Wang

Institut de Ciències Fotòniques (ICFO)

Compact terahertz generation and manipulation using Dirac semimetal heterostructures

15:25-15:40(Berlin Time), 21:25- 21:40(Beijing Time), 22:25-22:40(Tokyo Time), 9:25-9:40(Washington Time)

Jin Wen

Donghua University

Singlet Fission Dynamics in Cyclopentadithiophenes

15:40-15:55(Berlin Time), 21:40- 21:55(Beijing Time), 22:40-22:55(Tokyo Time),9:40-9:55(Washington Time)

Xiaojun Wu

Beihang University

13.5-mJ Terahertz Radiation from Lithium Niobates

15:55-16:10(Berlin Time), 21:55- 22:10(Beijing Time), 22:55-23:10(Tokyo Time), 9:55-10:10(Washington Time)

Shuyun Zhou

Tsinghua University

Ultrafast dynamics of quantum materials by time and angle resolved photoemission spectroscopy
---