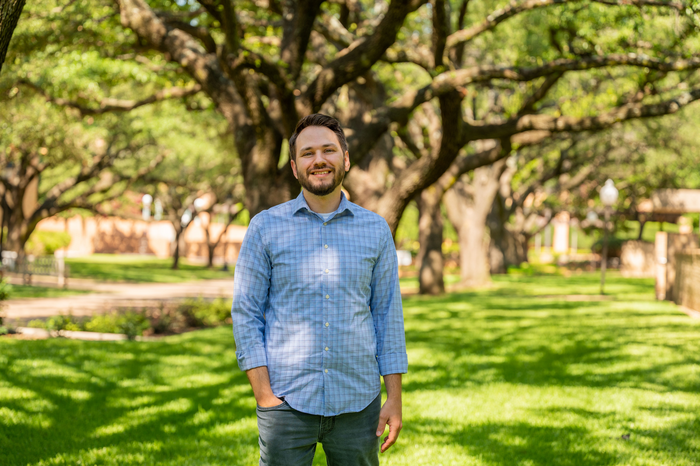 The United States Distance Learning Association has named Jeremy Glass, a senior lecturer of mathematics at The University of Texas at Arlington, as the Gold Winner of its 2022 Award for Excellence in Distance Learning Teaching. The international award is given to an outstanding individual or team of individuals whose teaching demonstrates extraordinary achievements.
Glass said he strives to create a sense of community in his online courses so that students feel welcome and supported.
"When instructors provide flexibility through asynchronous activities and open-ended due dates, there is an inherent lack of community," Glass said. "My goal is to create a welcoming, safe environment where students feel comfortable to learn and make mistakes alongside their peers."
To build community, Glass asks his students to join a synchronous webcast each week. Under Glass' guidance, students hash out the week's toughest math problems and homework assignments in real time.
Greg Wells, who is seeking a second bachelor's degree in computer science and engineering, took Glass' "Calculus I" course online. Wells said Glass' methods for student engagement created an online learning environment different from others he had experienced.
"He sincerely wants each of his students to succeed," Wells said. "His passion for teaching was palpable, and it contributed to an exceptional learning experience."
Glass has played an important role in the Department of Mathematics' efforts to improve student success rates, creating online mathematics courses and developing innovative instructional models. His success in implementing those new instructional methods has been reflected in the increased enrollment and success of students in basic math courses.
Jianzhong Su, professor and chair of mathematics, recommended Glass for the award, citing his leadership role in developing innovative online mathematics curriculum.
"Jeremy has played an important role in developing a particularly effective and innovative undergraduate teaching methodology for online mathematics courses," Su said. "His success is not only reflected in increased enrollment, but also in the outstanding performance of his students."
In the 2020-21 academic year, UTA offered nearly 12,000 online courses. UTA's entire core curriculum is available online, and the University offers fully online undergraduate and graduate degrees in more than a dozen disciplines.
U.S. News & World Report regularly recognizes UTA's online programs among the nation's best. In 2022, online master's programs in the College of Education and the College of Nursing and Health Innovation ranked in the nation's top 60.
---