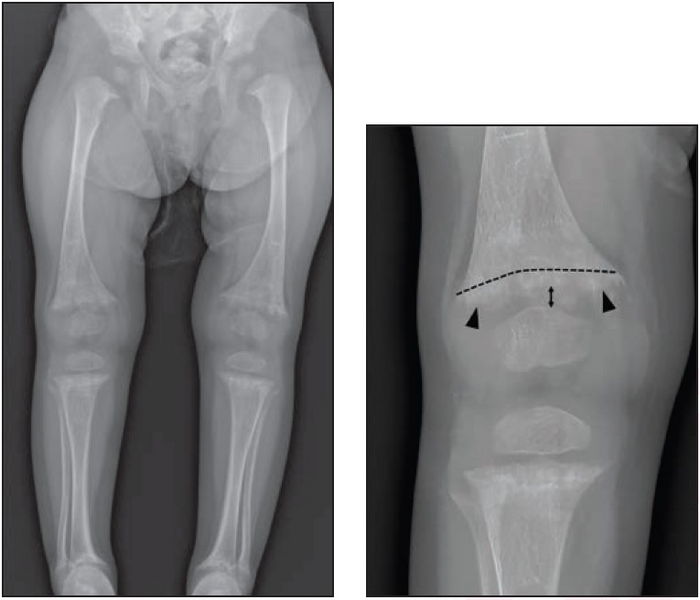 Leesburg, VA, July 6, 2022—According to ARRS' American Journal of Roentgenology (AJR), rickets and classic metaphyseal lesions (CMLs) exhibit distinct radiographic signs, and radiologists can reliably differentiate these two entities.
Noting both high interobserver agreement and diagnostic performance for differentiating the two entities in this 7-center study, "recognition that CMLs mostly occur in children younger than 6 months and are unusual in children older than 1 year may assist interpretations," wrote corresponding author Boaz Karmazyn from the Riley Hospital for Children in Indianapolis, IN.
Karmazyn and colleagues' retrospective study included children younger than 2 years old who underwent knee radiographs from January 2017 to December 2018 and who either had rickets (25-hydroxy vitamin D <20 ng/mL and abnormal knee radiographs) or knee CMLs and a diagnosis of child abuse from a pediatrician. Eight radiologists independently interpreted radiographs for rickets or CML diagnoses, rating confidence levels and logging associated radiographic signs.
Ultimately, children with CML were younger than children with rickets (3.9% vs 65.7% >1 year old). The rate of false-positive moderate or high-confidence interpretations was 0.6% for CML and 1.6% for rickets. Only a single child with CML and low vitamin D received an interpretation of combined CML and rickets.
Reiterating that less- and more-experienced pediatric and non-pediatric radiologists had high diagnostic performance in differentiating rickets and CML—regardless of the presence of vitamin D deficiency, with few false-positive interpretations for these diagnoses—"findings suggestive of both rickets and CML should be viewed as indeterminate," the authors of this AJR article concluded.
---
North America's first radiological society, the American Roentgen Ray Society (ARRS) remains dedicated to the advancement of medicine through the profession of medical imaging and its allied sciences. An international forum for progress in radiology since the discovery of the x-ray, ARRS maintains its mission of improving health through a community committed to advancing knowledge and skills with the world's longest continuously published radiology journal—American Journal of Roentgenology—the ARRS Annual Meeting, InPractice magazine, topical symposia, myriad multimedia educational materials, as well as awarding scholarships via The Roentgen Fund®.
MEDIA CONTACT:
Logan K. Young, PIO
44211 Slatestone Court
Leesburg, VA 20176
703-858-4332
---
Journal
American Journal of Roentgenology
Method of Research
Imaging analysis
Subject of Research
People
Article Title
Radiologists' Diagnostic Performance in Differentiation of Rickets and Classic Metaphyseal Lesions on Radiographs: A Multicenter Study
Article Publication Date
6-Jul-2022