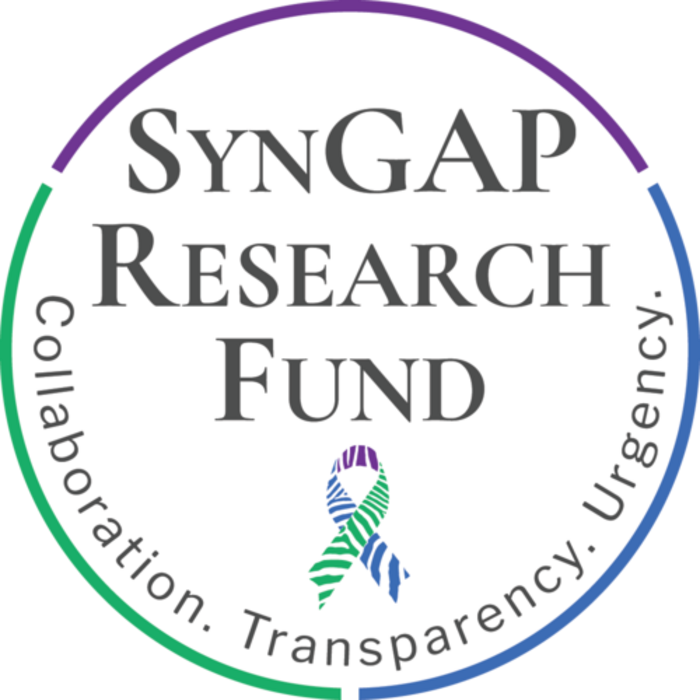 While the majority of SYNGAP1 research to date has focused on individuals with protein truncating variants and increasing expression from the unaffected version of the gene, Dr. Courtney and Dr. Li of University of Turku, Finland, are focusing their research on missense variants. They are developing a phenotyping pipeline that could lead to new therapies for patients with a missense variant of SYNGAP1.
Dr. Courtney says, "Our lab developed a method to encode SynGAP, a very large protein, in the small genome of the adeno-associated virus for experimental measurements. By labeling SynGAP with a tag, we are able to compare a given SYNGAP1 missense variant with the wild type protein under the microscope in the authentic live neuronal environment. We can see how well it expresses, whether it localizes correctly, and likely also whether it signals correctly. Once we can measure the differences between a missense variant and the wild-type, we have a read-out of protein function in neurons. The project aims to determine whether this readout is sufficiently reliable to develop a test or screen for compounds that reduce or minimize this difference. We anticipate that this will be successful, which would allow future screening of–for example–medicines already approved for other conditions, which might be repurposed to improve the function of missense SynGAP."
Dr. Li observes, "SynGAP disorder is a heavily underdiagnosed intellectual disability caused by a mutation in one of the two copies of the SYNGAP1 gene. In most known cases, the mutation prevents expression of an intact protein, and therapies are being developed to increase expression from the remaining intact copy of the gene. Some SynGAP1 patients and, it is thought, the majority of undiagnosed cases, have a missense mutation. In each case, this alters only one of the ~1400 amino acids that make up the SynGAP1 protein. How this prevents the protein from functioning correctly is not known. More problematic is that we also do not know if increasing expression, with the therapies under development, will do more harm than good in patients with a missense form of SYNGAP1. This project aims to develop efficient methods that can be used to reveal how a given missense variant of SynGAP protein behaves or misbehaves in its natural environment, inside living neurons. The long term goal is to generate a pipeline that could become available for finding compounds that improve the functioning of missense SYNGAP1 variants."
Sandra Apler, Co-Founder, Leon and Friends says, "We are incredibly happy to co-fund this project together with SRF specifically for our Missense patients. Dr. Courtney and Dr. Li from the University of Turku are a renowned research team, and we would like to thank them for working on this project and making it their goal to help our children. We are very excited to see the results and look forward to further collaborations with Syngap organizations."
Katrien Deckers, Chair, SRF–Europe says, "This project will be a significant step to better understanding missense mutations and we are so pleased to join two other organizations in funding European research into SYNGAP1."
Aaron Harding, member of the SRF–USA Board and father to a child with a c.1030G>A missense mutation says, "this project a big step forward for missense patients–20% of diagnosed pathogenic variants and a huge portion of undiagnosed and VUS patients–to help us to understand its physiological impact. This is essential as upregulation therapeutics are being developed right now. "Until now, we have not announced a grant yet where we are co-funding with another SRF organization or another SYNGAP1 patient group, today we are doing both. I am thrilled to see SRF catalyze patient funding around the globe to improve the future for our loved ones. Now we need to see this move from an exception to the norm," said Michael Graglia, co-founder of SRF. He continues, "We are grateful to our donors for their support."
ABOUT SYNGAP1
SYNGAP1-related intellectual disability (US ICD-10: F78.A1) is a rare genetic disorder caused by variants (normally de novo) on the SYNGAP1 gene. There are nearly 1,100 diagnosed patients known to SRF as of July 2022. This disorder leads to several neurological issues including intellectual disability, epilepsy, autism, sleep disruption, gastro-intestinal and feeding problems, hypotonia (low muscle tone), apraxia (delayed/no speech), impulsivity, aggression & sensory processing challenges. (Vlaskamp 2019, Jimenez-Gomez 2019, Smith-Hicks 2021, Wright 2022, Lyons-Warren 2022). There is over 20 years of research on this gene already (Gamache 2020), and still much more to do.
ABOUT TURKU BIOSCIENCE CENTRE
Turku Bioscience (previously known as Turku Centre for Biotechnology) is an advanced core facility and research centre hosted jointly by University of Turku and Åbo Akademi University. The Centre was established in 1992 to facilitate research infrastructure services and scientific interactions across departments and within the two universities. This concept has proved to be highly efficient especially in optimizing the coordinated acquisition of cutting-edge instruments and providing technology services by open access principles. The Centre offers services to both academic and commercially-oriented research projects. Visit Bioscience.fi/
ABOUT LEON & FRIENDS
Leon & Friends is a fundraising organization in Austria dedicated to raising resources for research to find treatments SYNGAP1. The organization was co-founded by Sandra and Florian Apler, whose son Leon is diagnosed with a missense mutation. Visit LeonandFriends.org
ABOUT SYNGAP RESEARCH FUND
SRF, incorporated in the US in 2018, is a 501(c)(3) public charity whose mission is to improve the quality of life of SYNGAP1 patients through the research and development of treatments, therapies and support systems. Families created sister organizations for SRF in the UK in 2020 and in Europe (Netherlands) in 2022. Completely parent-led, SRF is the largest non-government funder of SynGAP research having committed over $2.9M in grants. The founders cover all operational costs, allowing 100% of donations to go to research. SRF's grant program awards one or two-year grants to young investigators, physician residents, and clinicians who are interested in studying SYNGAP1. SRF grants are intended to help researchers explore novel ideas and answer questions related to the clinical aspects, therapies and/or genetic causes of SYNGAP1. SRF is a member of the Personalized Medicine Coalition, COMBINEDbrain, Global Genes Foundation Alliance, the Everylife Foundation Community Congress, Rare Epilepsy Network, and Epilepsy Leadership Council. Visit SyngapResearchFund.org
---