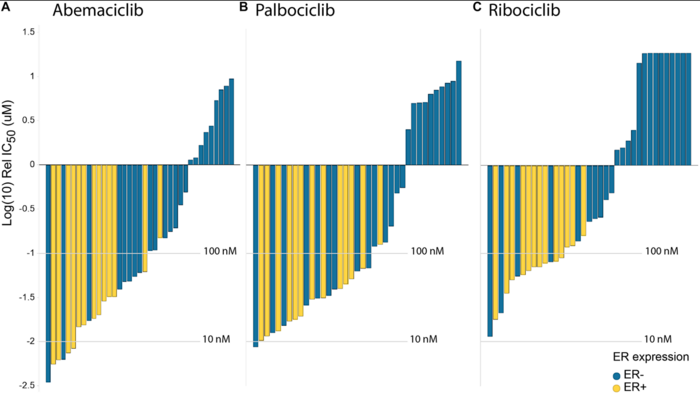 BUFFALO, NY- July 6, 2022 – Researchers from Eli Lilly and Company published a new research paper in Oncotarget on July 2, entitled, "Continuous treatment with abemaciclib leads to sustained and efficient inhibition of breast cancer cell proliferation."
Worldwide, breast cancer (BC) is the second most common cancer. Pharmacologically targeting cyclin-dependent kinase 4 and 6 (CDK4 & 6) has proven to be a successful therapeutic approach in patients with estrogen receptor-positive (ER+) breast cancer.
Abemaciclib is the first FDA-approved CDK4 & 6 inhibitor (CDK4 & 6i) approved for the adjuvant treatment of HR+, HER2–, node-positive, early breast cancer (EBC) at high risk of recurrence and a Ki-67 score ≥20%. Differences have been observed in both efficacy and severity of neutropenia among the available CDK4 & 6i, generating interest in a possible mechanistic explanation. In this study, researchers examined the preclinical attributes of abemaciclib and other CDK4 & 6i using biochemical and cell-based assays.
"In vitro, abemaciclib preferentially inhibited CDK4 kinase activity versus CDK6, resulting in inhibition of cell proliferation in a panel of BC cell lines with higher average potency than palbociclib or ribociclib."
Abemaciclib showed activity regardless of HER2 amplification and phosphatidylinositol 3-kinase (PI3KCA) gene mutation status. In human bone marrow progenitor cells, abemaciclib showed lower impact on myeloid maturation than other CDK4 & 6i when tested at unbound concentrations similar to those observed in clinical trials. Continuous abemaciclib treatment provided profound inhibition of cell proliferation, and triggered senescence and apoptosis.
"After continuous dosing with abemaciclib, cells show sustained inhibition of cell proliferation that leads to irreversible effects through apoptosis. These preclinical results support the differentiated safety and efficacy profile of abemaciclib observed in clinical trials."
DOI: https://doi.org/10.18632/oncotarget.28249
Correspondence to: María José Lallena - Email: lallena_maria_jose@lilly.com
Special Collection on Breast Cancer: https://www.oncotarget.com/collections/breast-cancer/
Keywords: abemaciclib, breast cancer, cell lines, CDK4/6, continuous dosing

About Oncotarget: Oncotarget (a primarily oncology-focused, peer-reviewed, open access journal) aims to maximize research impact through insightful peer-review; eliminate borders between specialties by linking different fields of oncology, cancer research and biomedical sciences; and foster application of basic and clinical science.
To learn more about Oncotarget, visit Oncotarget.com and connect with us on social media:
For media inquiries, please contact: media@impactjournals.com.
Oncotarget Journal Office
6666 East Quaker Str., Suite 1A
Orchard Park, NY 14127
Phone: 1-800-922-0957 (option 2)
###
---
Method of Research
Experimental study
Subject of Research
Human tissue samples
Article Title
Continuous treatment with abemaciclib leads to sustained and efficient inhibition of breast cancer cell proliferation
Article Publication Date
2-Jul-2022