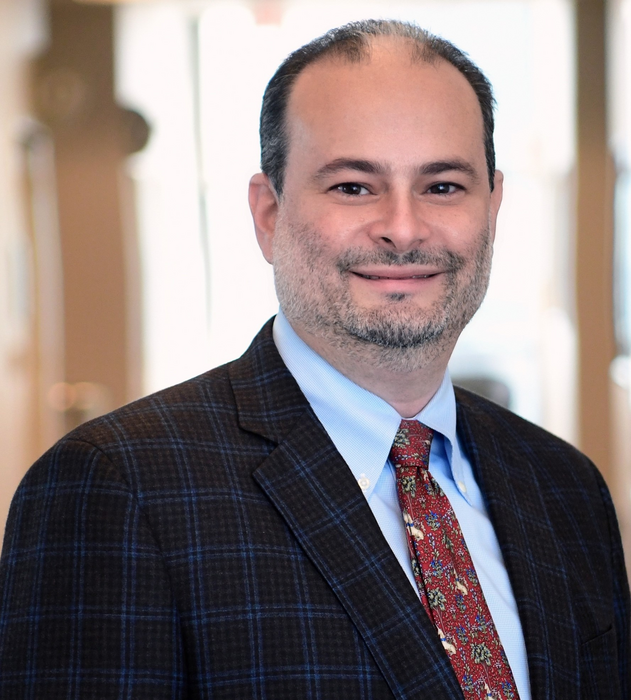 HOUSTON (Jul. 12, 2022) - Dr. Joshua Shulman, Professor at Baylor College of Medicine, has been named the new Co-Director of the Jan and Dan Duncan Neurological Research Institute (Duncan NRI) at Texas Children's Hospital. The Duncan NRI is a premier neurological research institution and a destination for families seeking answers and treatments for rare and undiagnosed neurological conditions, as well as for more common neurodegenerative and neuropsychiatric disorders.
"Dr. Shulman is one of those rare physician-scientists who possess exquisite clinical skills, compassion, scholarship, and innovation in research," said Dr. Huda Zoghbi, Director of the Duncan NRI, Howard Hughes Medical Institute Investigator, and distinguished service Professor at Baylor. "These attributes, combined with his leadership and dedication to mentoring the next generation of scientists, make him ideal for the Co-Director role at the Duncan NRI. I am thrilled to partner with him as we continue to move forward addressing devastating neurological disorders."
Dr. Shulman succeeds Dr. John Swann as the Co-Director of the Duncan NRI and brings with him 25 years of experience as a neuroscientist and adult neurologist specializing in Parkinson's, Alzheimer's, and other neurodegenerative disorders. He completed his medical and research training at Harvard Medical School, Massachusetts General and Brigham and Women's Hospitals, and Cambridge University in the U.K. He was recruited to Baylor and the Duncan NRI in 2012 and is now a Professor in the departments of Neurology, Molecular and Human Genetics, and Neuroscience at Baylor. He is also the founding Director of Baylor's Center for Alzheimer's and Neurodegenerative Diseases and holds the Huffington Foundation Endowed Chair for Parkinson's Disease Research at the Duncan NRI and the Effie Marie Cain Chair in Alzheimer's Disease Research at Baylor.
Using a multidisciplinary approach that integrates human genomic analyses with functional investigation in experimental animal models of neurodegenerative disease, Dr. Shulman and his team have made several important discoveries that have led to a better understanding of the genes and mechanisms involved in Alzheimer's and Parkinson's diseases. In recognition of his stellar contributions to neurology, he received the prestigious 2020 Derek Denny-Brown Young Neurological Scholar Award from the American Neurological Association.
"The Duncan NRI truly is a special place, with an unparalleled collaborative and cross-disciplinary approach that propels groundbreaking research on brain diseases affecting children and adults alike," said Dr. Shulman. "The success of my research program over the last decade owes much to the Duncan NRI and I am proud to serve as its Co-Director. It is a privilege to represent and support my outstanding colleagues at the Duncan NRI and to learn from and work with Dr. Huda Zoghbi to further Duncan NRI's mission."

###
About Texas Children's Hospital
Texas Children's Hospital, a not-for-profit health care organization, is committed to creating a healthier future for children and women throughout the global community by leading in patient care, education and research. Consistently ranked as the best children's hospital in Texas, and among the top in the nation, Texas Children's has garnered widespread recognition for its expertise and breakthroughs in pediatric and women's health. The hospital includes the Jan and Dan Duncan Neurological Research Institute; the Feigin Tower for Pediatric Research; Texas Children's Pavilion for Women, a comprehensive obstetrics/gynecology facility focusing on high-risk births; Texas Children's Hospital West Campus, a community hospital in suburban West Houston; and Texas Children's Hospital The Woodlands, the first hospital devoted to children's care for communities north of Houston. The organization also created Texas Children's Health Plan, the nation's first HMO for children; Texas Children's Pediatrics, the largest pediatric primary care network in the country; Texas Children's Urgent Care clinics that specialize in after-hours care tailored specifically for children; and a global health program that's channeling care to children and women all over the world. Texas Children's Hospital is affiliated with Baylor College of Medicine. For more information, go to www.texaschildrens.org. Get the latest news by visiting the online newsroom and Twitter at twitter.com/texaschildrens.
About Baylor College of Medicine
Baylor College of Medicine (www.bcm.edu) in Houston is recognized as a health sciences university and is known for excellence in education, research and patient care. It is ranked 22nd among medical schools for research and 17th for primary care by U.S. News & World Report. Baylor is listed 20th among all U.S. medical schools for National Institutes of Health funding and No. 1 in Texas. The Baylor pediatrics program ranked 7th among all pediatric programs, reflecting the strong affiliation with Texas Children's Hospital where our faculty care for pediatric patients and our students and residents train. Nationally our physician assistant program was ranked 3rd in the health disciplines category and our nurse anesthesia program ranked 2nd. Located in the Texas Medical Center, Baylor has affiliations with seven teaching hospitals and jointly owns and operates Baylor St. Luke's Medical Center, part of St. Luke's Health. Currently, Baylor has more than 3,000 trainees in medical, graduate, nurse anesthesia, physician assistant, orthotics and genetic counseling as well as residents and postdoctoral fellows. Follow Baylor College of Medicine on Facebook (http://www.facebook.com/BaylorCollegeOfMedicine) and Twitter (http://twitter.com/BCMHouston).
---
Method of Research
News article
Subject of Research
Not applicable