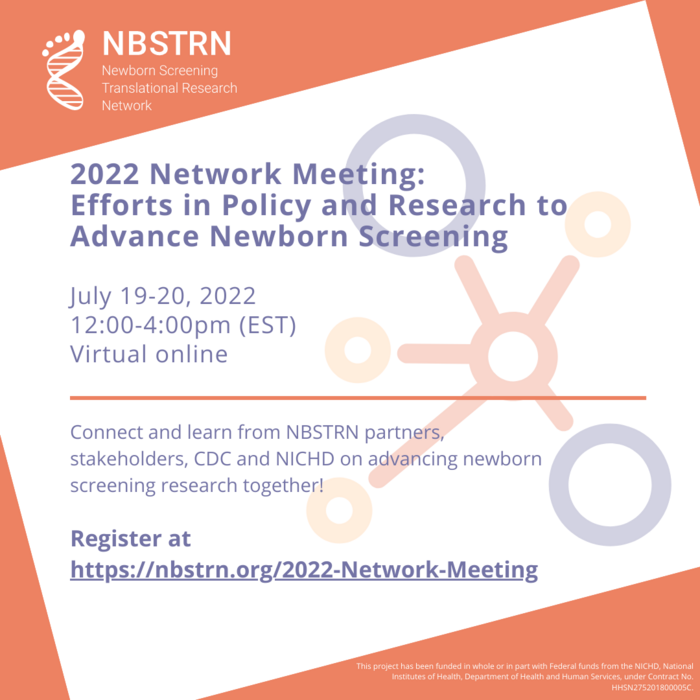 On July 19-20, 2022, from 12-4pm (EST), the Newborn Screening Translational Research Network (NBSTRN) is excited to host its annual Network Meeting and is inviting you to spend two days, four sessions per day learning how successful researchers, advocates, and experts are leading the charge in advancements in Newborn Screening (NBS) and rare disease. Additionally, you will learn how NBSTRN has partnered with and contributed to the success of various projects related to NBS research with NBSTRN's developed data tools, research and parental resources, and expert consultations. With the presentation of this meeting, NBSTRN seeks to expand its network by showcasing its various capabilities, facilitating advancements in both policy and research to advance NBS and how NBSTRN may facilitate your current or future NBS studies and projects, helping to save and improve upon the lives of newborns and children.
Each day, four sessions will highlight the latest research updates from our NBSTRN partners, stakeholders, CDC, and NICHD. You will have an opportunity to chat with our speakers during the live Q/A session. We will also introduce you to the NBSTRN team and conduct training sessions on NBSTRN tools and resources from 3 PM to 4 PM (EST).
This year, we will learn from speakers on the BabySeq2 Project (an implementation study of Whole Genome Sequencing as Screening in a Diverse Cohort of Healthy Infants), Recommended Uniform Screening Panel (RUSP) alignment legislation, advocacy efforts on Krabbe and Cystic Fibrosis research, ED3N (a National Newborn Screening Data Platform developed by CDC), new screening efforts for early hearing detection, and research development in Congenital Cytomegalovirus (CMV).
NBSTRN 2022 Network Meeting speakers include the following:
Claire Ellis and Dylan Simon – The EveryLife Foundation.

About: The EveryLife team works to improve the lives of the 30 million Americans suffering from one of the 7,000 known rare diseases. Claire Ellis serves as the Newborn Screening & Diagnostics Fellow and Dylan Simon works as the Director of Policy for the Policy, Advocacy, & Patient Engagement arm of the foundation which advocates for impactful legislation and policy aiming to advance the development of treatments, diagnostic opportunities, and access.

Stacy Pike-Langenfeld – The Legacy of Angels Foundation.

About: The Legacy of Angels Foundation was established to improve upon the lives of children by promoting the expansion of newborn screening as well as expanding on education, awareness, and research to provide better treatment with particular focus on Krabbe disease and Cystic Fibrosis. Stacy is currently the Executive Director of the foundation.

Ingrid Holm, MD, MPH – Boston Children's Hospital.

About: Boston Children's Hospital embodies a culture of innovation and scientific discovery working to improve the lives of children and families. Dr. Ingrid Holm is a pediatric endocrinologist and geneticist with primary research interests in solving the genetic causes of rare disease as well as the co-Chair of the NBSTRN Bioethics and Legal Workgroup provides guidance on current and emerging ethical, legal, and social implications (ELSI) topics to NBSTRN and its network of NBS researchers.

Megan Pesch, MD – National Cytomegalovirus (CMV) Foundation.

About: The National CMV Foundation aims to prevent pregnancy loss, childhood death, and disability due to congenital CMV. This is accomplished through education of others and identification of cases through newborn screening. Dr. Megan Pesch's research focuses on outcomes of children born with congenital CMV, which can appear as a common cold, yet lead to hearing loss and other long-term delays.

Karl White, PhD – Early Hearing Detection and Intervention (EHDI).

About: EHDI, an initiative by the American Speech-Language-Hearing Association (ASHA) refers to the practice of NBS for hearing loss prior to hospital discharge. Dr. Karl White is the founding director of The National Center for Hearing Assessment and Management and has devoted his research to developing more efficient EHDI programs to improve public health information systems, training and technical assistance, and information dissemination.

Amy Gaviglio, CGC and Carla Cuthbert, PhD – Centers for Disease Control (CDC).

About Division of Laboratory Sciences Newborn Screening and Molecular Biology Branch (NSMBB) at the CDC is the laboratory in the world devoted to ensuring the accuracy of newborn screening tests in every state and more than 80 countries. Amy Gaviglio is a certified genetic counselor and public health genetics consultant who has been working in the Newborn Screening arena for the past 14 years. Dr. Carla Cuthbert is the Branch Chief of the Newborn Screening and Molecular Biology Branch in CDC.
*Both days will conclude with updates from the Eunice Kennedy Shriver National Institute of Child Health and Human Development (NICHD) and NBSTRN
Register today at https://nbstrn.org/2022-Network-Meeting
---