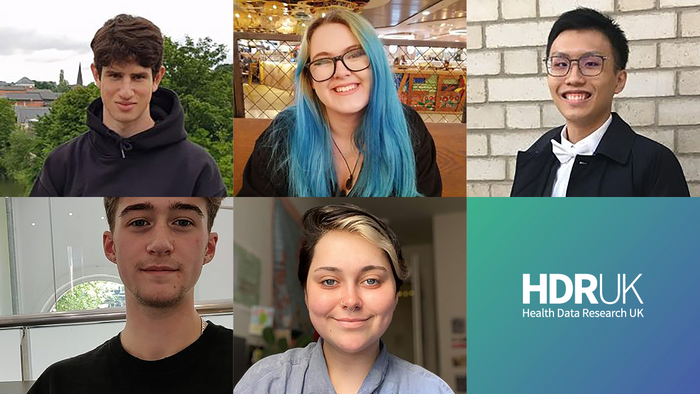 The Wellcome-funded initiative run by Health Data Research UK to promote interest in, and broaden access to, careers in health data research has launched its 2022 programme.
The HDRUK-Wellcome Biomedical Vacation Scholarship programme has been set to promote diversity in health data research, giving undergraduates in the middle of quantitative degrees, the chance to undertake health data research projects for the first time.
Although the programme was open to all, applications from non-Russell Group universities or from socio-economic groups currently under-represented in health data science were strongly encouraged.
Catherine Dudley, who hopes the experience will help her towards a career in mathematical biology, has already started her internship.
She says: "It felt incredible to know I'd be chosen because I knew it was a competitive application process and I know this internship will be so helpful for my future career goals.
"This is because I want to go into maths with medicine, as I've always been very fascinated by how the body works, and how I can apply my love of maths to something real like creating treatments."

Catherine's project involves working with Dr Jinming Duan at the University of Birmingham on leveraging artificial intelligence to automatically characterise heart structure and function using cardiovascular magnetic resonance imaging.
The scholarships are with leading research teams at top UK institutions – The Institute of Cancer Research (ICR), UCL, Manchester University NHS Foundation Trust, The University of Birmingham and the University of Oxford's Nuffield Department of Population Health.

Host teams and organisations view the internships as a way to make sure that anyone with the talent to work in health data science has the chance to do so – and carry out valuable research.

Dr Maggie Cheang, Team Leader in Genomic Analysis (Clinical Trials) at the ICR, says:
"I am passionate about supporting career development as well as equality, diversity and inclusion in research. I am therefore delighted to support this initiative.
"The student will work on a project to develop a tool that can hopefully help to develop cheaper cancer diagnostic tools for people in developing countries. The project fits well within the remits of the Centre for Global Oncology, where I am Head of Clinical Informatics, and the Clinical Trials and Statistics Unit at the ICR."

Dr Christiana Kartsonaki, from the University of Oxford added:
"I think it's great for students working on their degree to have the opportunity to experience what research is like which can inform their career decisions."

The programme receives generous funding from Wellcome and each scholarship provides a salary and research and travel expenses, specifically:
• The real Living Wage, plus holiday pay and NI contributions
• Up to £1,500 (or £2,000 if living in London) towards travel and accommodation if required
• Up to £500 towards materials and equipment costs.
Jake Parker, Intern at Manchester University NHS Foundation Trust, says:
"I felt incredibly lucky when I was offered the unique chance to provide crucial data insights to researchers working at NHS MFT in partnership with the University of Manchester.
"A multitude of my skills, that I owe to both part-time work and academic dedication, culminated in a successful first day on-site when I was introduced to my colleagues and the project I'll be working on for the next 8-weeks.
"Since choosing my GCSE's, I envisioned a career that combines my passions and aptitude for Mathematics and I'm proud to have conquered an immeasurable amount of adversity to secure my first role that achieves just that. I'm inspired by the people in my life, and I'll never stop fighting for the career I want to pursue."

Dr Goylette Chami, Associate Professor at the Big Data Institute, Nuffield Department of Population Health, at the University of Oxford, says:
"I became involved as I find it rewarding to mentor budding researchers and see their excitement develop into real career trajectories. This scheme gives undergraduates a taster of health data science, what it is like to work in a team, and how research can make a real impact on society."

Applicants for the programme demonstrated great interest and passion for health data science - for what can be achieved for the health of the UK and the potential for a rewarding career.

Dr Dona Reddiar, HDR UK Doctoral and Internship Programme Manager, says:
"Our incoming interns' passion for helping to improve people's health and their curiosity about how health data science can contribute to this has been abundantly clear in their applications.
"We look forward to hosting them and hopefully inspiring them to contribute to this new and exciting field in their future careers."

The programme is led by Professor Christopher Yau, Director of the HDR UK-Turing Wellcome PhD Programme in Health Data Science, who hopes it will continue to develop and grow – providing opportunities for students in every part of the UK.

Professor Yau says: "The scholarships are a truly national collaboration, involving partners from across the country. I am excited that we have been able to provide our outstanding inaugural scholars with the opportunity to pursue research in health data science for the first time.
"The variety of projects is inspiring - covering cancer, global health and front-line activity within an NHS hospital. I am looking forward to working with my team to expand our offering in the next two years with more exciting research opportunities."

As the six interns start to take up their placements, Health Data Research UK is looking for host organisations to take part in next year's HDRUK-Wellcome Biomedical Vacation Scholarship. Contact learn@hdruk.ac.uk to find out more.

About Health Data Research UK  
Health Data Research UK (HDR UK) is the national institute for health data science. HDR UK's mission is to unite the UK's health data to enable discoveries that improve people's lives. HDR UK is funded by UK Research and Innovation, the Department of Health and Social Care  in England and equivalents in Northern Ireland, Wales and Scotland, and leading medical research charities.         
E: media@hdruk.ac.uk  
W: www.hdruk.ac.uk 

---
Method of Research
News article
Subject of Research
Not applicable