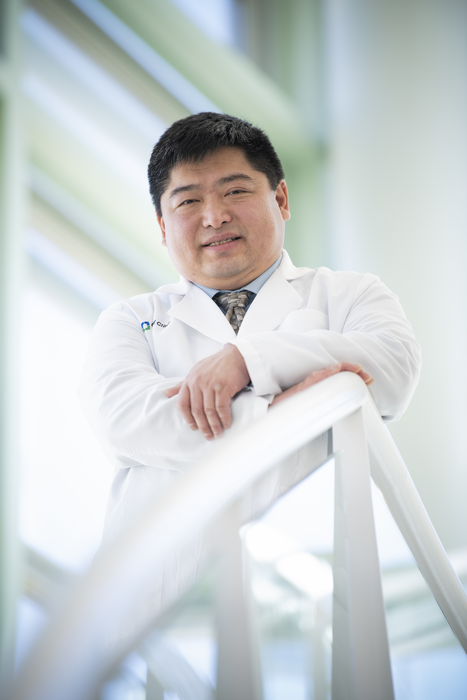 July 11, 2022, CLEVELAND: New research from Cleveland Clinic is demonstrating that pathogenic polymerase epsilon and delta (POLE/POLD1) genetic mutations lead to improved response to immune checkpoint blockade, a powerful class of immunotherapy drugs.
The findings, published in Nature Genetics, contribute to a growing list of discoveries that prove certain classes of drugs are more effective in cases where the genetic makeup of the tumor – and not the type or origin of the tumor – should determine the decision-making process for treatment.
"To date, this is the most comprehensive analysis of the mutations in POLE/POLD1 genes in patients with cancer," said Timothy Chan, M.D., Ph.D., chair of the Center for Immunotherapy and Precision Immuno-Oncology at Cleveland Clinic. "Our research here shows that patients with POLE/POLD1 mutations should get immune checkpoint blockade therapy as a preferred treatment, and that POLE/POLD1 mutations are a potential indication for immunotherapy regardless of the cancer type or where the cancer started in the body."
POLE/POLD1 are DNA repair genes that are genetically altered in nearly 4% of tumors across all cancer types. Not all the POLE/POLD1 mutations are pathogenic (predisposed to a certain disease) or functional that could lead to sensitivity to immunotherapy.
Tumors containing pathogenic POLE/POLD1 mutations have high levels of immune cell infiltrations, and until this point, it was challenging to distinguish these pathogenic mutations from non-functional ones. It had remained unclear how these mutations would affect patients' response to anti-tumor immunity therapy.
In preclinical models, the growth of tumors introduced with well-established POLE/POLD1 pathogenic mutations was dramatically inhibited by immune checkpoint blockade therapies. In contrast, treatment had little effect on growth of the parental POLE/POLD1 non-mutated tumors.
To determine whether similar phenomena could be observed in patients, the team generated statistical learning models based on mutational signatures of the POLE/POLD1 mutant tumors. These signatures could identify the telltale DNA fingerprints of functional POLE/POLD1 mutations. Modeling demonstrated high accuracy for distinguishing the tumors with pathogenic POLE/POLD1 mutations from tumors with the functional mutation. The researchers further found that their model outperformed other traditional approaches for identifying the patients with pathogenic POLE/POLD1 mutations that are more likely to benefit from immunotherapy. It was able to identify mutations that sensitize tumors to immunotherapy that would otherwise have been missed.
Further analysis indicated that the underlying mechanism is associated with the increased quantity and quality of the immunogenic mutations, as well as the improved immune microenvironment in the tumors harboring pathogenic POLE/POLD1 mutations.
"The short-term impact of this study on cancer immunotherapy is that we demonstrated that tumors with functional POLE/POLD1 mutations are sensitive to immunotherapy," said Xiaoxiao Ma, Ph.D., a postdoctoral researcher at Cleveland Clinic and lead author of the study. "The long-term impact is that we demonstrated it's possible to utilize genomic features, such as mutational signatures, to identify a major indication for immune checkpoint therapy."
The study was funded in part by the National Cancer Institute (part of the National Institutes of Health) and Brian and Diana Taussig.
About Cleveland Clinic
Cleveland Clinic is a nonprofit multispecialty academic medical center that integrates clinical and hospital care with research and education. Located in Cleveland, Ohio, it was founded in 1921 by four renowned physicians with a vision of providing outstanding patient care based upon the principles of cooperation, compassion and innovation. Cleveland Clinic has pioneered many medical breakthroughs, including coronary artery bypass surgery and the first face transplant in the United States. U.S. News & World Report consistently names Cleveland Clinic as one of the nation's best hospitals in its annual "America's Best Hospitals" survey. Among Cleveland Clinic's 72,500 employees worldwide are more than 5,050 salaried physicians and researchers, and 17,800 registered nurses and advanced practice providers, representing 140 medical specialties and subspecialties. Cleveland Clinic is a 6,500-bed health system that includes a 173-acre main campus near downtown Cleveland, 22 hospitals, more than 220 outpatient facilities, including locations in northeast Ohio; southeast Florida; Las Vegas, Nevada; Toronto, Canada; Abu Dhabi, UAE; and London, England. In 2021, there were 10.2 million total outpatient visits, 304,000 hospital admissions and observations, and 259,000 surgical cases throughout Cleveland Clinic's health system. Patients came for treatment from every state and 185 countries. Visit us at clevelandclinic.org. Follow us at twitter.com/ClevelandClinic. News and resources available at newsroom.clevelandclinic.org.
Editor's Note: Cleveland Clinic News Service is available to provide broadcast-quality interviews and B-roll upon request.
---
Article Title
Functional landscapes of POLE and POLD1 mutations in checkpoint blockade-dependent antitumor immunity
Article Publication Date
11-Jul-2022