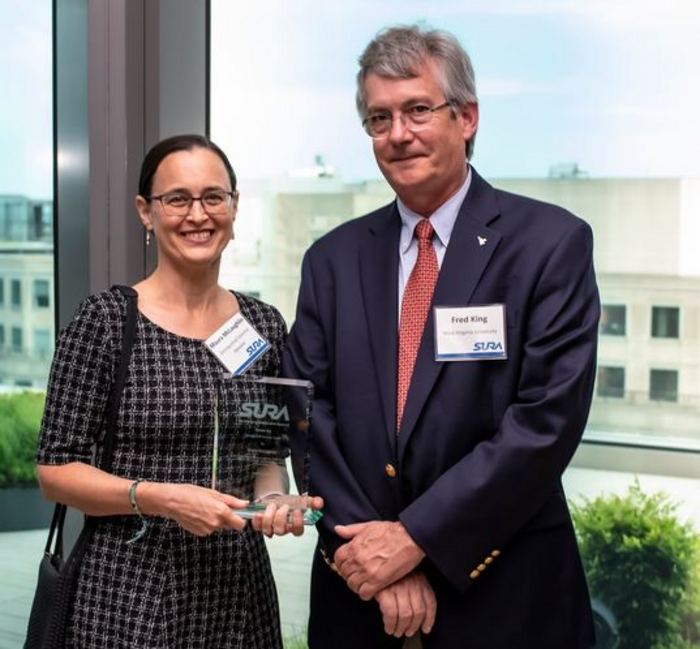 The Southeastern Universities Research Association honored Maura McLaughlin, director of the Center for Gravitational Waves and Cosmology at West Virginia University, with the SURA Distinguished Scientist Award.
The awards were presented by James Weyhenmeyer, vice president for research at Auburn University and a member of SURA's executive board, during a reception at SURA's headquarters in Washington, D.C. in the presence of members of the board of trustees, representatives from Capitol Hill and SURA's team. Fred King, vice president of research at WVU, was in attendance to support the award.
The Distinguished Scientist Award is given to scientists who are conducting exceptional research in disciplines related to SURA's programs. Nominations are peer-reviewed by a committee and voted upon by members of SURA's Board of Trustees.
McLaughlin was awarded the SURA Distinguished Scientist Award "for leadership of the international scientific community in the use of pulsars as detectors for gravitational waves as well as her dedication to educating the next generation of astronomers and astrophysicists."
Among her various leadership roles, she is the Eberly Distinguished Professor of Physics and Astronomy at WVU, Director of the Center for Gravitational Waves and Cosmology and Co-Director of the NANOGrav Physics Frontiers Center.
She conducts advanced research studying neutron stars and their environments through radio, X-ray, and gamma-ray observations. She was recently named a fellow at the American Physical Society (APS) and is one of the leaders of the Pulsar Search Collaboratory, a citizen-science project that involves high school students across the U.S. in pulsar related research.
---