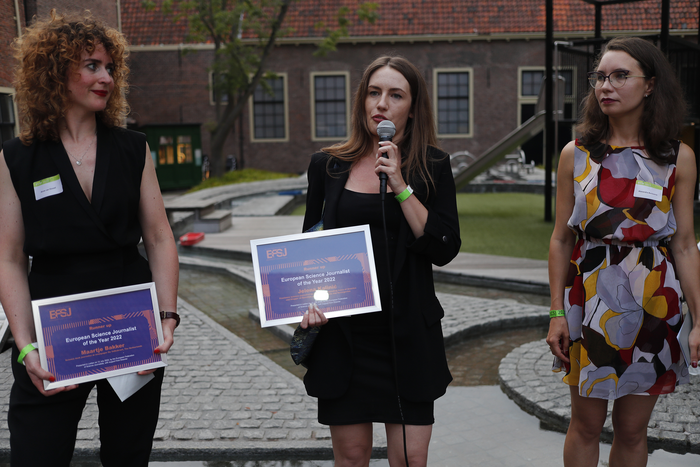 The European Federation for Science Journalism has revealed the winners of its prestigious European Science Journalist of the Year award for 2022.
The award recognises and promotes excellence and innovation in science journalism across Europe, with nominations coming from national science journalism associations as well as individuals.
This year's award has been sponsored by Elsevier, and by the Association of British Science Writers.
The winner and runners-up were announced at an awards ceremony held at the European Conference of Science Journalism in Leiden, the Netherlands, on 12 July.
The 2022 winner is:
First place: Ángela Bernardo, senior journalist for healthcare at Civio investigative newsroom, in Spain
Bernardo won for a series of data-driven investigations on mental health and reproductive healthcare in Europe. She has also published a book-length journalistic work on sexual harassment and gender-based harassment in universities and public research organizations in Spain, called "Acoso. #MeToo en la ciencia española".
Articles:
Pay up or put it off: how Europe treats depression and anxiety
The slow, uneven wane of the institutional psychiatry model in Europe
Spain, Czechia, Denmark and Belgium are the meccas of reproductive tourism
The runners-up are:
Second place: Jelena Kalinić, freelance science journalist for publications including Voice of America, and blogger at Quantum of Science, Bosnia and Herzegovina
Jelena won for her investigative pieces analysing government complacency on suspect Covid drugs, lax regulation of stem cell therapies, and harassment of science journalists in the Balkans.
Articles:
The silence of the evidence: ivermectin (ab)use in North Macedonia
Cryo-Save: misterija nestalih matičnih stanica
Antivakserski napadi na naučne novinare
Third place: Maartje Bakker, science desk journalist at newspaper De Volkskrant, in the Netherlands
Bakker won for her impressive inside account of 178 days of two laboratory rhesus macaques who helped test a corona vaccine, and for articles on sea level rise and problems with wind turbine noise in the Netherlands.
Articles:
Voor elk coronavaccin worden proefapen gebruikt
Ziek van het geluid van de wiek
The first-place winner will be awarded a prize of 1,000 Euro. Second and third-place winners will be awarded 300 Euro and 200 Euro, respectively.
"We're very happy to be able to recognize and reward some of the very best science journalism from all across Europe," said Krijn Soeteman, president of the European Federation for Science Journalism. "I hope we continue to do so in the years to come with new support from our partner Elsevier, and others."
This year's qualifying submissions came from a variety of EU countries and beyond. The judging panel was made up of distinguished members of the profession from different countries, and with expertise in diverse areas of science journalism.
"The winner and runners up stood out in the excellence, range and determination with which they investigated their topics," said Dr. Alexandra Borissova Saleh, chair of the judging panel. "We were pleasantly surprised to find that science journalists managed to produce excellent work on Covid-19, but also continued to report on a range of other crucial issues during the pandemic."
Michiel Kolman, Senior Vice President, Research Networks, Elsevier, said: "Elsevier is excited to support this award, which demonstrates the very best in science journalism and the role it plays. Many congratulations to Ángela Bernardo, and the all runners up and shortlisted journalists, for their outstanding achievements and contributions.
"Now more than ever, as the world continues to contend with Covid-19 and many other challenges, science journalism plays a crucial role in communicating the facts to the public and deepening an understanding of scientific analysis and discovery – these awards are much needed to shine a light on the very best in science journalism."
—
The judging panel:
Hristio Boytchev – an investigative science and health journalist and winner of the 2021 European Science Journalist of the Year award (Germany/Bulgaria)
Ben Deighton – managing editor of SciDev.Net (UK)
Alexandra Nistoroiu – investigative science and health reporter at Libertatea (Romania)
Mićo Tatalović – news editor at Research Professional News (Croatia/UK)
Vera Novais – science reporter for Observador (Portugal)
Chair: Dr. Alexandra Borissova Saleh – freelance science journalist (Russia/Italy)
—
About European Federation for Science Journalism
The European Federation for Science Journalism is a non-profit organisation that aims to promote independent, high-quality science journalism across Europe by organising meetings and conferences, setting-up cross-border investigative reporting grants, and running awards. The EFSJ supports and stimulates journalists to critically examine, challenge and assess scientific information in a social, cultural, political, ethical and economic context. The EFSJ also aims to help develop and support new business models for independent science journalism and stimulate the debate about the role of science journalism and science communication.
About Association of British Science Writers
ABSW is a membership organisation for media professionals who cover science, medicine, environment, mathematics, engineering and technology. It provides professional training, development and networking for journalists and writers at all career stages.
About Elsevier
As a global leader in information and analytics, Elsevier helps researchers and healthcare professionals advance science and improve health outcomes for the benefit of society. We do this by facilitating insights and critical decision-making for customers across the global research and health ecosystems. In everything we publish, we uphold the highest standards of quality and integrity. We bring that same rigor to our information analytics solutions for researchers, health professionals, institutions and funders.
Elsevier employs 8,700 people worldwide. We have supported the work of our research and health partners for more than 140 years. Growing from our roots in publishing, we offer knowledge and valuable analytics that help our users make breakthroughs and drive societal progress. Digital solutions such as ScienceDirect, Scopus, SciVal, ClinicalKey and Sherpath support strategic research management, R&D performance, clinical decision support, and health education. Researchers and healthcare professionals rely on our over 2,700 digitized journals, including The Lancet and Cell; our over 43,000 eBook titles; and our iconic reference works, such as Gray's Anatomy. With the Elsevier Foundation and our external Inclusion & Diversity Advisory Board, we work in partnership with diverse stakeholders to advance inclusion and diversity in science, research and healthcare in developing countries and around the world.
Elsevier is part of RELX, a global provider of information-based analytics and decision tools for professional and business customers. www.elsevier.com.
Dan DiPietro-James, Media Relations Director
Elsevier Communications
+1 773-251-8744
Dan.James@elsevier.com
---