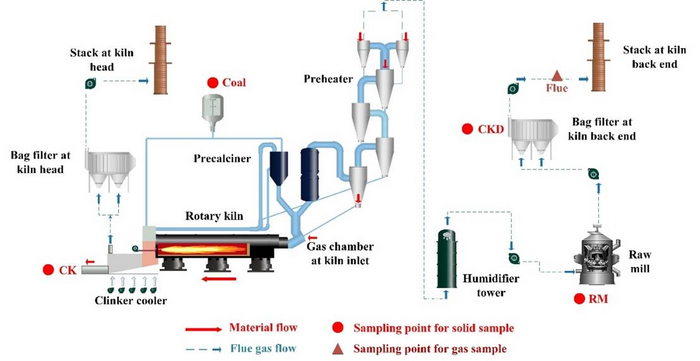 With the improvement of people's living standards, the amount of municipal solid waste (MSW) has also increased year by year, resulting in a series of environmental problems that have attracted the attention of the whole people. MSW contains a lot of combustibles that can be used as fuel for cement production, and inert as raw meal for cement production. These are techniques of co-processing MSW in cement kilns. The high temperature, long residence time of materials and flue gas, good turbulence, oxygen-rich characteristics and alkaline environment in cement kiln, whice are conducive to the degradation of organic matter and the solidification of heavy metals in MSW. Meanwhile, cement kiln co-processing techniques have been widely recognized and applied in the world, because of them unique advantages such as small investment, low operating cost and no impact on product quality. It is very important to realize the pre-treatment technologies, clinker production and environmental risk to comprehensively evaluate cement kiln co-processing techniques characteristics.
Cement kiln co-processing techniques have been developed in recent years in China, and more than 60 factories now use fermentation, screening, and gasification pre-treatment techniques to co-process municipal solid waste. However, there are no complete reports on common MSW pre-treatment technologies, cement kiln co-processing techniques and corresponding environmental risk assessment in China.
To comprehensively assess the exposure risks to the environment by commonly used MSW pre-treatment processes and the CK production process in China, Researcher Dahai Yan from Chinese Research Academy of Environmental Sciences, Master Hua Long from Sichuan Normal University and their team members have conducted at three representative cement factories of China. This study entitled "Assessment of popular techniques for co-processing municipal solid waste in Chinese cement kilns" is published online in Frontiers of Environmental Science & Engineering in 2022.
In this study, alternative raw meal and alternative fuels produced by fermentation, screening and gasifier pretreatment technologies and corresponding pollutant emissions were respectively concerned, which is conducive to comparative evaluation of the characteristics of mainstream MSW pre-treatment technologies. The alternative raw meal and alternative fuels produced in the pretreatment process are respectively put into the cement kiln for co-processing. It is necessary and significant to analyze and evaluate flue gas and by-pass flue gas pollutants emission for environmental risk assessment of cement kiln co-processing techniques. The analysis of dioxin content, chlorine mass balance and heavy metal distribution characteristics (including heavy metal recycling ratio) in cement kiln dust and bypass cement kiln dust is beneficial to reveal the mechanism of pollutant migration and enrichment, provide important reference data for optimization design of cement kiln co-processing procedures. Quality assessment of clinker produced in the co-processing was carried out to provide a detailed scientific basis for the process of "turning waste into treasure".
###
About Higher Education Press
Founded in May 1954, Higher Education Press Limited Company (HEP), affiliated with the Ministry of Education, is one of the earliest institutions committed to educational publishing after the establishment of P. R. China in 1949. After striving for six decades, HEP has developed into a major comprehensive publisher, with products in various forms and at different levels. Both for import and export, HEP has been striving to fill in the gap of domestic and foreign markets and meet the demand of global customers by collaborating with more than 200 partners throughout the world and selling products and services in 32 languages globally. Now, HEP ranks among China's top publishers in terms of copyright export volume and the world's top 50 largest publishing enterprises in terms of comprehensive strength.
The Frontiers Journals series published by HEP includes 28 English academic journals, covering the largest academic fields in China at present. Among the series, 13 have been indexed by SCI, 6 by EI, 2 by MEDLINE, 1 by A&HCI. HEP's academic monographs have won about 300 different kinds of publishing funds and awards both at home and abroad.
About Frontiers of Environmental Science & Engineering
Frontiers of Environmental Science & Engineering (FESE) is the leading edge forum for peer-reviewed original submissions in English on all main branches of environmental disciplines. FESE welcomes original research papers, review articles, short communications, and views & comments. All the papers will be published within 6 months since they are submitted. The Editors-in-Chief are Academician Jiuhui Qu from Tsinghua University, and Prof. John C. Crittenden from Georgia Institute of Technology, USA. The journal has been indexed by almost all the authoritative databases such as SCI, Ei, INSPEC, SCOPUS, CSCD, etc.
---
Journal
Frontiers of Environmental Science & Engineering
Method of Research
Experimental study
Subject of Research
Not applicable
Article Title
Assessment of popular techniques for co-processing municipal solid waste in Chinese cement kilns
Article Publication Date
15-Apr-2022