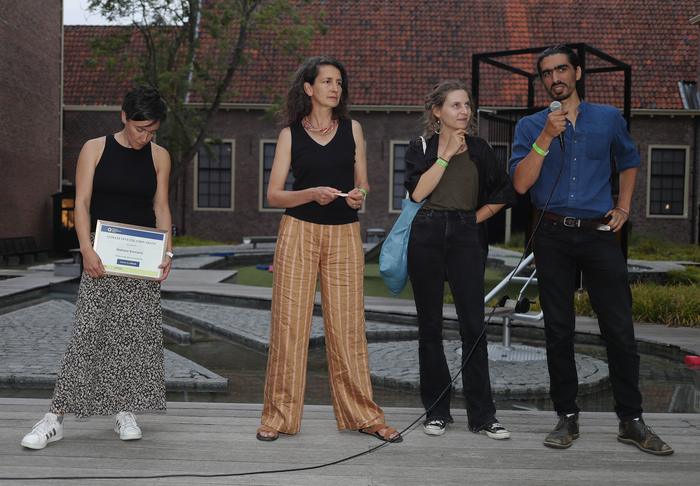 The winners of this year's European Climate Investigation Grant – organised by the European Federation for Science Journalism (EFSJ) in partnership with the BNP Paribas Foundation – were announced this week at the European Conference for Science Journalism in Leiden, Netherlands.
Awards totalling 12,000 Euros was made available to encourage ambitious field investigations focused on understanding of the climate, adaptation to climate change, and mitigation strategies.
The judges' top choice among the submissions, awarded the grant of 7,600 Euros, is a project by journalists Emma Bryce and Sandy Ong, from the UK and Singapore, who plan to investigate the impact of heat stress on pregnant women in Gambia.
"The judges rewarded an emerging issue with a strong link to science and climate impacts, which involves populations whose voice is under-represented," said Magali Reinert, EFSJ board member and grant coordinator.
The second project that won funding, proposed by science journalist Vedrana Simičević from Croatia, will focus on the impact of climate change on mountaineering tourism in the Alps.
And a third grant goes to a project by early-career journalists Harmi Mehdi and Toscas Kassiopee, from France, who plan to investigate how climate change transforms microorganisms in soil.
President of the EFSJ, Krijn Soeteman, said: "Being able to host the Climate Investigation Grant is important. The grant allows journalists to work independently on climate-related stories, and to spend time finding and telling stories that really matter."
The qualifying submissions spanned eight European countries, with projects for TV, radio, press and web. They were judged by a carefully selected panel made up of journalists – 2020 EFSJ Climate Grant laureates and EFSJ board members – and scientists with expertise in climate change and storytelling.
---
The judging panel
The judges for the 2022 awards are, in alphabetical order:
Jos Barlow, professor at the Lancaster Environment Centre, Lancaster University, UK
Tiphaine Chevallier, researcher, Eco&Sols, Institut de recherche pour le développement (IRD), France
Josh Ettinger, researcher, Environmental Change Institute, University of Oxford, UK
Klaartje Jaspers, freelance journalist specialising on global development and southern Africa and 2020 EFSJ Climate Grant laureate, Netherlands/Zambia
Anita Makri, freelance journalist specialising in global development and science in society, and EFSJ board member, UK/Cyprus
Natalia Paramonova, freelance journalist specialising in sciences and 2020 EFSJ Climate Grant laureate
Magali Reinert, freelance journalist specialising in environment and ecology, and EFSJ board member, France
Jocelyn Timperley, freelance journalist specialising in climate and energy and 2020 EFSJ Climate Grant laureate
---
About EFSJ
The European Federation for Science Journalism (EFSJ) is a non-profit organisation that aims to promote independent, high-quality science journalism across Europe by organising meetings and conferences, setting-up cross-border investigative reporting grants, and running awards. The EFSJ supports and stimulates journalists to critically examine, challenge and assess scientific information in a social, cultural, political, ethical and economic context. The EFSJ helps develop and support new business models for independent science journalism and stimulate the debate about the role of science journalism and science communication.
About BNP Paribas Foundation
Under the oversight of the Foundation of France, the BNP Paribas Foundation has been a major player in corporate philanthropy since 1984. It is also encouraging and contributing to the BNP Paribas' philanthropic policy growth in all parts of the world wherever the Bank operates. The BNP Paribas Foundation's activities are aimed at multidisciplinary philanthropy, supporting innovative projects dedicated to culture, social inclusion, and environment. It pays close attention to the quality of its commitment to its partners through a long-term commitment. Since 1984, over 300 cultural projects, 30 research programs and a thousand social and educational initiatives have earned its support in France and around the world.
---