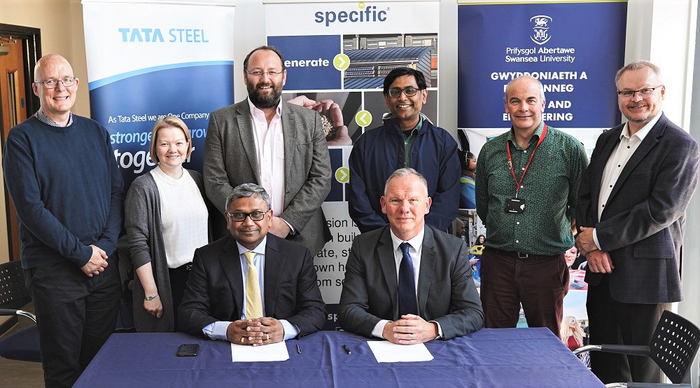 Solar roofing panels which are greener, lighter, cheaper and flexible, and which can be printed on the steel used in buildings, are the focus of a new three-year research collaboration between Swansea experts and Tata Steel UK.
The solar roofs would enable buildings to generate, store and release their own secure supply of electricity. This would reduce reliance on fossil fuel energy such as gas, and ease pressure on the National Grid, especially as surplus power generated by a building can be used to charge up electric vehicles.
The concept is called "Active Buildings" and it has already been shown to work. Two "Active Buildings" have been in operation successfully on the Swansea University campus for several years. The aim of the new research is to explore the potential of this technology further and speed up the process of turning it into products for industry to manufacture.
The collaboration was launched with the signing of a Memorandum of Understanding at the University's Bay campus, where the Active Buildings are located. It is the latest chapter in a longstanding partnership between Swansea University and Tata Steel.
Solar energy is crucial in the shift towards clean, green power. In just one hour enough solar energy falls on the earth to meet the energy needs of the entire world for a year.
Traditional solar cells are manufactured from silicon, which is expensive and requires a lot of energy to produce. But a new type of cell, called a perovskite solar cell (PSC), which is highly efficient, is a cheaper and lighter alternative to silicon-based solar panels. PSCs can be made locally using widely available materials and manufacturing them emits less than half the carbon compared to a silicon cell.
Crucially, another advantage of PSCs over silicon is that they are flexible rather than rigid. This means they can be printed, using techniques such as screen printing, directly onto a material such as coated steel.
This opens the door to creating innovative steel products for use in the construction industry that have built-in solar generating technology.
Professor Dave Worsley, head of materials science and engineering at Swansea University, explains:
"This technology will help us tackle the energy crisis and the climate crisis at the same time.
The future is about solar energy technology being built in, not added on afterwards. These printable solar cells can be built into the fabric of our homes, shops and offices, allowing them to generate the power they need, and more besides.
We know the concept works as we've demonstrated it in our Active Buildings in sunny Swansea. This new collaboration with Tata Steel will enable us to develop its potential more quickly, identifying new types of steel products that actively work to generate electricity.
Getting this technology into widespread use could hardly be more timely. In the UK and elsewhere it can reduce reliance on fossil fuel energy such as imported gas. It would also ease the pressure on national electricity networks, for example by enabling us to charge up electric vehicles with surplus energy generated by our homes."
Swansea University will contribute expertise in manufacturing the printable cells, led by the SPECIFIC Innovation Centre, which pioneered the concept of Active Buildings and designed and built the Active Office and Classroom. Tata Steel brings in their expertise in coatings on steel, screen printing and supply chains for materials.
The project is called STRIPS/Tata Steel Industrial Acceleration.
Sumitesh Das, Tata Steel UK's R&D Director, said:
"We are buoyant with the possibilities that the perovskite technology brings to the table – especially in integration to the building and construction solutions – across different value streams in Tata Steel.
This Memorandum of Understanding is the beginning of a long journey. Agility and teamwork will define our future in upscaling this technology and creating differentiators for our business.
The combination of a "green" solar technology with steel is a significant step in our net zero ambitions. We are excited by the positive effect such solutions can have on some of the poorest communities, who, through such technologies, could be taken out of fuel poverty."
END
Pictures:
Credit for all pictures: SPECIFIC, Swansea University
1 Tata Steel/Swansea Uni sign agreement
Signing the agreement to collaborate on the project are: (seated L) Dr Debashish Bhattacharjee (Vice President New Materials Business, Tata Steel) and (seated R) Prof Steve Wilks (Provost, Swansea University), with colleagues.
2 Flexible perovskite solar cell
A major advantage of these cells over silicon-based cells is that they are flexible rather than rigid. This means they can be printed, using techniques such as screen printing, directly onto a material such as coated steel.
This opens the door to creating innovative steel products for use in the construction industry that have built-in solar generating technology.
3 Active Office (l) and Active Classroom (r) on Swansea University Bay campus
The two Active Buildings are able to share energy with each other, electric vehicles and the University campus, which demonstrates how SPECIFIC's 'Active Buildings' approach can be applied in an energy-resilient solar-powered community.
4 Active Buildings – micro-perforated steel to draw in warm air
The south facing wall of the Active Classroom features Tata Steel's 'Transpired Solar Collector', a micro-perforated steel skin that draws warm air into the building.
The pre-finished steel has enhanced thermal absorption properties and absorbs the sun's radiant energy, subsequently heating the boundary layer of air to the exposed side of the metal skin. Negative air pressure created within the cavity by a ventilation fan draws ambient outside air, warmed from the surface of the steel, through the microperforations in the transpired solar collector's surface. Fresh heated air from the cavity is then fed into the building.
Their distinctive look comes from their Colorcoat Urban® standing seam roof and wall system manufactured from Colorcoat Prisma® pre-finished steel in the colour 'Seren Copper'.
5 Active Buildings – micro-perforated steel skin close-up
More about the Active Buildings
Notes to editors:
Swansea University is a world-class, research-led, dual campus university offering a first-class student experience and has one of the best employability rates of graduates in the UK. The University has the highest possible rating for teaching – the Gold rating in the Teaching Excellence Framework (TEF) in 2018 and was commended for its high proportions of students achieving consistently outstanding outcomes.
Swansea climbed 14 places to 31st in the Guardian University Guide 2019, making us Wales' top ranked university, with one of the best success rates of graduates gaining employment in the UK and the same overall satisfaction level as the Number 1 ranked university.
The 2014 Research Excellence Framework (REF) 2014 results saw Swansea make the 'biggest leap among research-intensive institutions' in the UK (Times Higher Education, December 2014) and achieved its ambition to be a top 30 research University, soaring up the league table to 26th in the UK.
The University is in the top 300 best universities in the world, ranked in the 251-300 group in The Times Higher Education World University rankings 2018. Swansea University now has 23 main partners, awarding joint degrees and post-graduate qualifications.
The University was established in 1920 and was the first campus university in the UK. It currently offers around 350 undergraduate courses and 350 postgraduate courses to circa 20,000 undergraduate and postgraduate students. The University has ambitious expansion plans as it moves towards its centenary in 2020 and aims to continue to extend its global reach and realise its domestic and international potential.
Swansea University is a registered charity. No.1138342. Visit www.swansea.ac.uk
For more information:
Kevin Sullivan, senior press officer, Swansea University k.g.sullivan@swansea.ac.uk
Follow us on Twitter: www.twitter.com/SwanseaUni
Find us on Facebook: www.facebook.com/swanseauniversity
---