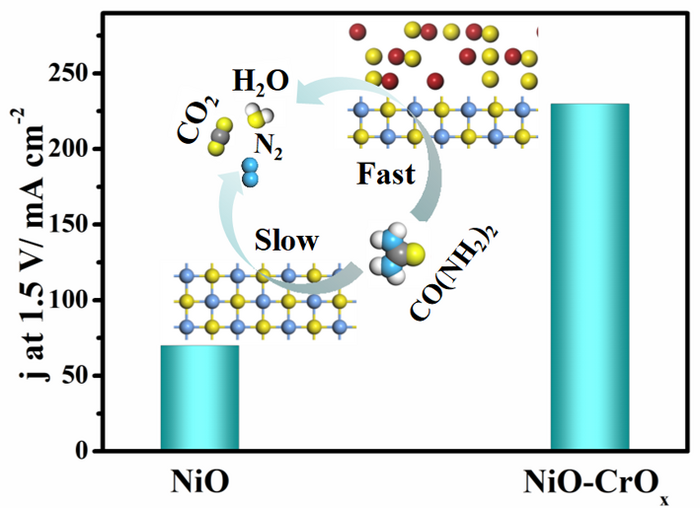 You might be flushing the answer to sustainable energy down the toilet. Urea is a naturally abundant, safer, and practical option for fuels. Besides, urea splitting can achieve energy-saving hydrogen production, due to the operation cell voltage of urea splitting (0.37 V) is far lower than that of water splitting (1.23 V).But urea splitting reaction is too slow for practical use. To accelerate the reaction, researchers developed a new electrocatalyst that more quickly yields hydrogen with less energy use than traditional water splitting processes.
The team published their results on July 11 in Nano Research (DOI 10.1007/s12274-022-4635-5).
"Propelled by energy demands and environmental concerns, it has become increasingly urgent to develop renewable, electricity-driven systems to replace fossil resources ," said co-corresponding author Lifang Jiao, professor in the Key Laboratory of Advanced Energy Materials Chemistry, Renewable Energy Conversion and Storage Center, College of Chemistry, Nankai University. "Electrolysis, or splitting water to produce hydrogen, is promising but severely hindered by the anodic oxygen evolution reaction, which is one step of the process to obtain the hydrogen, but is sluggish, energy inefficient and impractical. The urea oxidation reaction, however, requires a much lower voltage and could, theoretically, result in 70% energy savings if it replaced the oxygen evolution reaction in electrolysis."
Jiao noted that the urea oxidation reaction could also help sanitized industrial and sanitary wastewater, since urea is a water pollutant.
"But, while the urea oxidation reaction is more energy efficient, it is still slow," Jiao said. "It requires transferring six electrons, as well as the formation of multiple intermediates that must arrange and rearrange, making it intrinsically energy-consuming. That's why effective electrocatalysts are so urgently needed to accelerate the process."
Electrocatalysts comprise a bulk material with a surface layer that changes as it causes reactions. Guided by the internal bulk components, the surface reconstructs itself. The compound generated by reconstruction process is identified as the true active sites for oxidation reaction.
"Amorphous materials have become widely studied electrocatalysts due to their unique physical properties," Jiao said. "The randomly arranged internal atoms in amorphous phase endow the materials with high structural flexibility, which can help to withstand structural disturbances and enhance corrosion resistance during electrocatalysis. This flexibility also optimizes the surface state and facilitates the surface self-reconstruction process, resulting in a material that tends to exhibit remarkable electrochemical activity."
Jiao and the team reported a novel crystalline-amorphous NiO-CrOx heterojunction grown on Ni foam for UOR electrocatalyst, through a simple hydrothermal and oxidation treatment. Because Ni-precursor and Cr-precursor decompose at almost identical temperatures, the intergrowth of Ni- and Cr- oxides destroyed long-range order for crystalline, thus generating the crystalline-amorphous phase after air annealing
"The crystalline-amorphous interfaces of the designed electrocatalysts exhibit excellent urea oxidation reaction activity with an ultralow working potential," Jiao said. "The amorphous component not only can accelerate reconstruction of the catalyst to promote the formation of active sites, but it can also enhance the adhesion ability of urea, boosting the urea oxidation reaction performance."
The researchers found that when applied to urea electrooxidation and coupled with the hydrogen evolution reaction, which is the part of electrolysis that produces hydrogen, the electrocatalysts proved durable, with insignificant decay over 110 hours. They also only required 1.51 V to drive a current density of 50 mA cm-2 , compared to the 1.70 V required for the oxidation evolution reaction.
"Our findings show a promising future of replacing the oxidation evolution reaction with thermodynamically favorable reactions, such as the urea oxidation reaction," Jiao said. "Our findings also shed light on the fabrication of catalysts with advanced heterostructures for the urea oxidation reaction."
Jiao is also affiliated with the Haihe Laboratory of Sustainable Chemical Transformation. Other contributors include co-corresponding author Lihua Zhao, Tianjin Renai College; and Xuejie Cao, Tongzhou Wang, Hongye Qin and Guangliang Lin, Key Laboratory of Advanced Energy Materials Chemistry, Renewable Energy Conversion and Storage Center, College of Chemistry, Nankai University.
The National Natural Science Foundation of China, the 111 Project, the Haihe Laboratory of Sustainable Chemical Transformations and the Fundamental Research Funds for the Central Universities supported this research.
The paper is also available on SciOpen (https://www.sciopen.com/article/10.1007/s12274-022-4635-5) by Tsinghua University Press.
##
About Nano Research
Nano Research is a peer-reviewed, international and interdisciplinary research journal, sponsored by Tsinghua University and the Chinese Chemical Society. It offers readers an attractive mix of authoritative and comprehensive reviews and original cutting-edge research papers. After more than 10 years of development, it has become one of the most influential academic journals in the nano field. Rapid review to ensure quick publication is a key feature of Nano Research. In 2022 InCites Journal Citation Reports, Nano Research has an Impact Factor of 10.269 (9.136, 5 years), the total cites reached 29620, ranking first in China's international academic journals, and the number of highly cited papers reached 120, ranked among the top 2.8% of over 9000 academic journals.
About SciOpen
SciOpen is a professional open access resource for discovery of scientific and technical content published by the Tsinghua University Press and its publishing partners, providing the scholarly publishing community with innovative technology and market-leading capabilities. SciOpen provides end-to-end services across manuscript submission, peer review, content hosting, analytics, and identity management and expert advice to ensure each journal's development by offering a range of options across all functions as Journal Layout, Production Services, Editorial Services, Marketing and Promotions, Online Functionality, etc. By digitalizing the publishing process, SciOpen widens the reach, deepens the impact, and accelerates the exchange of ideas.
---
Article Title
Crystalline-amorphous interfaces of NiO-CrOx electrocatalysts for boosting the urea oxidation reaction
Article Publication Date
11-Jul-2022