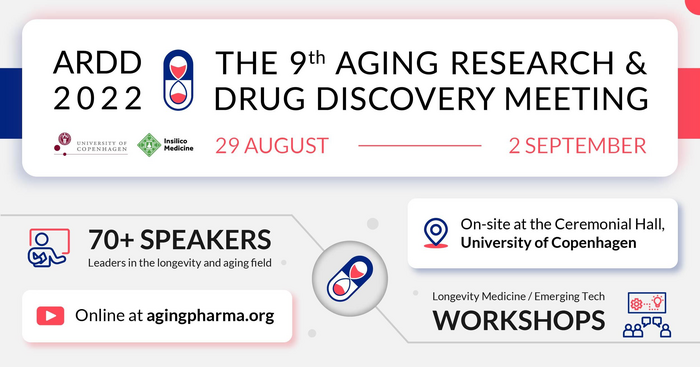 July 18, 2022: From Aug. 29-Sept. 2, 2022, the 9th annual Aging Research and Drug Discovery (ARDD) conference will be held at the University of Copenhagen and virtually and is expected to exceed the number of 2021 delegates with a year-over-year growth of on-site delegates exceeding 300%. During the pandemic, the conference remained open and attracted thousands of participants both on-site and online.
In addition to leading academic and industry speakers, the conference attracts prominent startups, venture capitalists, and editors of major industry journals, including Nature Aging and other Nature journals, Lancet Healthy Longevity, Frontiers, Aging, eLife, and others.
"Since its inception, ARDD has prioritized academic excellence, credibility, and value for the biopharmaceutical industry as the main virtues for both the speakers and the delegates," says Alex Zhavoronkov, PhD, co-chair of the 9th ARDD and founder and CEO of Insilico Medicine, an artificial intelligence (AI)-driven end-to-end drug discovery company. "This conference was designed to create the world's first platform for the pharmaceutical industry to actively engage in and incorporate the latest discoveries in credible aging research into every aspect of their internal R&D strategy. I am very happy that the 9th ARDD in Copenhagen has taken these already high standards even higher and the conference has scaled to become the largest global event of this kind."
The quest to combat aging is gaining momentum with many new technologies including aging clocks, senolytics, AI-discovered and AI-designed antifibrotics, and other geroprotectors being adopted by academic researchers, startups, and pharmaceutical companies. Despite the general slowdown in the biotechnology industry, the subsector focusing on longevity biotechnology is growing exponentially with significant new funding commitments from venture capitalists, the pharmaceutical industry, new private foundations, and government institutions.
Insilico was one of the first companies to recognize this trend. In 2014, the same year the company was founded, Dr. Zhavoronkov brought together a large group of aging researchers and pharmaceutical company executives at the Aging Forum as part of the Miptec/BaselLife conference in Basel, Switzerland. In 2019, Professor Morten Scheibye-Knudsen, MD, PhD, the head of the Biology of Aging laboratory at the University of Copenhagen, joined the ARDD as executive chair and brought the conference from Switzerland to Copenhagen.
The nonprofit conference is managed by the University of Copenhagen with Insilico Medicine as co-organizer and sponsor. This year, Boston Consulting Group will join the conference as a Knowledge Partner with BCG Managing Director and Senior Partner Michael Ringel, JD, PhD, participating as a speaker.
Other 2022 ARDD speakers include: Mehmood Khan, MD, CEO of Hevolution Foundation; Andrea B. Maier, MD, Oon Chiew Seng Professor in Medicine, Healthy Ageing and Dementia Research, and Co-Director of the Centre for Healthy Longevity; Vadim Gladyshev, PhD, Professor of Medicine at Harvard Medical School; Vishwa Deep Dixit, DVM, PhD, Waldemar Von Zedtwitz Professor of Pathology and Professor of Immunobiology and Director of the Yale Center for Research on Aging (Y-Age); Evelyne Bischof, MD, Associate Professor at Shanghai University of Medicine and Health Sciences; and Joan Mannick, MD, co-founder and CEO of Tornado Therapeutics, among many others.
Additional sponsors of the event include: Rubedo Life Sciences, Gordion, Cambrian, Rejuveron, Bioage, Gameto, Molecule, VitaDao, Foxo Technologies Inc., Longe VC, TruDiagnostic, Apollo Health Ventures, Oisin Biotechnologies, Rejuvenate Biomed, GlycanAge, Deep Longevity, Frontiers in Aging, and Longevity Center.
"Despite the pandemic and the shocking conflict on the European continent, the ARDD 2022 conference will be held in person at the University of Copenhagen," said Dr. Scheibye-Knudsen. "We are extremely excited about the program and the possibility of meeting friends and colleagues outside of Zoom. This year, we are maintaining our focus on young scientists who will be the future of our field. We have a large number of speaker slots for these rising stars."
Highlights of this year's conference include an Emerging Tech Workshop that will explore the growth of scientific collaboration in blockchain, artificial intelligence, and robotics. Through the Student Ambassador Program, teenage researchers with an interest in aging and drug discovery are paired with experts and receive mentorship and insight as well as conference registration.
In March, Aging published a paper showing how Insilico Medicine used its drug discovery platform, PandaOmics, to identify 145 aging-related therapeutic targets across various age-related diseases like Alzheimer's, Parkinson's, and osteoarthritis in under two months. These were further narrowed down into nine highly promising dual aging-and-disease targets. By training deep neural networks on human "omics" data, the company was able to generate massive quantities of synthetic data with age as a generation condition and use these DNNs to better understand human disease and aging biology. Insilico now has the first AI-discovered and AI-designed drug in Phase 1 trials for idiopathic pulmonary fibrosis.
The ARDD conference is designed to highlight these sorts of breakthroughs and foster new collaboration among aging researchers to drive discoveries forward.
This year's discussion topics include: translating geroscience into the clinic; longevity medicine therapeutics; longevity medicine diagnostics and interventions; tissue immunology and repair; and the biochemistry uniting infectious disease and aging, among many others.
"Aging research is growing faster than ever on both academia and industry fronts," said Daniela Bakula, PhD, University of Copenhagen. "The ARDD meeting unites experts from different fields and backgrounds, sharing with us their latest groundbreaking research and developments."
Details and registration: http://www.agingpharma.org/
For further information, images or interviews, please contact: ardd@insilico.com
---