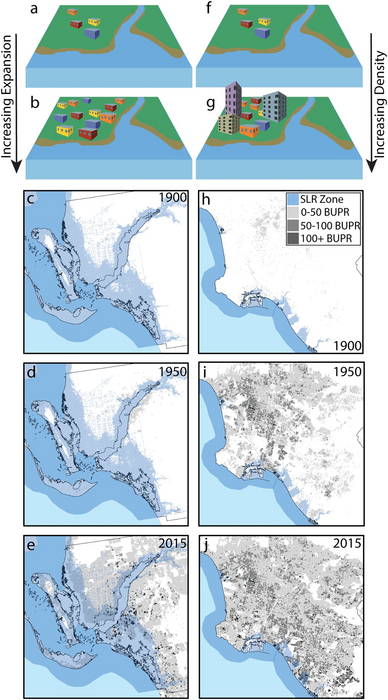 US coastal zones have seen high historical and current development, making them especially vulnerable to sea level rise and hurricane damage
###
Article URL: https://journals.plos.org/plosone/article?id=10.1371/journal.pone.0269741
Article Title: Creeping disaster along the U.S. coastline: Understanding exposure to sea level rise and hurricanes through historical development
Author Countries: U.S.A.
Funding: Funding for this work was provided by Earth Lab through CU Boulder's Grand Challenge Initiative (AB, SL, UL; https://www.colorado.edu/grandchallenge/), the Cooperative Institute for Research in Environmental Sciences (CIRES) at CU Boulder (AB, SL, UL), the Innovative Seed Grant program at CU Boulder (AB, SL; https://www.colorado.edu/researchinnovation/fundingawards/innovative-seed-grantprogram), the Institute of Behavioral Science (SL, DC, UL), and National Science Foundation (awards #1924670 and #2121976 to CU Boulder; SL, DC, AB, JU; https://www.nsf.gov/funding/pgm_summ.jsp?pims_id=13353). Support has been provided through the Eunice Kennedy Shriver National Institute of Child Health & Human Development of the National Institutes of Health (Award Number P2CHD066613 to University of Colorado Population Center; SL, DC; https://www.nichd.nih.gov/NSF). The funders had no role in study design, data collection and analysis, decision to publish, or preparation of the manuscript. The content is solely the responsibility of the authors and does not necessarily represent the official views of NIH or CUPC.
---
Article Title
Creeping disaster along the U.S. coastline: Understanding exposure to sea level rise and hurricanes through historical development
Article Publication Date
3-Aug-2022
COI Statement
The authors have declared that no competing interests exist.