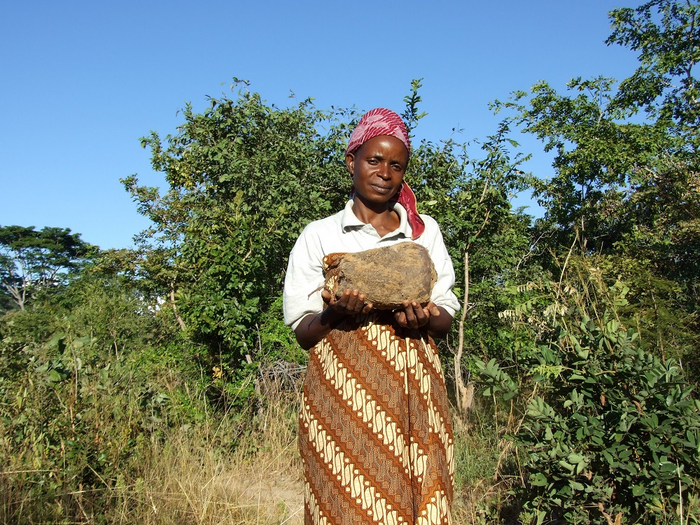 A new publication led by CABI has highlighted institutional and policy bottlenecks to using Integrated Pest Management (IPM) to fight a range of potentially devastating crop pests in Africa.
In the paper – published in the journal Current Opinion in Insect Science – the authors say that IPM is essential to achieve sustainability of food systems. But even though there are good examples of IPM delivering both economic and environmental benefits, its uptake is described as "patchy."
Lead author Dr Roger Day (CABI's Global Advisor, Plant Health), and a team of researchers from Michigan State University, the University of South Africa, the University of Nairobi and the African Union Commission, identify several areas where policy hinders IPM.
Regional and national agricultural policy often prioritises production and productivity above environmental sustainability. In this policy context, it's not surprising that synthetic pesticides have become the default pest-control method for many farmers, even though their drawbacks are well-known.
Agricultural research is generally underfunded in Africa, but evidence shows agroecological research, including IPM, is particularly lacking support. Although demand-led research is increasing, it is still common for research to be undertaken on single solutions to single pests in single crops, rather than looking at agriculture from the farmer's point of view. Weak policy on intellectual policy can also discourage innovation.
Many factors affect farmers' uptake of IPM. Farmer training and access to advice is usually necessary, so extension policy affects adoption. IPM is said to be "knowledge intensive", so face-to-face extension methods are most effective, but they are expensive and extension systems may be poorly funded.
The use of Information and Communication Technologies (ICTs) can be beneficial but care needs to be taken to avoid gender bias in the differential access to such technology.
Policies around credit, insurance and subsidy also affect farmers' choice of pest control method, and the authors note that when Fall Armyworm arrived in Africa, many governments provided free pesticides, so encouraging chemical control.
Food-safety regulations and market standards can incentivise the use of IPM, particularly when there is effective compliance monitoring and capacity to meet the standards, such as in Kenya's high-value export horticulture.
An important, and sometimes overlooked, policy area affecting IPM is input regulation. Regulatory systems for chemical pesticides, seeds, biopesticides and biological controls can encourage or constrain the adoption of IPM by affecting input availability and cost.
If lower risk pest control products are as expensive to register as toxic pesticides, there is little incentive to the private sector to register them, especially as they may be more pest-specific and so have smaller market size than broad-spectrum chemicals. Weak regulatory enforcement also depresses the price of traditional pesticides, making it harder for innovative lower risk products to compete.
Finally, the way in which policy is developed can be improved by providing greater opportunity for participation in policy processes by stakeholders, particularly farmers. Research to support agricultural policy in IPM and related areas is often lacking – such as the external costs of chemical pesticides, and even the level of loss that pests cause (see www.croploss.org).
The authors conclude that: "Ultimately, the best chance for securing an enabling policy environment is for IPM to be seen not as a fire-brigade response to a problem, but as a key element of the food-system transformation that is increasingly being called for."
Additional information
Main image: A farmer with a local remedy to fight pest of maize (Credit: CABI).
Full paper reference
Roger Day, Steven Haggblade, Shadrack Moephuli, Agnes Mwang'ombe, Simplice Nouala, 'Institutional and policy bottlenecks to IPM,' Current Opinion in Insect Science, Volume 52, 2022, DOI: 10.1016/j.cois.2022.100946.
This paper can be read in full open access here: https://www.sciencedirect.com/science/article/pii/S2214574522000815?via%3Dihub
Acknowledgements
CABI is an international intergovernmental organisation, and we gratefully acknowledge the core financial support from our member countries (and lead agencies), including the United Kingdom (Foreign, Commonwealth & Development Office — FCDO), China (Chinese Ministry of Agriculture and Rural Affairs), Australia (Australian Centre for International Agricultural Research), Canada (Agriculture and Agri-Food Canada), Netherlands (Directorate-General for International Cooperation — DGIS) and Switzerland (Swiss Agency for Development and Cooperation). See https://www.cabi.org/about-cabi/who-we-work-with/key-donors/ for details.
---
Journal
Current Opinion in Insect Science
Method of Research
Literature review
Subject of Research
Not applicable
Article Title
Institutional and policy bottlenecks to IPM
Article Publication Date
14-Jul-2022