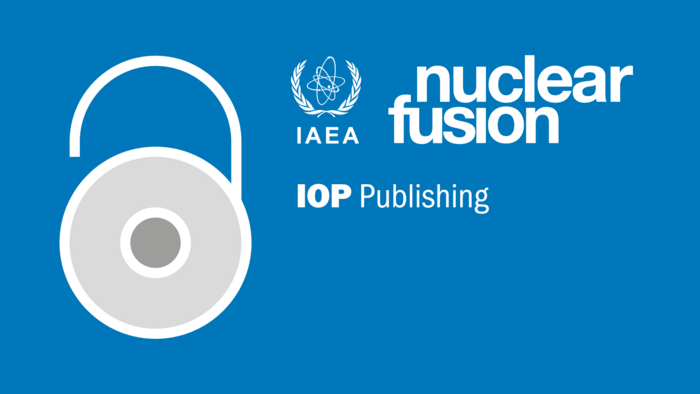 IOP Publishing (IOPP) has announced that the International Atomic Energy Agency (IAEA) journal Nuclear Fusion (NF) will become fully open access to reflect the increasing demand for more accessible and open science and funders' mandates requiring authors to publish their work in open access (OA) journals.
From January 2023, all articles published in NF, the world-leading journal specialising in nuclear fusion, will be made open access making the content immediately and openly accessible to scientists and the public alike.
Since 2002, IOPP has co-published the journal with the IAEA, the world's central intergovernmental forum for scientific and technical co-operation in the nuclear field. Since then, NF has published more than 6,000 articles, received submissions from over 50 countries, and has been cited nearly 19,000 times. The journal is a central platform for the dissemination of high-quality, peer-reviewed research in the field of controlled thermonuclear fusion.
Miriam Maus, publishing director at IOP Publishing says: "We believe conducting science more openly can accelerate scientific discovery. IOP Publishing's commitment to open access dates back to 1998, with the launch of the world's first fully open access physics journal. We look forward to establishing a viable and affordable open access publication route for the nuclear fusion community."
Under the fully gold open access model, NF will provide authors with the widest possible global audience, increasing the reach and impact of nuclear fusion research. The journal will continue to support authors and reviewers to publish excellent research and deliver rigorous and timely peer review.
OA publishing in NF will be funded through Article Publication Charges of £2000 per article. However, IOPP is committed to greater inclusivity of researchers and acknowledges the importance of author choice. Supporting researchers from low and lower-middle income economies, as categorised by the World Bank, IOPP offers a 75% hardship waiver for researchers whose institutions are facing financial difficulties and would not otherwise be able to publish in the journal.
More information about this change to NF, fees and discounts, and what it means for authors are available here.
---