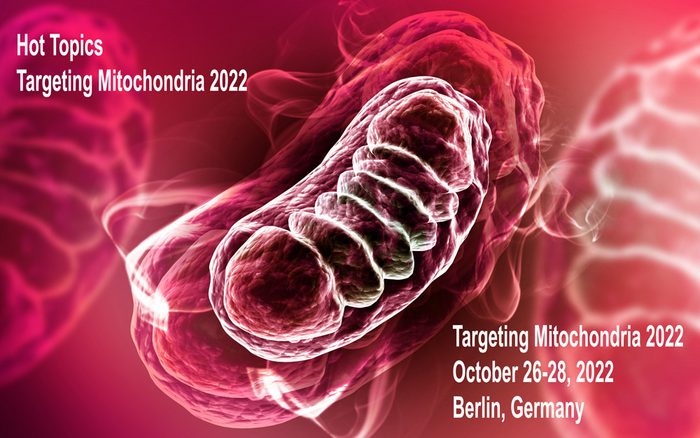 The 13th World Congress on Targeting Mitochondria will take place this year at the Steigenberger Hotel Am Kanzleramt, Berlin, Germany & Online from October 26th to 28th.
Targeting Mitochondria 2022 will come with many hot topics related to mitochondria function and dysfunction in health & disease. All topics will be presented by selected speakers.
Please find here some speakers' topics related to Targeting Mitochondria 2022: Mitochondrial Signaling, Mitochondrial Diseases, Cancer, Cardiovascular Diseases (Stroke), Sepsis, Fatty Liver Disease, Respiratory Diseases, Schizophrenia, Brain Injury and Neurological Diseases, Ageing, Gene/metabolic Disorders, Extracellular Vesicles and Mitochondrial Dysfunctions, Extracellular Vesicles Therapy, Mitochondrial Medicine, Mitochondrial Transplantation, Mitochondrial Transfer, Mitochondrial Genome Engineering, Translational Therapy, Photo-medicine, Infrared Light, Mitochondria and Vision…
More about the speakers & their talks.
You can have an idea about the attendees.
Among Targeting Mitochondria 2022 Supporters: Mint therapeutics, Khondrion B.V. and CureMito Foundation.
Abstract Submission
Short Oral Presentation submission deadline: October 7
Poster Presentation submission deadline: October 14
More details on abstract submission.
Best Mitochondria Image Contest
The Best Mitochondria Image 2022 will be chosen during the conference and the winner will get a free registration for Targeting Mitochondria 2023.
Registration
Registration for both in-person or online participation is possible. Registration details.
Early bird registration deadline: August 31.
Targeting Mitochondria 2022 Speakers:
Douglas C. Wallace, Children's Hospital of Philadelphia, USA – Keynote Speech - Mitochondrial Medicine: Present and Future
James McCully, Boston Children's Hospital, USA – Recent Advances in Mitochondrial Transplantation Therapy
Jan Smeitink, Khondrion B.V., the Netherlands – The Randomized Controlled Phase 2b KHENERGYZE Trial of Sonlicromanol in Primary Mitochondrial Disease MELAS Spectrum Disorders: Topline Results
Lori Buhlman, Midwestern University Glendale, USA – Folic Acid Supplementation Improves Drosophila Parkin Loss-of-Function Phenotype and Decreases Mitochondrial Hydrogen Peroxide Levels in Vulnerable Dopaminergic Neurons
Michael Weber, President of European Laser Academy, Germany – Mitochondrial and Photo-Medicine - Recent Clinical Applications
Marc Germain, Université du Québec à Trois-Rivières, Canada – The Role of Extracellular Vesicles in Mitochondrial Quality Control Mechanisms
Ines Khadimallah, Lausanne University Hospital, Switzerland – Mitochondrial, Exosomal miR137-COX6A2 in Schizophrenia
Cora Weigert, University Hospital Tuebingen, Germany – Exercise, Mitochondrial Adaptations, and Fatty Liver
Pedro Silva-Pinheiro, University of Cambridge, United Kingdom – The Potential of Mitochondrial Genome Engineering
Maria Fazzari, University of Milano, Italy – GM1 oligosaccharide as mitochondrial modulator: implications in neurological diseases
Lefkothea C. Papadopoulou, Aristotle University of Thessaloniki, Greece – A Novel PTD-mediated IVT-mRNA delivery platform developed for Protein Replacement Therapy for genetic/metabolic disorders
Devika S Manickam, Duquesne University, USA – EV-Mitochondria as a Promising Therapeutic for Mitochondrial Dysfunction
Jessica Spinelli, Whitehead Institute for Biomedical Research, USA – Unlocking the potential of the mammalian electron transport chain
Marc G. Jeschke, University of Toronto, Canada – Mitochondrial responses to a massive trauma-determinant of survival
Ian J. Holt, Biodonostia Health Research Institute, Spain – 2-Deoxy-D-glucose couples mitochondrial DNA replication with mitochondrial fitness
Michael Teitell, University of California, USA – Mitochondrial Transfer via MitoPunch
Raghavan Pillai Raju, Medical College of Georgia, USA – Mitochondrial targeting in aging and injury
Camilla Bean, University of Padova, Italy – The Multiple Facets of the Mitochondria Shaping Protein Opa1 in Adipocytes: From Epigenetic to Tissue Plasticity
Qun Sophia Zang, Loyola University Chicago Health Science Campus, USA – Regulation of Mitochondrial Signaling in Cardiomyopathy During Sepsis
Julia A. Vorholt, ETH Zurich, Switzerland – Mitochondria Transplantation Between Living Cells
Paige Arnold, Memorial Sloan Kettering Cancer Center, USA – A Non-canonical Tricarboxylic Acid Cycle Underlies Cellular Identity
Maik Hüttemann, Wayne State University, USA – Noninvasive treatment of brain ischemia-reperfusion injury with near infrared light: working toward clinical implementation
Melanie Walker, University of Washington Medical School, USA – Autologous Mitochondrial Transplant for Cerebral Ischemia
Anna Krasnodembskaya, Queen's University Belfast, United Kingdom – The Impact of Mesenchymal Stromal Cell Extracellular Vesicles on Mitochondrial Dysfunction in Acute Respiratory Distress Syndrome
Nicole Noren Hooten, NIH, USA – Mitochondria in Extracellular Vesicles and Aging
Dhyan Chandra, Roswell Park Comprehensive Cancer Center, USA – Targeting the Mitochondrial Unfolded Protein Response in Prostate Cancer
John Ball, from the National Institute of Health, USA – Mitochondria in Retinal Photoreceptors: More than Meets the Eye
More about the speakers & their talks.
About the World Mitochondria Society:
The World Mitochondria Society emerged seamlessly out of a series of yearly conferences organized since 2010 by the International Society of Antioxidants in Nutrition and Health. The current president of the WMS is Volkmar Weissig, Midwestern University, College of Pharmacy Glendale, USA.
For more information visit the WMS website: www.wms-site.com.
---