Feature Story | 8-Aug-2022
Binghamton University undergraduate contributes to cybersecurity research
Binghamton University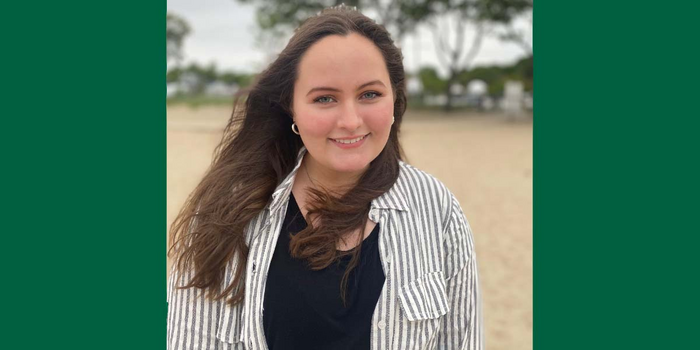 BINGHAMTON, N.Y. -- Identity thieves are always trying to find new ways to hack into our personal data, but new research — assisted by a Binghamton University undergraduate — is trying to cut off at least one method of attack.
Through a Research Experience for Undergraduates program last summer at Carnegie Mellon University, Jennifer Seibert contributed to an investigation into cache attacks, which target the data stored in a computer or mobile device to increase internet speed. The research, led by Assistant Professor Nathan Beckmann and PhD candidate Brian Schwedock from CMU's School of Computer Science, was a best paper nominee at the International Symposium on Computer Architecture in June.
"An adversary can go into the cache to track the victim and extract encryption information. Using our architecture, you can track the cache misses, which can be a good indication if there's an attacker in the cache," said Seibert, a rising senior majoring in computer science at the Thomas J. Watson College of Engineering and Applied Science.
"What I did last summer was write applications that would serve as victims during testing, while also writing the attacker code. We then used our architecture to protect the victim applications from the attacks and record the information that I gathered from reading that code."
Seibert — who hails from the Long Island hamlet of Holbrook, N.Y. — first became interested in computer science in high school, when she spent the summer before her junior year learning the basics of programming through online tutorials. She then took a course and joined her school's robotics team.
After high school, "Binghamton was the only college I applied to," she said. "I visited the campus, and I really liked the surroundings and programs available. Besides computer science, I was also accepted into the Binghamton Scholars program and the First-Year Research Immersion program, which were good opportunities for me as a freshman."
As a CS major, Seibert appreciates the academic challenges that Binghamton offers.
"I like having to learn new things," she said. "There's always a different language in each course, especially for the introductory courses. It was definitely a change from high school, but it was pretty manageable."
During the 2021-22 academic year, she did cybersecurity research with Assistant Professor Hoda Naghibijouybari, and this summer she is working as a software engineering intern at a defense company. She also keeps busy with extracurricular activities, including the Alpha Omega Epsilon professional sorority for women engineers and Binghamton Codes, which teaches coding to non-CS majors.
Seibert is particularly proud of her involvement with Girls Who Code, which she joined as an instructor in spring 2020. GWC, which has clubs across the U.S., was founded in 2012 by Reshma Saujani. More than 50,000 elementary, middle school and high school students have taken part in its programs since then.
"We taught about 10 to 15 girls how to code in Java on the weekends," she said. "It was definitely an interesting semester, because we switched to remote instruction because of COVID. I never truly got the real experience of Girls Who Code until this past year, with an in-person graduation ceremony and everything."
For 2022-23, Seibert will serve as the GWC president at Binghamton, which in a sense takes her back to her own high school experience as a teen who wanted to write her own programs.
"It's so great to give back to girls who don't have mentorship or other women to look up to in the field — they just want to learn something new," she said. "At first, they don't know anything at all, and then the following week, they're able to write things on their own code and really be able to grasp those concepts of programming at such a young age."
After graduating from Binghamton, Seibert hopes to get a job in industry strengthening cybersecurity. In the meanwhile, her research at CMU has received acclaim, and that's definitely something for the résumé.
"It wasn't something I expected," she said. "Last summer, I was just thinking about how cool the research was and the experience I was getting. I wasn't thinking about getting publications — I didn't think that was going to be an outcome."
Disclaimer: AAAS and EurekAlert! are not responsible for the accuracy of news releases posted to EurekAlert! by contributing institutions or for the use of any information through the EurekAlert system.