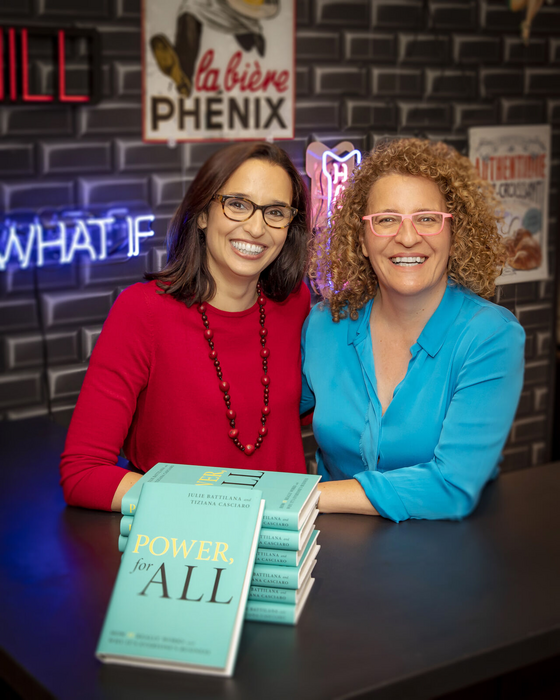 Toronto – A book co-authored by a professor at the University of Toronto's Rotman School of Management has received the Academy of Management's George R. Terry Book Award.
Power, for All: How It Really Works and Why It's Everyone's Business published in 2021 by Simon & Schuster won the award which is granted annually to the book judged to have made the most outstanding contribution to the global advancement of management knowledge during the last two years.
The book is co-authored by Tiziana Casciaro, a professor of organizational behavior and human resource management and the Marcel Desautels Chair in Integrative Thinking at the Rotman School with Julie Battilana, the Joseph C. Wilson Professor of Business Administration in the Organizational Behavior unit at Harvard Business School and the Alan L. Gleitsman Professor of Social Innovation at Harvard Kennedy School.
Their book offers a timely, democratized vision of power. Everyone can understand how power operates, and research shows that once you understand, you can take action to improve life for yourself and others. Power, for All is an essential guide to understanding and navigating power in our relationships, organizations, and society.
Over the past fifteen years, Prof. Battilana has studied the politics of change in organizations and in society while teaching on power and leadership. She has advised change-makers around the world in the public, private, and social sectors. She is also the cofounder of the Democratizing Work initiative, a global alliance of researchers and practitioners collaborating toward a more just, green, and fair economic system. Originally from France, she received a joint PhD from INSEAD and from École Normale Supérieure de Paris-Saclay.
Prof. Casciaro's research on interpersonal and organizational networks an the power dynamics has received distinguished scientific achievement awards from the Academy of Management and has been covered by The New York Times, The Washington Post, CNN, The Economist, Financial Times, MSNBC, ABC, CBC, Fortune, and TIME magazine. She advises organizations and professionals across industries and has been recognized by Thinkers50 as a management thinker most likely to shape the future of how organizations are managed and led. Originally from Italy, she received a Laurea from Bocconi University and a PhD from Carnegie Mellon University.
The Academy of Management is the largest global association devoted to management and organization research, with 20,000 members from more than 120 countries across six continents. In addition to Insights, an online magazine with easy-to-read, evidence-based research for managers and business leaders, AOM publishes six top-rated journals with the most authoritative and diverse management research findings.
Bringing together high-impact faculty research and thought leadership on one searchable platform, the new Rotman Insights Hub offers articles, podcasts, opinions, books and videos representing the latest in management thinking and providing insights into the key issues facing business and society. Visit www.rotman.utoronto.ca/insightshub.
The Rotman School of Management is part of the University of Toronto, a global centre of research and teaching excellence at the heart of Canada's commercial capital. Rotman is a catalyst for transformative learning, insights and public engagement, bringing together diverse views and initiatives around a defining purpose: to create value for business and society. For more information, visit www.rotman.utoronto.ca
-30-
For more information:
Ken McGuffin
Manager, Media Relations
Rotman School of Management
University of Toronto
E-mail:mcguffin@rotman.utoronto.ca
---