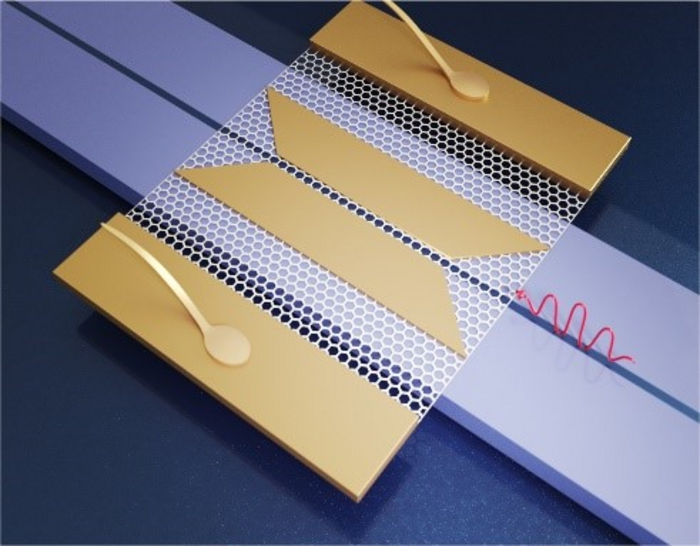 A new publication from Opto-Electronic Advances; DOI 10.29026/oea.2022.210159 considers a graphene photodetector employing double slot structure with enhanced responsivity and large bandwidth.
The ongoing fourth industrial revolution is data-driven and the optical interconnects are expected to feature higher bandwidth, smaller footprint, and lower power consumption to meet the dramatically growing demand for stronger data processing ability. As a key element of the optical communication systems, photodetector can convert the optical signal into the electrical signal and is expected to feature ultrahigh bandwidth. Graphene/silicon hybrid photodetector has attracted numerous attentions since its first demonstration due to its potential to realize bandwidth higher than 100 GHz. However, graphene's atomic-thickness seriously limits its optical absorption thus causing low responsivity. Plasmonic structures have been explored to enhance the responsivity, but the intrinsic metallic Ohmic absorption of the plasmonic mode limits its performance.
To address this issue, the authors of this article propose a novel double slot structure for high-performance photodetection, taking advantages of both silicon photonics and plasmonics. With the optimized structural parameters, the double slot structure significantly promotes graphene absorption while maintaining low metallic absorption. Based on the double slot structure, the demonstrated photodetector holds a high responsivity of 603.92 mA/W and a large bandwidth of 78 GHz. The high-performance photodetector provides a competitive solution for the photodetector on silicon. Moreover, the double slot structure could be beneficial to a broader range of hybrid two-dimensional material/silicon devices to achieve stronger light-matter interaction with lower metallic absorption.
Article reference: Yan SQ, Zuo Y, Xiao SS, Oxenløwe LK, Ding YH. Graphene photodetector employing double slot structure with enhanced responsivity and large bandwidth. Opto-Electron Adv 5, 210159 (2022). doi: 10.29026/oea.2022.210159
Keywords: graphene / silicon photonics / photodetectors
# # # # # #
The High-Speed Optical Communications Group led by Prof. Leif Katsuo Oxenløwe at DTU Fotonik is working on most aspects of optical communications technologies. This ranges from integrated photonics for processing of optical data signals to development of high-capacity long-reach data transmission and quantum communication. The group develops key technologies to improve performance and energy efficiency of future optical communications systems. Some of the main technologies addressed are:
Communication and Cyber Technology; communications, digital and optical signal processing, high-capacity communications, nonlinear optics, photonic wireless and THz communications, broadband, sources for communications, silicon photonics, data centre interconnects, access networks
Green and Sustainable Societies; energy-efficient communications
Quantum photonics technology; quantum cryptography.
.
# # # # # #
Opto-Electronic Advances (OEA) is a high-impact, open access, peer reviewed monthly SCI journal with an impact factor of 8.933 (Journal Citation Reports for IF2021). Since its launch in March 2018, OEA has been indexed in SCI, EI, DOAJ, Scopus, CA and ICI databases over the time and expanded its Editorial Board to 36 members from 17 countries and regions (average h-index 49).
The journal is published by The Institute of Optics and Electronics, Chinese Academy of Sciences, aiming at providing a platform for researchers, academicians, professionals, practitioners, and students to impart and share knowledge in the form of high quality empirical and theoretical research papers covering the topics of optics, photonics and optoelectronics.
# # # # # #
More information: http://www.oejournal.org/oea
Editorial Board: http://www.oejournal.org/oea/editorialboard/list
All issues available in the online archive (http://www.oejournal.org/oea/archive).
Submissions to OEA may be made using ScholarOne (https://mc03.manuscriptcentral.com/oea).
ISSN: 2096-4579
CN: 51-1781/TN
Contact Us: oea@ioe.ac.cn
Twitter: @OptoElectronAdv (https://twitter.com/OptoElectronAdv?lang=en)
WeChat: OE_Journal
# # # # # #
---
Journal
Opto-Electronic Advances