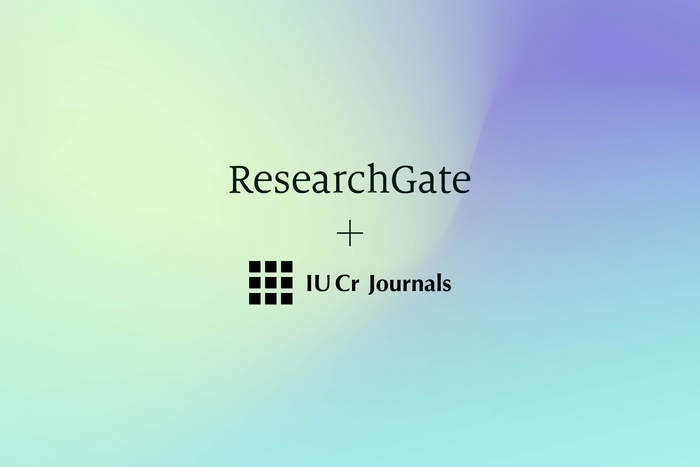 Berlin (Germany) and Chester (UK) August 10, 2022 – ResearchGate, the professional network for researchers, and the International Union of Crystallography (IUCr), an international scientific union with the goal to advance the field of crystallography, have established a content partnership.
Under the agreement, articles from the open access journals IUCrJ, Acta Crystallographica Section E, and IUCrData will be shared directly to the ResearchGate platform on publication, with the goal of facilitating the discovery of and access to new research in crystallography. Authors submitting to these journals will see their articles added automatically to their publication pages on ResearchGate, giving them access to statistics showing the impact of their work, and enabling them to connect with their readers. Approximately 2,500 open access articles will be added to the platform at the start of the agreement.
ResearchGate has 349,000 members with an interest in the field of crystallography. When related fields such as structural biology (187,000 members) and materials science (1,6 million members) are included, several million members are potentially set to benefit from this partnership.
Peter Strickland, Executive Managing Editor of IUCr Journals: "The aim of the International Union of Crystallography is to ensure that articles published in its journals are as widely distributed and read as possible. This pilot with ResearchGate is a step towards making content published in our journals more discoverable."
Ijad Madisch, CEO and co-founder of ResearchGate: "Crystallography helps to define and lend structure to the world around us, offering advances in areas such as drug target identification and materials science. But it's only possible by having expertise from lots of disciplines come together: engineers, mathematicians, computer scientists, beam technicians, biologists and material scientists, to name just a few. At ResearchGate, we focus on connecting scientists from diverse disciplines to enable them to do their best work and so we're thrilled to have IUCr as our latest publishing partner, empowering the crystallography community together."
About ResearchGate
ResearchGate is the professional network for researchers. Over 20 million researchers use researchgate.net to share and discover research, build their networks, and advance their careers. Based in Berlin, ResearchGate was founded in 2008. Its mission is to connect the world of science and make research open to all.
ResearchGate media contact:
Eimear Bruen
press@researchgate.net
About International Union of Crystallography
The IUCr aims to foster international cooperation in crystallography and advance the science; promote international publication of crystallographic research; facilitate standardization of methods, units, nomenclatures and symbols; and form a focus for the relations of crystallography to other sciences. Its outreach and education initiatives allow access to crystallographic knowledge and technology in all parts of the world, and - as more and more new approaches to exploring the structure of matter at the atomic scale develop - the IUCr embraces a growing range of novel and exciting scientific fields.
IUCr media contact:
Andrea Sharpe
as@iucr.org
---
Method of Research
News article
Subject of Research
Not applicable