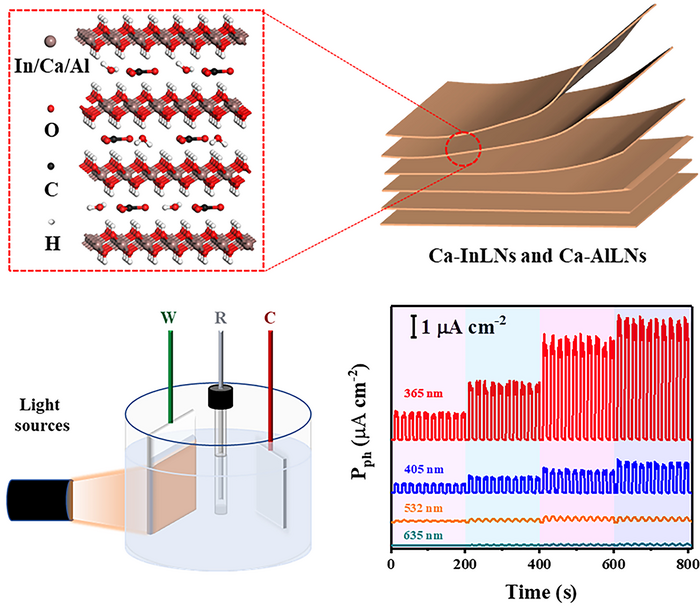 Layered double hydroxides are 2-dimensional nanomaterials that have a wide range of applications in many different fields. They can be found in nature or created in a lab with different properties that can make them useful in different ways. For example, they have been widely studied and used in supercapacitors, electrocatalysis, photocatalysis, drug delivery, and water remediation.
Changes made to the properties of the nanomaterials can improve and expand their usage. Scientists tried new production methods that could create layered double hydroxide nanosheets suitable for electronic devices that interact with light, called optoelectronics. Their findings were published in Nano Research on August 5.
This research is important because current methods for preparing layered double hydroxides make it difficult to produce large quantities, get a uniform thickness, and have a broad light absorption range.
"It is still difficult to prepare a large number of layered double hydroxide nanosheets with a specific thickness, and thickness is closely related to the properties of 2D nanomaterials," said paper author Wei Feng of the School of Materials Science and Engineering at Tianjin University in China. "Additionally, most of the reported layered double hydroxide materials cannot respond to longer-wavelength light, which limits their application in photodetectors." Because of these limitations, researchers set out to find a way to produce layered double hydroxide nanomaterials that had a broader light absorption range and the right thickness in large quantities.
With the new techniques presented in this paper, researchers can control for these factors while creating large quantities of the nanomaterials, which show no reduction in strength after 70 days, for use in photoelectrochemical photodetectors. "Photodetectors are widely used in detection, imaging, and remote sensing, and they are devices that convert electrical signals into optical signals with very practical application prospects," said Feng. With this research, photodetectors based on layered double hydroxide nanosheets could become a practical possibility. Because photodetector sensors have a range of practical applications, including fiberoptic communications, safety monitoring, industrial process control, and biomedical research, improving how they work with this new method would have implications across many industries.
"Photoelectrochemical photodetectors have very practical application prospects. However, only a few studies have reported photodetectors based on layered double hydroxides and there is no relevant research on layered double hydroxide-based photoelectrochemical photodetectors," said Feng. The method used in this study is completely novel and researchers were able to successfully apply the layered double hydroxide nanosheets to photoelectrochemical photodetectors and show a response to light.
In order to prepare the nanosheets, specific phosphides are heated to create a crystal structure with alternating positive and negative layers. This provides structure for the nanosheets. The heated phosphides are then placed in air and allowed to slowly react with water and carbon oxides, which converts them to the layered double hydroxide nanosheets.
The nanosheets were then tested for their thickness, their ability to absorb light, and their response to high temperatures. The results showed first that the nanosheets produced by this method are very uniform in size, they are typical semiconductors, and their nanosheet structures were very stable under high temperatures. Researchers also looked at cycling stability. "Cycling stability is an important metric for evaluating device performance," said Feng. "Compared with photochemical photodetectors made of other 2D nanomaterials, whose photocurrent density shows varying degrees of attenuation during long-term cycling testing, the photodetectors made out of these nanosheets exhibit excellent cycling stability."
Yu Wang, Fulai Zhao, and Yiyu Feng of the School of Materials Science and Engineering at Tianjin University also contributed to this research.
The State Key Program of the National Natural Science Foundation of China (No. 52130303), National Key R&D Program of China (No. 2016YFA0202302), the National Natural Science Foundation of China (Nos. 52103093 and 52173078), and the China Postdoctoral Science Foundation (No. 2021M702424) supported this research.
The paper is also available on SciOpen (https://www.sciopen.com/article/10.1007/s12274-022-4778-4) by Tsinghua University Press.
##
About Nano Research
Nano Research is a peer-reviewed, international and interdisciplinary research journal, publishes all aspects of nano science and technology, featured in rapid review and fast publishing, sponsored by Tsinghua University and the Chinese Chemical Society. It offers readers an attractive mix of authoritative and comprehensive reviews and original cutting-edge research papers. After 15 years of development, it has become one of the most influential academic journals in the nano field. In 2022 InCites Journal Citation Reports, Nano Research has an Impact Factor of 10.269 (9.136, 5 years), the total cites reached 29620, ranking first in China's international academic journals, and the number of highly cited papers reached 120, ranked among the top 2.8% of over 9000 academic journals.
About SciOpen
SciOpen is a professional open access resource for discovery of scientific and technical content published by the Tsinghua University Press and its publishing partners, providing the scholarly publishing community with innovative technology and market-leading capabilities. SciOpen provides end-to-end services across manuscript submission, peer review, content hosting, analytics, and identity management and expert advice to ensure each journal's development by offering a range of options across all functions as Journal Layout, Production Services, Editorial Services, Marketing and Promotions, Online Functionality, etc. By digitalizing the publishing process, SciOpen widens the reach, deepens the impact, and accelerates the exchange of ideas.
---
Article Title
Ultrathin layered double hydroxide nanosheets prepared by original precursor method for photoelectrochemical photodetectors
Article Publication Date
5-Aug-2022