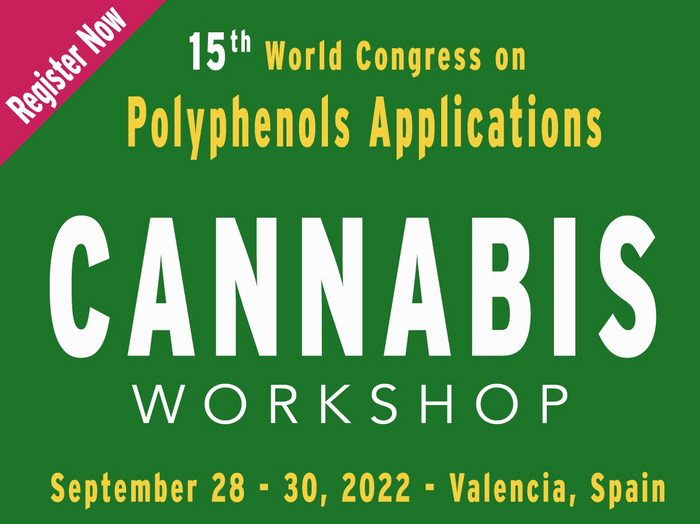 Polyphenols Applications 2022 will take place in its 15th edition at ADEIT 'Fundación Universitat', Valencia, Spain, & Online, on September 28-30. On the last day, a workshop will be dedicated to Medical Cannabis, Cannabinoids and Derivatives: Recent Advances and Applications.
Professor Jan Frederik Stevens, president of the Cannabis 2022, Oregon State University, USA, commented: "During our first workshop dedicated to Cannabis and Cannabinoids, we will discuss the recent advances, perspectives and answer questions related to cannabis".
"It is very important for our scientific committee to talk about the credibility of cannabis research and their medical applications. We will highlight the chemistry and pharmacology of cannabinoids, the analysis of cannabinoids, the influence of mitochondria, the application of cannabinoids as anticancer…".
Speakers and topics of the workshop:
Jan Frederik Stevens, Oregon State University, USA – Chemistry and Pharmacology of Cannabinoids
Luke Busta, University of Minnesota Duluth, USA –
Gas Chromatography-Mass Spectrometry Analysis of Cannabinoids: Chemical Diversity Across a Range of Feral Cannabis Plants
Jennifer Duringer, Oregon State University, USA – Methods of Quantitative Analysis for Cannabinoids in Industrial Hemp
Pam Maher, The Salk Institute for Biological Studies, USA – Inhibition of Oxytosis/Ferroptosis by Cannabinol Requires Mitochondria and is Independent of Cannabinoid Receptors
Guillermo Velasco, Instituto de Investigación Sanitaria San Carlos, Spain – Towards the Utilization of Cannabinoids as Anticancer
More information about the workshop sessions.
All teams working in the field of cannabis and cannabinoids are invited to share their research on the topic by submitting an abstract for short oral or poster presentation. More details on abstract submission.
For more information about Polyphenols Applications Congress, visit the Polyphenols Applications conference site or follow us on our social media: LinkedIn and Facebook.
Contact us at polyphenols@polyphenols-site.org
---