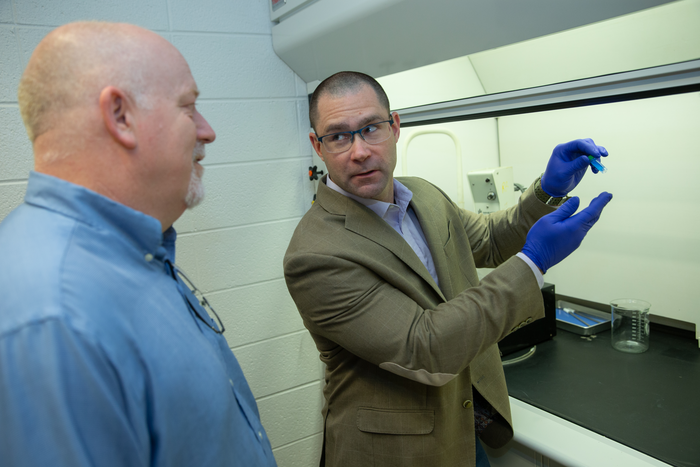 Explosions such as roadside bombs have been the leading cause of burn injuries for U.S. soldiers for the past two decades.
These burns are often combined with other ailments such as traumatic brain injuries (TBI) due to the explosions. About 14% of all U.S. military members with traumatic brain injuries from 2000-16 also suffered burn injuries.
University of Cincinnati researchers Jason Gardner, PhD, and Matthew Robson, PhD, said burns combined with traumatic brain injuries are particularly difficult to manage and have been associated with higher death rates and other complications compared to other injuries combined with burns.
Now, the researchers are studying whether targeting an inflammation pathway that affects both burns and traumatic brain injuries can be an effective treatment to improve patient results. The research is supported by a two-year, $600,000 U.S. Department of Defense (DOD) grant.
Study aims
The two researchers met because some of their laboratory materials were stored in the same room in UC's Medical Sciences Building. Gardner said he was studying the same inflammatory pathways in burn injuries that Robson was studying in traumatic brain injuries, and the two began to discuss ways they could work together.
"These two fields have worked in isolation for a long time," said Robson, assistant professor in the Division of Pharmaceutical Sciences in UC's James L. Winkle College of Pharmacy. "There are lots of different and useful preclinical TBI models. But nobody, to our knowledge, has really ever taken one of these models and combined it with burn injuries, or vice versa."
The development of a first-of-its-kind animal model that combined burn and traumatic brain injuries was a significant factor in the duo receiving the grant award, Gardner said.
"The animal model is something that the DOD really was interested in, and nobody has really developed a model like this," said Gardner, research assistant professor in the Department of Internal Medicine in UC's College of Medicine. "So I think that's one of the major reasons that we got this grant."
The research will focus on a specific type of protein known as an inflammatory cytokine that organizes the body's response to injuries like a burn or traumatic brain injury and in part causes inflammation. Inflammation in turn can contribute to anemia, a condition that causes a lack of healthy red blood cells and reduced oxygen flow to the body.
To prevent detrimental effects secondary to burn injury, blood transfusions are often needed to correct the associated anemia. However, the more transfusions a patient with a burn injury receives, the higher risk there is for death and infection. The researchers propose that by targeting the protein, inflammation and the effects of anemia can be reduced, leading to better outcomes.
"The fact that we've honed in on this particular inflammatory signaling pathway is really important because we can use a targeted therapy for that," Gardner said. "It's interesting that we found that in Robson's model for TBI he can target [the protein] and reverse the bad things that happen, and in our model we can target [it] and fix the bad things that happen. But when we target other inflammatory pathways, it doesn't improve, so it's something specific about this pathway."
Gardner said using the first-ever combined preclinical animal model of burn and traumatic brain injury, the research will first seek to better understand and explain exactly how the two injuries interact with each other and what specifically about this pathway makes it a good drug target.
Additionally, the researchers will test two different therapeutics in the animal models that seek to neutralize the protein's effects. The first drug is a neutralizing antibody that directly targets it.
The second drug is a broader class of medicine that targets a number of inflammation pathways that are "downstream" from the specific protein itself, effectively preventing it from ever being involved. Robson said the second drug's makeup is easier to produce and can more easily cross the blood-brain barrier to be an effective treatment for traumatic brain injuries.
Collaborative, impactful research
Robson said he has taken part in many research projects in the past that claimed to be collaborative but in reality have combined various laboratory techniques to study a singular disease state or subset of disease. Often these projects have featured little interaction between researchers. This grant is different, "about the most collaborative project I think I've ever been a part of," he said.
"Literally, we're going to be in the lab at the same time, combining these two models together to really come up with a model of what the DOD sees in the field to then go look at distinct outcomes," Robson said. "I'll be looking at the neurologic, neuroscience side of the equation, and Gardner will be looking at the burn injury and anemia side, but literally the two models are coming together."
Gardner said he has worked in burn research for a number of years, but soldiers suffering burn injuries as a result of blasts is a new patient population he hasn't been involved with before.
"I'm really excited about it because it looks interesting, and it's obviously important for soldiers," Gardner said. "We're not treating soldiers directly here, but I've been around other burn patients since I started my career and I really am into that part of the research that directly affects patients."
Robson said he has personal connections to veterans and is looking forward to hopefully finding a potential treatment for something that there is no treatment for currently.
"These people have to go into harm's way and sometimes incur injuries that currently aren't treatable, so being able to be a part of trying to find those treatments is hugely rewarding and hopefully, beneficial," he said.
---