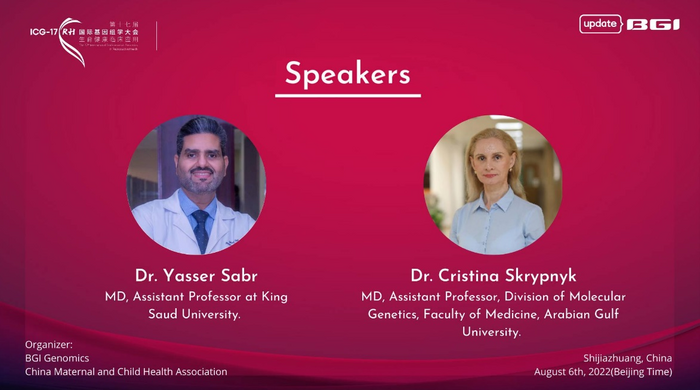 On August 6, 2022, the 17th International Conference on Genomics in Reproductive Health (ICG17·RH), jointly organized by BGI Genomics and the Chinese Maternal and Child Health Association, was held in Shijiazhuang City, Hebei Province, China.
The themes of this conference include holistic protection of women and children's health and multi-omics applications to enhance quality of life as well as human welfare. A distinguished group of clinical experts and scholars from China and the international community shared their experiences and research milestones from clinical applications, to promote new technologies to screen and proactively treat prenatal congenital abnormalities.
For the first time, BGI Genomics invited two clinical experts based in the Middle East to speak at this year's conference: Dr. Yasser Sabr, assistant professor at King Saud University, Saudi Arabia, and Dr. Cristina Skrypnyk, assistant professor at Arabian Gulf University, Bahrain. They shared their research findings to provide fresh perspectives on genetic diseases and applications of treatment technology.
Focusing on "The Application of Molecular Diagnosis in Maternal Fetal Medicine" in his speech, Dr. Yasser Sabr introduced the current situation as well as the limitations of prenatal diagnosis in the region and the molecular investigations which include chromosomal microarray analysis (CMA) and next-generation sequencing (NGS) in Saudi Arabia.
Dr. Sabr also emphasized the importance of molecular approaches as well as the establishment of a national program to reduce the incidence of prenatal congenital anomalies in the country.
In her "Genomics Application for Personalized Health" speech, Dr. Cristina Skrypnyk discussed genomics medicine and health care, as well as its applications in pharmacogenomics, nutrigenomics, and microbiomics, in which she described the translation from research to clinical practices. Through multiple examples, she highlighted that the revolution of gene technology has the capability to protect and improve people's health in a more comprehensive manner.
In addition, Dr. Skrypnyk introduced the whole genome sequencing (WGS) project in cooperation with BGI Genomics, which can provide clinical WGS (cWGS) results, carrier screening, and pharmacogenomics at the same time.
About the speakers
Dr. Yasser Sabr is an assistant professor at King Saud University, Saudi Arabia. He also serves as the Vice President of the Saudi Maternal Fetal Medicine Group, the Chairman of Scientific Board of Maternal Fetal Medicine Fellowship of the Saudi Commission for Health Specialties (SCFHS), the Director of the Maternal Fetal Medicine Fellowship Training Program at King Saud University, and an assistant professor of the Department of Obstetrics & Gynecology at the University of British Columbia, Canada.
Dr. Cristina Skrypnyk serves as an assistant professor in the Division of Molecular Genetics of Faculty of Medicine, Arabian Gulf University, Bahrain. She has been engaged in medical genetics for over 20 years and has published more than 40 academic papers. In cooperation with BGI Genomics, she is undertaking research projects on whole genome sequencing diagnosis for Bahrain's rare disease patients.
About this Conference
The International Conference on Genomics in Reproductive Health (ICG·RH) gathers domestic and foreign industry leaders, renowned scientific researchers, experts and scholars in the field of precision medicine to discuss the opportunities and challenges faced by reproductive health development, and calls on all sectors of society to work together in order to screen and proactively treat prenatal congenital abnormalities. This important conference focuses on the latest scientific, technological progress and clinical application results in this field, facilitating the rapid development of reproductive health in China through a more humanistic approach.
About BGI Genomics
BGI Genomics, headquartered in Shenzhen China, is the world's leading provider of genomic sequencing and proteomic services. Our services cover over 100 countries and regions, involving more than 2,300 medical institutions. To learn more about the NIFTY® Test - the world's leading non-invasive prenatal test (NIPT), please see our website. There are over 10,000,000 NIFTY samples processed as of 2021.
---