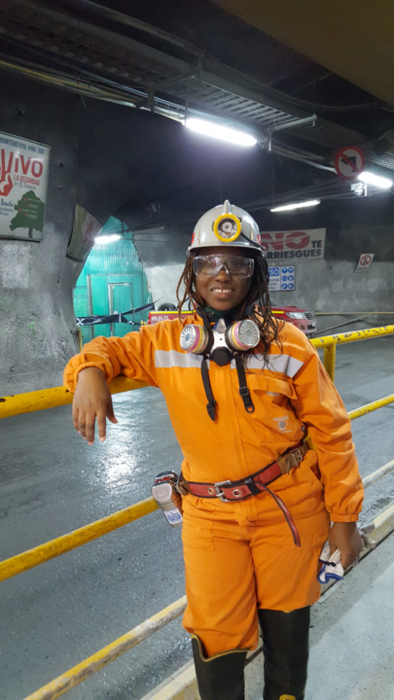 The Society for Mining, Metallurgy and Exploration, or SME, selected associate professor Angelina Anani for its 2022 Freeport-McMoRan Inc. Academic Career Development Grant. Anani will be awarded $300,000 over three years to support activities such as research, publication and professional service.
"It gives me confidence that I have the potential to succeed," said Anani, who was an assistant professor at Pontifical Catholic University of Chile for four years before joining the University of Arizona's Department of Mining and Geological Engineering, or MGE, in January 2022. "I will work toward that and do the best I can."
Anani is the third university faculty member to receive the award since the program began in 2015. Isabel Barton was selected in 2021, and former associate professor Jaeheon Lee won the grant in 2018.
"We are fortunate professor Anani has joined our department. She has demonstrated immense potential to impact how mining will be carried out in the future," said Moe Momayez, the David and Edith Lowell Chair in Mining and Geological Engineering and former interim department head.
Anani's research focuses on mine planning and operations to help industry optimize decisions and minimize risks. For example, she is using virtual reality to identify technologies for zero-entry mining, in which no humans work at the actual mine, reducing risks for workers.
"We're not there yet, but we can get there as an industry," she said.
The funds will also help Anani establish new ways of teaching and expand MGE's technological capacity. She plans to use virtual and augmented reality twin simulation of the university's San Xavier Underground Mining Laboratory for her classes.
"She is introducing innovative techniques for teaching mine planning in an immersive environment, allowing her students to design, implement and experiment with different scenarios to optimize safety and production in real time," said Momayez.
From pickaxes to automatization
Virtual reality was first used in mining for safety training to prepare workers for incidents such as fires and rockfalls, said Anani, who now sees the technology not only as a way to advance research but also as an opportunity to give students a realistic educational experience and appeal to future mining engineers.
"When you talk to people about mining, including students coming in, the perception is that it's pickaxes and shovels. Using virtual reality, we can show them what really goes on in a mine," she said. "That will prepare them better for the industry."
The digital twin environment will demonstrate automated mineral extraction equipment in action, for example. And the students in Anani's classes will run different production scenarios to determine the economic and environmental effects of their planning choices. Upgrades to the technology center in the Mines and Metallurgy Building are expected to be complete for the spring 2023 semester.
Mentorship at the core
Student mentorship is a priority for Anani, especially considering the shortage of engineers in mining. She has lived in several countries and is a fluent speaker of Spanish as well as the West African languages Ewe and Twi.
"I've learned how people communicate in different cultures," she said. "It gives an advantage to be able to mentor students of different backgrounds."
Anani is eager to bring students into a discipline in which she believes she's making a difference.
"Almost everything that surrounds us has to be mined," she said. "So, we have this challenge of meeting demands and doing it in a sustainable way. It's a lot of challenges that keep you on your toes."
Anani completed her first two years of study in Botswana. As part of a government scholarship program, she finished her bachelor's degree in mining engineering at the University of Science and Technology in Missouri. Enjoying the field and showing ability – or, as she puts it, "being so nerdy" – she went on to earn a doctorate there.
"I wasn't sure what was going to happen or what mining was, really. But I found it, and I stuck to it," she said.
---