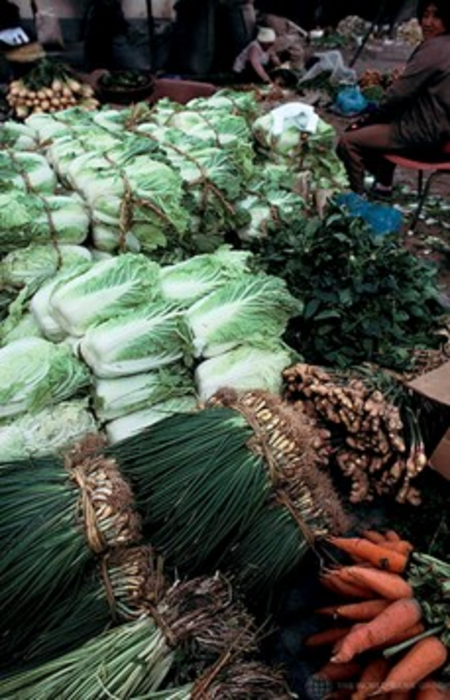 The agricultural food cold chain (AFCC) is an important player in the food-supply industry. It ensures safe and efficient food distribution with minimal wastage- from the farm to table. This is achieved by storing food at optimum temperature and humidity conditions to maintain its quality. In recent times, with the rise in consumer demand in emerging nations, the industry is facing challenges on multiple fronts, ranging from environmental and economic costs to social disparities.
Some of the rising concerns for AFCC activities include higher energy consumption, high carbon emissions, food wastage, and insufficient wages for employees. This has, therefore, created a growing need to develop sustainable solutions. Although various studies on solutions for developed countries exist, there are relatively few reports for developing economies that cover all facets of the issues.
In order to bridge this gap, a group of researchers from China and South Korea conducted a "systems" analysis to comprehend the processes that contribute to the AFCCs' sustainable practices. The team led by Prof. Keun-sik Park, identified and evaluated the critical success factors (CSFs) that drive these practices in China. The study was recently published in Business Strategy and the Environment, and cited the current problems of China's cold chains. Prof. Park explains the rationale of their study by saying, "The urbanization process of China is accelerating the demand for cold chains, which in turn is exacerbating the environmental, cost, and social problems. As a result, we must develop systematic practices that reinforce effective green initiatives."
The researchers executed this study by reviewing and analyzing diverse aspects of sustainability. These were based on three theories namely, the institutional theory (factors mediating the rules and behavior of organizations), the stakeholder theory (taking into consideration all individuals or groups who are directly or indirectly affected by the organization), and the triple line model (the social, environmental, and financial impacts of an organization). The team first performed an extensive literature search, collected data, and conducted interviews, followed by expert evaluation and decision analysis for 58 institutions located in Beijing, China. They then used the Adversarial Interpretation Structure Model (AISM) and identified 15 CSFs that contribute to AFCC sustainability.
Next, they determined the hierarchical interrelationship between the different CSFs and the driving forces that operate. According to the analysis, the crucial drivers consist of managing stakeholder pressure, strategic positioning, sustainable policy, top management commitment, and sustainable investment. Consistent with previous studies, tackling stakeholder pressure emerged as the most significant factor.
It is already known that management of stakeholder pressure and the managerial support from top companies can increasing the impact of sustainability in their supply chains. Indeed, it is necessary for organizations to efficiently handle pressure from stakeholders comprising the government, investors and consumers, which demands committed and methodical leadership. Besides, they also have to keep in mind their employers' rights and consumer feedback that ensure community welfare issues.
The findings also emphasize that the government should fund businesses at the stakeholder level to ensure timely and adequate money for implementing sustainable AFCC. Effective channels of communication with AFCC enterprises are required in order to foster trust and increase operational and production transparency.
Taken together, this study provides a detailed theoretical framework for the development of sustainable business strategies for AFCC in China and is pertinent in the domains of management and policy-making.
Hopeful about the outcomes of this study, Prof. Park says, "Our study suggests that it is necessary to establish a clear relationship between stakeholders within companies pursuing AFCC business. This can ensure continuous improvement of sustainable practices of AFCC and aid in a smoother green transition."
***
Reference
DOI: https://doi.org/10.1002/bse.3154
Authors: Miao Su1, Su-Han Woo1, Xiaochun Chen2, Keun-sik Park1
Affiliations:
1Department of International Logistics, Chung-Ang University, Seoul, South Korea
2Business School, Beijing Wuzi University, Beijing, China
About Chung-Ang University
Chung-Ang University is a private comprehensive research university located in Seoul, South Korea. It was started as a kindergarten in 1916 and attained university status in 1953. It is fully accredited by the Ministry of Education of Korea. Chung-Ang University conducts research activities under the slogan of "Justice and Truth." Its new vision for completing 100 years is "The Global Creative Leader." Chung-Ang University offers undergraduate, postgraduate, and doctoral programs, which encompass a law school, management program, and medical school; it has 16 undergraduate and graduate schools each. Chung-Ang University's culture and arts programs are considered the best in Korea.
Website: https://neweng.cau.ac.kr/index.do
About Professor Kuen-Sik Park
Prof. Keun-Sik Park is an Assistant Professor at the Department of International Logistics, Chung-Ang University, South Korea. His research interests encompass intermodal transportation, international logistics, and international commerce. Currently, he is carrying out a preliminary investigation for the construction and operation of a freight truck car park in the new port hinterland. Additionally, he is involved with the development of port infrastructure industry indicators.
Read more about Prof. Park here: https://scholarworks.bwise.kr/cau/researcher-profile?ep=444
---
Journal
Business Strategy and the Environment
DOI
Method of Research
Computational simulation/modeling
Subject of Research
Not applicable
Article Title
Identifying critical success factors for the agri-food cold chain's sustainable development: When the strategy system comes into play
Article Publication Date
31-May-2022
COI Statement
The authors have no known conflict of interest to disclose.