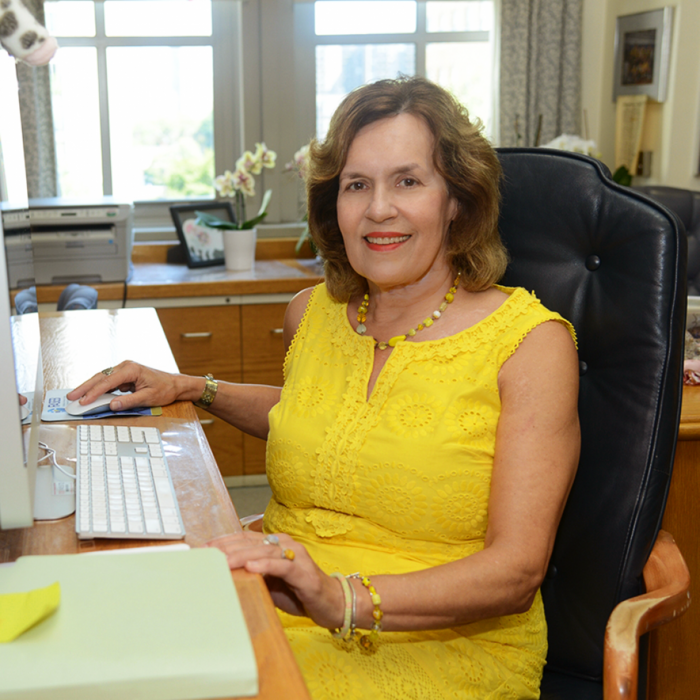 Weill Cornell Medicine has been awarded a $1 million, three-year grant from the Department of Defense's Kidney Cancer Research Program to fund research on the role of the protein ATF4 in clear cell renal cell carcinoma (ccRCC), a form of kidney cancer.
"The study of this protein in clear cell renal cell carcinoma is very new," said principal investigator Dr. Lorraine Gudas, chair of the Department of Pharmacology, the Revlon Pharmaceutical Professor of Pharmacology and Toxicology and a member of the Sandra and Edward Meyer Cancer Center at Weill Cornell Medicine. "A better understanding of ATF4, which controls aspects of cell metabolism and cell proliferation, could lead to clinicians using new drugs to treat this cancer," she said.
She and her colleagues recently discovered that ATF4 is highly active in human ccRCC through studies of mouse models, assessments of human data comparing kidney cancer cells to healthy kidney cells from The Cancer Genome Atlas (TCGA), and data from studies of kidney cancer tissue from patients at Weill Cornell Medicine. The researchers also found that blocking ATF4 activity slowed the growth of ccRCC in laboratory studies.
Clear cell renal cell carcinoma comprises at least 80 percent of all renal cell carcinomas, the most common type of kidney cancer. Rates of all types of kidney cancer, including ccRCC, are increasing. About 79,000 people in the USA will be diagnosed with kidney cancer in 2022. "Once ccRCC spreads, it is difficult to manage," Dr. Gudas said. "While new immunotherapies are available to manage this malignancy, they only work in a minority of patients, making the development of new therapies important."
Dr. Gudas wants to understand what the ATF4 protein does to potentially make tumor cells more aggressive. With the new grant, she and her colleagues will conduct studies in human kidney cancer cell lines and in kidney cancer organoids, three-dimensional structures grown in the laboratory from cells taken directly from patients with kidney cancer. They will also study a unique mouse model that allows them to evaluate the initiation and early development of ccRCC.
The scientists hope their basic research leads to clinical studies at Weill Cornell Medicine. For example, if inhibition of ATF4 with the compound ISRIB works in organoids and mouse models, scientists will want to study this compound in humans.
Dr. Gudas is collaborating with Dr. David Nanus, the Mark W. Pasmantier Professor of Hematology and Oncology at Weill Cornell Medicine and a medical oncologist at NewYork-Presbyterian/Weill Cornell Medical Center who treats patients with kidney cancer.
"Together, we can generate the insights needed to move our research from the laboratory to the clinic and back again," Dr. Gudas said.
This work was supported by the Office of the Assistant Secretary of Defense for Health Affairs and the Defense Health Agency J9, Research and Development Directorate, or the U.S. Army Medical Research Acquisition Activity at the U.S. Army Medical Research and Development Command, in the amount of ($1,017,000.00), through the Kidney Cancer Research Program under Award No. (W81XWH-22-1-0873). Opinions, interpretations, conclusions and recommendations are those of the author and are not necessarily endorsed by the Department of Defense.
---