Feature Story | 1-Sep-2022
A win for open science
White House OSTP's updated guidance advances open access and data sharing across federal agencies
Center for Open Science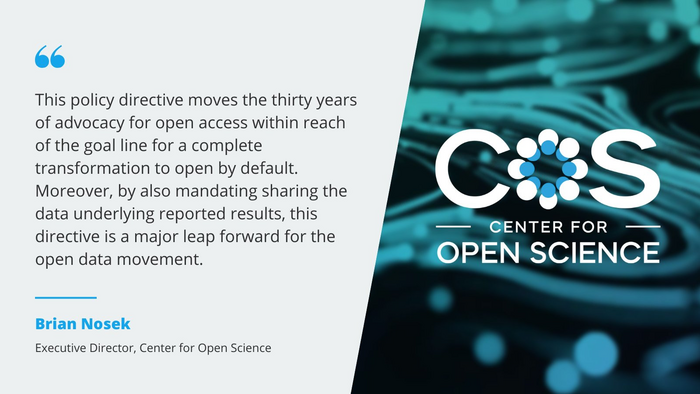 The Center for Open Science (COS) supports the new policy update from the White House Office of Science Technology & Policy (OSTP) ensuring free, immediate, and equitable access to federally funded research.
"This updated guidance is probably the most important event for open science in the United States to date," said Brian Nosek, Executive Director of COS. "This policy directive moves the thirty years of advocacy for open access within reach of the goal line for a complete transformation to open by default. Moreover, by also mandating sharing the data underlying reported results, this directive is a major leap forward for the open data movement."

The new guidance calls on all federal agencies with research and development expenditures to implement a policy advancing open access of publications and underlying data of research funded by the agency immediately upon publication. "This is a watershed moment in the move toward better research," said David Mellor, Director of Policy at COS. "No longer will policymakers, patients, students or any consumer of scientific knowledge be faced with unnecessary barriers to the best evidence available. Scientists will be more able to quickly build upon key discoveries by using important data to inform their next step. Open science is no longer a pie-in-the-sky dream; it is becoming the new reality."

"Open access of publications reporting research funded by the government is a major step toward democratizing access to research," said Nosek. "The public funded it, the public should be able to access it."

"It is rather remarkable to realize that it hasn't been this way," added Mellor. "Publication paywalls have stymied practitioners, policy makers, and the general public from being able to access the latest research to inform their decision-making."

Nosek continued, "A few years ago, I visited a university with a relatively small research budget, so they did not have subscriptions to many journals. During conversations with a group of graduate students, I was surprised to learn that most of them were working in the same subdiscipline. When I asked them why, they responded that the leading researchers in that subdiscipline routinely posted their papers online, so it was possible for them to keep up with the literature. When even researchers themselves can't access the literature, it is plain that the status quo isn't viable."

"As much as open access helps democratize science, the open data provisions will be transformative for the practice of science itself," said Mellor.

"Data sharing is vitally important for evaluation and reproducibility of research," said Tim Errington, Senior Director of Research at COS. "Making data openly accessible in repositories makes it possible for the research community to evaluate the actual data, rather than just the researchers' characterization of the data in their papers. This means that findings can be independently verified by other researchers, establishing reproducibility. Also, many reasonable decisions are made during data preparation and analysis. Sharing data means that independent researchers can assess alternative decisions in how the data are analyzed to determine whether the findings are robust, increasing confidence in them."

In addition to enabling verification of published findings, open data enables reuse of data for combining across multiple studies and even asking novel questions that were not considered by the original researchers. And, open data fosters opportunities for innovation for creating new services. Finally, transparency and sharing of data makes fraud and malpractice more inconvenient and easier to detect. Errington concluded, "All of these implications foster public trust in research."

"This action by the White House comes at an opportune time," said Nici Pfeiffer, Chief Product Officer at COS. "The open science community has been maturing over the past ten years with infrastructure to support open access of papers and open sharing of data. Moreover, there are grassroots communities that have developed training programs and standards to make data sharing easier and more understandable for the uninitiated. As a result, the community of open source services supporting open research is well-positioned to scale up to meet the objectives of the policy directive on infrastructures that are public goods just like the papers and data that they host."

And, simultaneously, there are key pieces to keep supporting and improving in the infrastructure and community social systems supporting open papers and data. "If agencies and other funders step up to support maturation of metadata standards, interoperability across tools and infrastructures, and reporting workflows to support compliance monitoring by funders and institutions, then the research community that is energized to make open science standard practice will be able to help the policy meet its promise," concluded Pfeiffer.

This guidance marks a major step forward in creating a research culture that promotes research integrity, improving equitable delivery of results and data, and accelerating the pace of discovery by the largest supporter of scientific research in the world, a vision that was laid out ten years ago in the first Scientific Utopia paper. "Often culture change is happening on the ground waiting for policymakers to catch up," said Nosek. "With this action, the policymakers are leaping forward and asking researchers and the public goods service providers to catch up. We accept the challenge with delight and determination."
Disclaimer: AAAS and EurekAlert! are not responsible for the accuracy of news releases posted to EurekAlert! by contributing institutions or for the use of any information through the EurekAlert system.