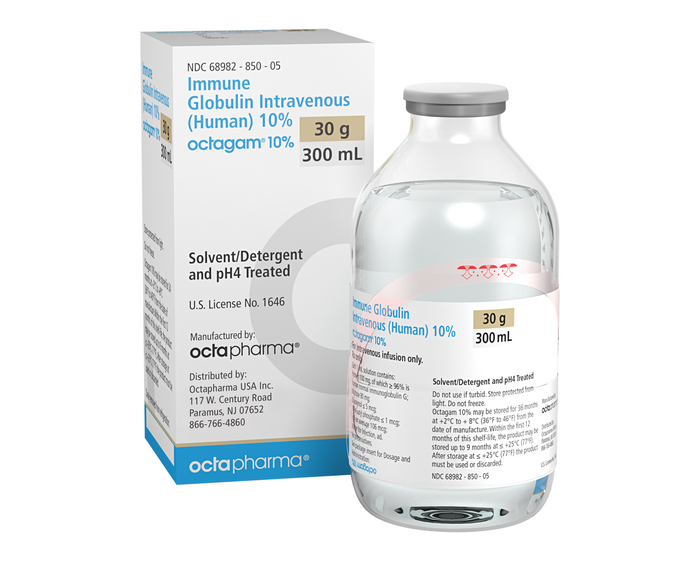 PARAMUS, N.J. (Sept. 7, 2022) – Octapharma USA will be a presenting sponsor for The Myositis Association's (TMA) 2022 International Annual Patient Conference to be held Sept. 8 – 11 in Orlando, Florida, providing a clinical overview of dermatomyositis (DM) and the latest information on treatment options for the rare immune-mediated inflammatory disease.
"We are excited to have Octapharma participate in the 2022 International Annual Patient Conference," said TMA Executive Director Chrissy Thornton. "Octapharma's pivotal clinical research on DM has been an important resource for the myositis community. The company's leadership in advancing therapeutic options for patient therapies has been invaluable and we appreciate their continued support."
The U.S. Food and Drug Administration (FDA) last year approved Octagam® 10% [Immune Globulin Intravenous (Human)] for the treatment of adult dermatomyositis – the first and only immunoglobulin (IVIg) to be indicated for the rare disease. The approval was based on the Octapharma-sponsored ProDERM Trial, the first study to evaluate the long term efficacy and safety of IVIg for adults with DM. The prospective, randomized, double-blind, placebo-controlled Phase III clinical trial enrolled 95 patients at 36 sites globally, including 17 sites in the U.S., and is the largest study to evaluate intravenous immunoglobulin as a treatment option for dermatomyositis.
"Octapharma is committed to developing life-saving and life-enhancing therapies for patients with rare diseases, including dermatomyositis," said Octapharma USA President Flemming Nielsen. "Adult DM patients no longer have to rely on unapproved treatments for the disorder. We look forward to meeting patients and their families at important educational programs such as the TMA conference to provide the latest information on dermatomyositis."
Laurel Cherwin, RN, BSN, Octapharma USA Clinical Nurse Educator, will present a 90-minute clinical overview of dermatomyositis during the conference. The breakout session is scheduled for Friday, September 9th at 9:30 a.m. Octapharma encourages conference attendees to also visit its conference booth for more information on DM.
Myositis is a general inflammation or swelling of the muscle. The disease is highly variable and has been classified into a number of forms, including dermatomyositis, polymyositis (PM), necrotizing myopathy (NM), sporadic inclusion body myositis (sIBM), and juvenile forms of myositis (JM).
Dermatomyositis is a rare systemic autoimmune disorder of unknown cause affecting approximately 10 out of every million U.S. residents. Patients commonly suffer from severe rashes, chronic muscle inflammation and progressive muscle weakness, usually affecting adults in their late 40s to early 60s and children between the ages of 5 and 15. Complications include difficulty swallowing, breathing problems from lung scarring, joint pains, and calcium deposits on muscles, skin and connective tissues. 1, 2, 3
About Octagam® 10%
Octagam® 10% [Immune Globulin Intravenous (Human)] is an immune globulin intravenous (human) liquid preparation indicated for the treatment of:
Chronic immune thrombocytopenic purpura (ITP) in adults
Dermatomyositis (DM) in adults
WARNING
THROMBOSIS, RENAL DYSFUNCTION AND ACUTE RENAL FAILURE
Thrombosis may occur with immune globulin intravenous (IGIV) products, including Octagam® 10%. Risk factors may include: advanced age, prolonged immobilization, hypercoagulable conditions, history of venous or arterial thrombosis, use of estrogens, indwelling vascular catheters, hyperviscosity, and cardiovascular risk factors. Renal dysfunction, acute renal failure, osmotic nephropathy, and death may occur with the administration of immune globulin intravenous (Human) (IGIV) products in predisposed patients. Renal dysfunction and acute renal failure occur more commonly in patients receiving IGIV products containing sucrose. Octagam® 10% does not contain sucrose. For patients at risk of thrombosis, renal dysfunction or renal failure, administer Octagam® 10% at the minimum infusion rate practicable. Ensure adequate hydration in patients before administration. Monitor for signs and symptoms of thrombosis and assess blood viscosity in patients at risk for hyperviscosity.
For full prescribing information, including complete boxed warning, please click here. To learn more about Octagam 10% for the treatment of dermatomyositis, please click here.
About the Octapharma Group
Headquartered in Lachen, Switzerland, Octapharma is one of the largest human protein products manufacturers in the world and has been committed to patient care and medical innovation since 1983. Its core business is the development and production of human proteins from human plasma and human cell lines. Octapharma employs more than 10,000 people worldwide to support the treatment of patients in over 115 countries with products across the following therapeutic areas: Hematology (coagulation disorders), Immunotherapy (immune disorders) and Critical Care. The company's American subsidiary, Octapharma USA, is located in Paramus, N.J. Octapharma operates three state-of-the-art production sites licensed by the U.S. Food and Drug Administration (FDA), providing a high level of production flexibility. For more information, please visit octapharmausa.com.
REFERENCES
1 – Dermatomyositis; U.S. Department of Health & Human Services, National Institutes of Health, National Center for Translational Sciences, website: https://rarediseases.info.nih.gov/diseases/6263/dermatomyositis.
2 – Dermatomyositis; Mayo Clinic, website: https://www.mayoclinic.org/diseases-conditions/dermatomyositis/symptoms-causes/syc-20353188.
3 – Cordeiro AC, Isenberg DA. Treatment of inflammatory myopathies. Postgrad Med J 2006; 82:417–24.
---