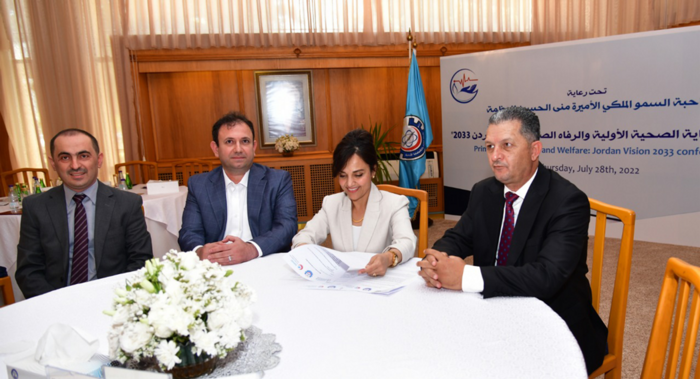 A MEMORANDUM of Understanding (MoU) has been signed between the University of Huddersfield, the Jordan University of Science and Technology (JUST), and the Eastern Mediterranean Public Health Network (EMPHNET) to promote academic collaboration between the three parties.
The collaboration will be implemented through the established International Clinical Practice Research Unit (ICPRU), a joint academic unit that was set up in 2021 between the University and JUST and is part of the University's Pharmaceutics and Drug Delivery Research Centre.
Founded in 2009, the Eastern Mediterranean Public Health Network (EMPHNET) has a regional network headquarters in Jordan and is focussed on strengthening Public Health Systems, building local capacities, fostering collaboration, strengthening programme planning and implementation, supporting evidence-based decision-making, and promoting health and well-being in the Eastern Mediterranean Region (EMR).
EMPHNET has extended its support to over 15 countries and works in partnership with Ministries of Health, non-government organisations, international agencies, the private sector, and other public health institutions in the region and globally to promote public health and applied epidemiology.
The University's Dr Mamoon Al Deyab, Senior Lecturer in Clinical Pharmacy and ICPRU Director, believes it will be a constructive and fruitful collaboration.
"We are excited to sign this Memorandum of Understanding as it provides an important opportunity for both institutions to work together on promoting and strengthening best healthcare practices," he said.
Professor Barbara Conway, Head of the University's Department of Pharmacy and ICPRU Chair, said the partners at ICPRU welcome the opportunity to collaborate with EMPHNET.
"The collaboration will enable us to develop and deliver solutions for current healthcare challenges that can make a real difference to public health in the region," she added.
---
Method of Research
News article
Subject of Research
Not applicable