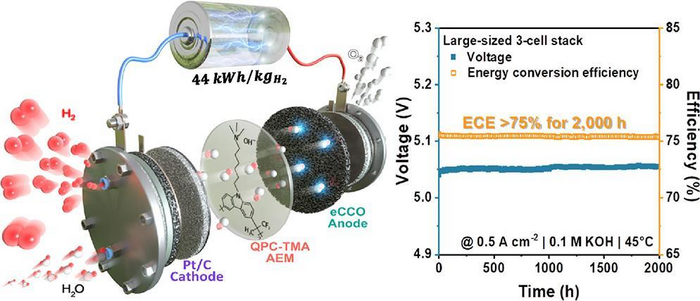 The joint research team led by Dr. Sung Mook Choi of the Korea Institute of Materials Science (KIMS), a government-funded research institute under the Ministry of Science and ICT, and Dr. Jang Yong Lee of the Korea Research Institute of Chemical Technology (KRICT) developed a highly active and highly durable non-precious metal catalyst and electrode material and a high-performance anion exchange material and applied them to a water electrolysis system and succeeded in developing non-precious metal-based high-efficiency and durable anion exchange membrane water electrolysis technology.
For this research project, KIMS was in charge of high-activity/high-durability non-precious metal catalyst material synthesis technology, large-area electrode process technology, membrane electrode assembly manufacturing technology, and stack assembly/operation technology and KRICT play a role for the core material parts by adopting anion exchange material and polymer membrane manufacturing technology. Applying this technology to a commercial-size large-area multi-cell stack, the joint research team achieved 75.6 % hydrogen generation efficiency based on lower heating value, 44 kWh of power consumption required to produce 1 kg of hydrogen, and 0.2 % of performance degradation after 2,000 hours of continuous operation.
Materials developed by existing research were only evaluated for their activity and durability and not applied to the water electrolysis system. The joint research team succeeded in applying developed core materials and parts to a stack that can be commercialized.
Researchers at KIMS manufactured a uniform large-area electrode using the decal method with an oxide catalyst of non-precious metal copper- cobalt (CuCo) and removed the weakly bound impurities (catalyst) by increasing the active area of the electrode to develop a high durability oxygen evolution electrode that is 1.5 times more active than the existing one. The Research team at KRICT developed a poly(carbazole)-based QPC-TMA with a stronger main chain and improved ionic conductivity and durability than existing anion exchange materials and expanded the area of anion exchange membrane to adapt to water electrolysis systems.
Finally, KIMS manufactured a membrane electrode assembly using the electrode and anion exchange membrane that they have developed and confirmed its performance in a small-area unit cell. Moreover, they applied the assembly to a 3-cell stack that was circular and had a huge area which is commercially available to successfully develop a stable anion exchange membrane water electrolysis stack with high hydrogen evolution efficiency and low degradation rate.
Dr. Sung Mook Choi, the principal investigator of the project, said "The long-life, high-durability water electrolysis stack developed by domestic technology can be the solution of commercialization of water electrolysis stack system. If this technology is commercialized, it will lead the worldwide market for water electrolysis together with the localization of water electrolysis materials and parts."
The research was funded by the Rural Development Administration's agricultural science and technology R&D project (Title: A Research on Green Hydrogen Production Based on Anion Exchange Membrane (AEM) Water Electrolyser Utilizing Waste Nutrient Solution) and the R&D project of Ministry of Science and ICT (Title: Carbon to X technology development project for the production of useful substances). The research was published in the world-renowned academic journal ACS Energy Letters (first author: Myeong Je Jang (KIMS, University of Waterloo, Canada) and Seok Hwan Yang (KRICT, Ph.D. student)). Currently, the research team is working on commercializing of the AEM water electrolysis stack by increasing current density-led hydrogen production increase and securing a long life.
###
About Korea Institute of Materials Science(KIMS)
KIMS is a non-profit government-funded research institute under the Ministry of Science and ICT of the Republic of Korea. As the only institute specializing in comprehensive materials technologies in Korea, KIMS has contributed to Korean industry by carrying out a wide range of activities related to materials science including R&D, inspection, testing&evaluation, and technology support.
---
Journal
ACS Energy Letters
Article Title
Efficient and Durable Anion Exchange Membrane Water Electrolysis for a Commercially Available Electrolyzer Stack using Alkaline Electrolyte
Article Publication Date
13-Jul-2022