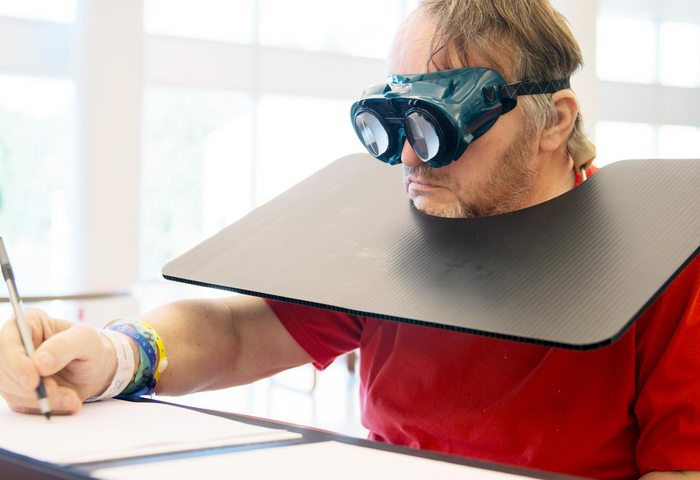 East Hanover, NJ. September 7, 2022. A team of stroke researchers found that the dosage of prism adaptation treatment correlated with improvement in post-stroke spatial neglect as well as in outcomes of rehabilitation. Their findings appeared in Neurorehabilitation and Neural Repair in the article, "Impacts of prism adaptation treatment on spatial neglect and rehabilitation outcome: Dosage matters," (DOI: 10.1177/15459683221107891) published online on June 8, 2022. The authors are Peii Chen, PhD, Kimberley Hreha, EdD, Chris Gonzalez-Snyder, MBA, MA, Timothy Rich, PhD, Robert W. Gillen, PhD, Devan Parrott, PhD, and A.M. Barrett, MD.
Spatial neglect, a common cause of functional disability after stroke and other types of brain injury, is a consequence of damage to the neural networks that process spatial information and attentional control. One third of survivors of stroke have spatial neglect, increasing their risks for prolonged hospitalization, injuries, poor motor recovery, and discharge to long-term care facilities. Prism adaptation treatment (PAT) has shown promise for reducing symptoms of spatial neglect and improving rehabilitation outcomes, but additional investigation was needed to determine the optimal frequency and number of sessions necessary to improve outcomes.
To gain further insight, clinical records were collected from a network of 16 rehabilitation hospitals across 11 states, staffed by occupational therapists trained in spatial neglect assessment (Kessler Foundation Neglect Assessment Process, KF-NAP®) and treatment (Kessler Foundation Prism Adaptation Therapy, KF-PAT®). The sample included 2,415 patients; 520 patients had Catherine Bergego Scores (CBS via KF-NAP) pre- and post-PAT; and 1,720 had admission/discharge Functional Independence Measure (FIM®) scores, including 715 with PAT data, and 349 with both CBS and FIM data.
"We found that more once-daily sessions of PAT correlated with greater improvement in spatial neglect," said lead author Dr. Chen, senior research scientist in the Center for Stroke Rehabilitation Research at Kessler Foundation. "Moreover, more PAT sessions showed greater beneficial impacts on rehabilitation as measured by functional gains from admission to discharge. And frequency of PAT sessions was also a factor," she added, "with those who received more than eight sessions with fewer days between sessions achieving even greater improvement. Thus, dosage, defined as the number of PAT sessions, matters. Our study supports the implementation of PAT in rehabilitative care for spatial neglect, toward the goal of maximizing functional recovery and minimizing caregiver burden."
Based on these findings, the team advises starting PAT early during rehabilitation to enable patients to receive higher dosages of therapy. Further analyses will address the impact of timing of therapy during inpatient rehabilitation on outcomes, and whether outcomes differ between right-sided and left-sided spatial neglect. Future studies are needed to address the long-term impact of PAT, and whether patients may benefit from additional PAT session post-discharge.
Learn more about the clinical tools developed for the assessment and treatment of spatial neglect at Kessler Foundation Learning Center (kflearn.org)
For information on current stroke research studies, visit Studies | Kessler Foundation
Funding: Kessler Foundation, Wallerstein Foundation for Geriatric Improvement, and Charles and Ann Serraino Foundation
Visit Kessler Foundation Learning Center (kflearn.org) for information on tools for diagnosing and treating spatial neglect.
About the Center for Stroke Rehabilitation Research at Kessler Foundation:
Research studies span all domains of post-stroke dysfunction, including cognitive deficits and mobility impairment. Stroke researchers also mentor students, resident physicians, and postdoctoral trainees in translational neuroscience of rehabilitation. Cognitive research emphasizes hidden disabilities after stroke, including disabilities of functional vision (spatial bias and spatial neglect) and reading deficits. Related research addresses the risk factors for delirium and medication compliance. Mobility research, in partnership with the Center for Mobility and Rehabilitation Engineering Research, centers on the application of new technologies for restoring upper and lower limb function. Stroke research receives funding from federal, state, and private sources. Scientists have faculty appointments at Rutgers New Jersey Medical School.

About Kessler Foundation:
Kessler Foundation, a major nonprofit organization in the field of disability, is a global leader in rehabilitation research that seeks to improve cognition, mobility, and long-term outcomes—including employment–for people with neurological disabilities caused by diseases and injuries of the brain and spinal cord. Kessler Foundation leads the nation in funding innovative programs that expand employment opportunities for people with disabilities.
For more information on ongoing stroke rehabilitation research at Kessler Foundation, visit Studies | Kessler Foundation.

Stay Connected
Twitter | Facebook | YouTube | Instagram | iTunes & SoundCloud
To interview Dr. Chen, contact:
Carolann Murphy, cmurphy@kesslerfoundation.org
Deb Hauss, Dhauss@kesslerfoundation.org
Sample tweet
Graphics:
Peii Chen, PhD
Dr. Chen, senior research scientist in the Center for Stroke Rehabilitation at Kessler Foundation. She directs the Spatial Attention, Awareness, and Ability Laboratory, which focuses on new approaches to the treatment of cognitive deficits caused by stroke, brain injury, and other neurological conditions.
Using prism goggles for treating an individual with post-stroke spatial neglect
Researchers at Kessler Foundation developed tools based on prism adaptation for assessing and treating spatial neglect, an often overlooked consequence of stroke.
---
Journal
Neurorehabilitation and Neural Repair
Method of Research
Randomized controlled/clinical trial
Subject of Research
People
Article Title
Impacts of prism adaptation treatment on spatial neglect and rehabilitation outcome: Dosage matters
Article Publication Date
8-Jun-2022