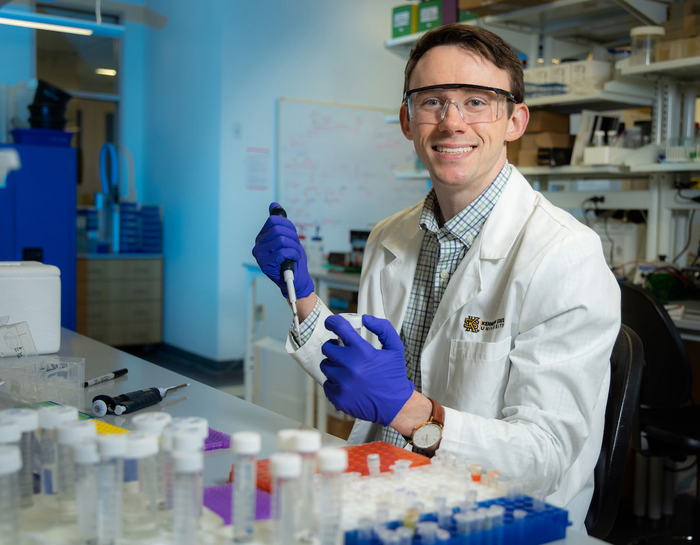 For the first time, a postdoctoral researcher at Kennesaw State has earned a prestigious fellowship from the National Science Foundation (NSF).
John Barrows, who works in the laboratory of professor of biochemistry Michael Van Dyke, has earned a two-year NSF Postdoctoral Research Fellowship grant worth $138,000 to further his study of DNA-binding proteins within bacteria and to get undergraduates involved in the research.
"John is fantastic for our lab, and this fellowship is much-deserved," Van Dyke said. "With Kennesaw State's recent emphasis on postdoctoral researchers, this marks a great point in his career and will hopefully encourage some of our other postdocs to pursue these opportunities."
Barrows' funded project will study the mechanism of how genes are turned on and off in response to different environmental stressors in bacteria. Understanding how microorganisms adapt to their environments will increase knowledge of biology and can have widespread implications in the medical, biotechnology and agricultural fields.
For the fellowship, Barrows wanted to ensure the teaching component remained near the forefront of his research. Barrows said the fellowship money will cover the day-to-day expenses of supervising research.
"I wrote into this grant that I'd love to get teaching experience," he said. "I worked with a couple of first-year students, and it was fun to mentor them throughout this past school year, so I'd like to continue in that aspect of the job, see them through as sophomores, juniors and seniors."
Bill Diong, a KSU professor of electrical engineering who previously managed the Office of Research's Postdoctoral Awards program, described Barrows' fellowship as a major achievement, given that just one in 10 applicants were selected as postdoctoral research fellows by the NSF.
Barrows came to KSU in 2021 after earning a Ph.D. in biomedical sciences from the Medical University of South Carolina. Though he seeks a tenure-track position in the future, for now Barrows said he'd like to shine the light on the role of postdoctoral researchers at Kennesaw State.
"Postdocs kind of work behind the scenes," he said. "My experience shows that there are opportunities at Kennesaw State for postdocs to come in, do important work and find funding."
---