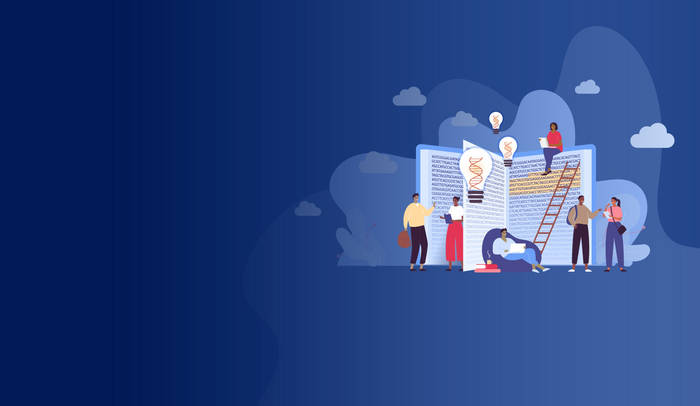 The National Human Genome Research Institute (NHGRI), part of the National Institutes of Health, will fund $3.35 million over five years to launch the Genome Research Experiences to Attract Talented Undergraduates into the Genomics Field to Enhance Diversity (GREAT) program.
The program will establish partnerships between universities and will allow undergraduate students from diverse backgrounds, including those from groups underrepresented in science, to conduct genomics research and receive career development training from large, research-intensive schools. The program provides awards to institutions that are either minority-serving, as defined under the program, or eligible for an Institutional Development Award (IDeA).
"Minority-serving institutions that do not have a large amount of NIH funding may not have the facilities and resources for cutting-edge genomics research but typically have a diverse student body, including a large number of students from backgrounds underrepresented in biomedical research," said Ebony Madden, Ph.D., program director for Health Equity and Workforce Diversity within NHGRI's Training, Diversity and Health Equity Office. "By requiring these minority-serving institutions to partner with research-intensive institutions, we can help ensure that a broadly diverse population of students can conduct innovative genomics research and use state-of-the-art technology."
Over the next five years, NHGRI will provide approximately $1.65 million to California State University, Monterey Bay, to collaborate with the University of California, Santa Cruz, and approximately $1.7 million to the University of Puerto Rico, Río Piedras Campus, to collaborate with schools across the country, including the University of Pittsburgh; University of Wisconsin, Madison; University of California, Santa Cruz; University of Texas Southwestern, Dallas; University of California, San Francisco; and Harvard University, Cambridge, Massachusetts, to provide genomics courses and research experiences to undergraduate students.
During the application review process, the two awardee institutions stood out for their rigorous approaches to training and mentoring students. They were also positively viewed for their strong collaborations with partner institutions.
"We hope that the GREAT program will help the collaborating institutions learn from each other in a way that builds lasting partnerships," said Lucia Hindorff, Ph.D., M.P.H., lead extramural training program director within the Training, Diversity and Health Equity Office. "The students will also benefit from the strong network they will build at both places."
Additionally, the GREAT program will address the lack of funding needed to promote diversity in undergraduate programs. While funding programs that focus on diversity at the graduate and postdoctoral level exist, attracting a diverse student population at earlier stages is just as important. As part of NHGRI's "Building a Diverse Genomics Workforce: An NHGRI Action Agenda," the GREAT program seeks to strengthen the pathway for undergraduate students to pursue graduate education in genomics.
"Undergraduate students are at an important phase of discerning their future careers," Hindorff said. "It is at this stage where many people who go on to become researchers have their first formative research experience. Hands-on research is often eye-opening and complementary to what students are learning in the classroom."
##
About the National Human Genome Research Institute (NHGRI): At NHGRI, we are focused on advances in genomics research. Building on our leadership role in the initial sequencing of the human genome, we collaborate with the world's scientific and medical communities to enhance genomic technologies that accelerate breakthroughs and improve lives. By empowering and expanding the field of genomics, we can benefit all of humankind. For more information about NHGRI and its programs, visit www.genome.gov.

About the National Institutes of Health (NIH): NIH, the nation's medical research agency, includes 27 Institutes and Centers and is a component of the U.S. Department of Health and Human Services. NIH is the primary federal agency conducting and supporting basic, clinical, and translational medical research, and is investigating the causes, treatments, and cures for both common and rare diseases. For more information about NIH and its programs, visit www.nih.gov.
---